Federations
Volleyball Ireland wins Best Federation award
Volleyball Ireland are proud and honoured to win the National Governing Body (NGB) of the Year at the Irish Sports Industry Awards. They fought off strong competition to win the coveted award, which recognises excellent governance and development of sports organisations.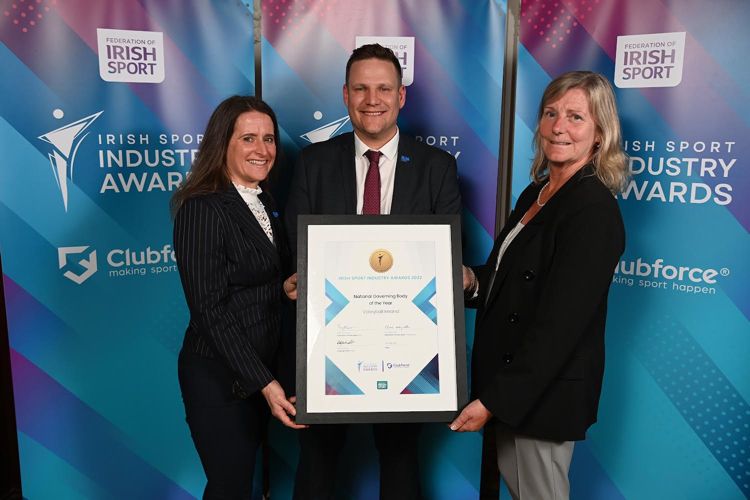 Volleyball Ireland leaders with the award for the best National Governing Body
Despite the COVID-19 restrictions on indoor sport, Volleyball Ireland (VLY) has thrived over the last year growing and exceeding pre-COVID metrics across all strategic areas, including a massive 55% growth in verified participation figures versus 2019, a 47% rise in social media followers and +325% increase in the number of active and licensed juniors playing the sport.
"This is a huge achievement which is testament to the brilliant work of our club network, volunteers, committees, board and staff. The Volleyball community has accomplished so much in recent years and I am so excited about what we will achieve next."
Clodagh NicCanna
Volleyball Ireland President
VLY. have used the opportunity of COVID-19 to focus on long-term strategic projects such as a new brand identity, high-performance framework and long-term player development model, whilst pivoting current programmes to grow the sport rapidly including a new Beach Tour and youth participation initiatives.

In Ireland they also specifically targeted the recruitment of foreign nationals into the volleyball family with an innovative PlayVolley marketing campaign translated into different languages  (https://www.youtube.com/shorts/2LJm8oV9RKI ), and in early 2022 led the drive to help integrate Ukrainians into Irish sport.

The new brand identity was implemented to great applause and brought vibrancy, colour and energy to Volleyball Ireland events, whilst reinforcing their image as an innovative, progressive and diverse National Governing Body.

Volleyball Ireland have taken a serious approach to governance structures with the appointment of two Independent Directors, the roll out of a comprehensive induction programme for Board and Committee members and the publishing of an award-winning Annual Report becoming the first sports body to win the prestigious Carmichael Good Governance Award for Annual Reports. They also ensured gender balance at Board level (56% females, 44% males).
"I am so proud that the team could win this prestigious award for the Volleyball community. It has been a difficult couple of years for indoor sport but this shows what can be done with ambition, energy and when everyone pulls together in the same direction. This is just the start."
Gary Stewart
Volleyball Ireland Secretary General
They also developed a 'Women in Sport' action plan to ensure that more women progress on the Coach, Referee and Leadership pathway and have begun the development of a first Youth Council, to ensure the voices of young people are heard.

A new development league to help young players transition from youth to national league level has been developed, as well as the first Junior Beach Tour.

Ireland's progress was recognised by the European Volleyball community when they were invited to present at the CEV Congress in Katowice, Poland in September, to share their story of growth.

It has been a busy year for Ireland as they also competed in the #EuroVolleyU22M qualifiers, U19 Women Small Countries Association (SCA) Championships, Senior Women SCA Championships and hosted the U20 Men version of that event in Dublin.