Federations
Former national youth player Šimková awarded € 10,000 by general partner of Slovak Volleyball Federation
Shortly before the home match with Georgia scheduled for the CEV EuroVolley 2023 qualifiers held earlier this week in Nitra, the general partner of the Slovak Volleyball Federation, Niké, presented former youth national team player Monika Šimková with a € 10,000 cheque. The Executive Director of Niké, Roman Berger, attended this touching ceremony together with Zuzana Rehak-Stefecekova, a gold medallist from the Tokyo 2020 Olympics in trap shooting.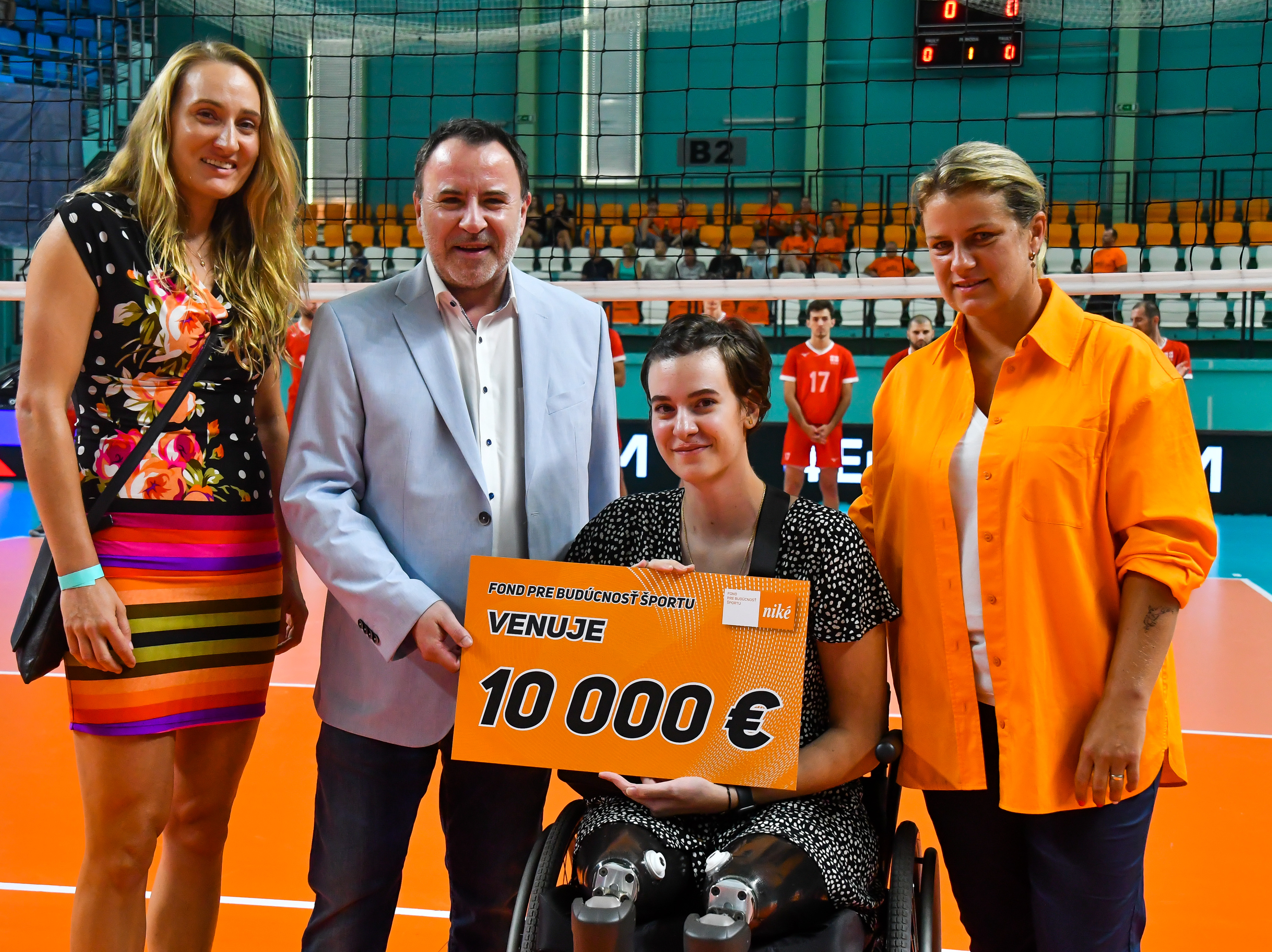 Monika Šimková together with Roman Berger, Olympic champion Zuzana Rehak-Stefecekova (right) and her elder sister Lucia
Last summer, Monika caught a serious bacterial illness in Buffalo, USA, where she was studying, and this resulted in huge problems to her immunity system. To save Monika's life, the doctors had to amputate both of her legs above the knee. After six months of recovery, Monika came back to life and she will now be trying to adjust to a new normal.
"Next year I will stay in Slovakia and I am trying to find a job here. Many people have been helping me and I am surprised in a positive way. I feel very good in the Volleyball community and I am happy with their support."
Monika Šimková
Mr Berger was proud of this action: "There are strong emotions behind this story. When I read the story of Monika's Volleyball career and her destiny, I realised we wanted to help her. If she could inspire only one single person in the world, she will fill them with energy and power. I was sure that our company needed to provide help here to inspire other people not only in Slovakia," said the Executive Director of Niké.
Monika's brother, Peter Michalovič is a member of the Slovak national team, and reached 100 international caps against Georgia on Wednesday.
The Slovak Volleyball Federation will help Monika Šimková as well via the provision of free entrance to all CEV EuroVolley 2023 qualifying matches contested at home by the men's and women's national teams of Slovakia.