CEV
EuroBeachVolley 2021 claims Sports Event of the Year award
The A1 CEV EuroBeachVolley 2021 held in August of last year in the very heart of Vienna exceeded everyone's expectations. Fans, partners and athletes all experienced a fabulous week – with the success of the event now acknowledged through a prestigious award as well.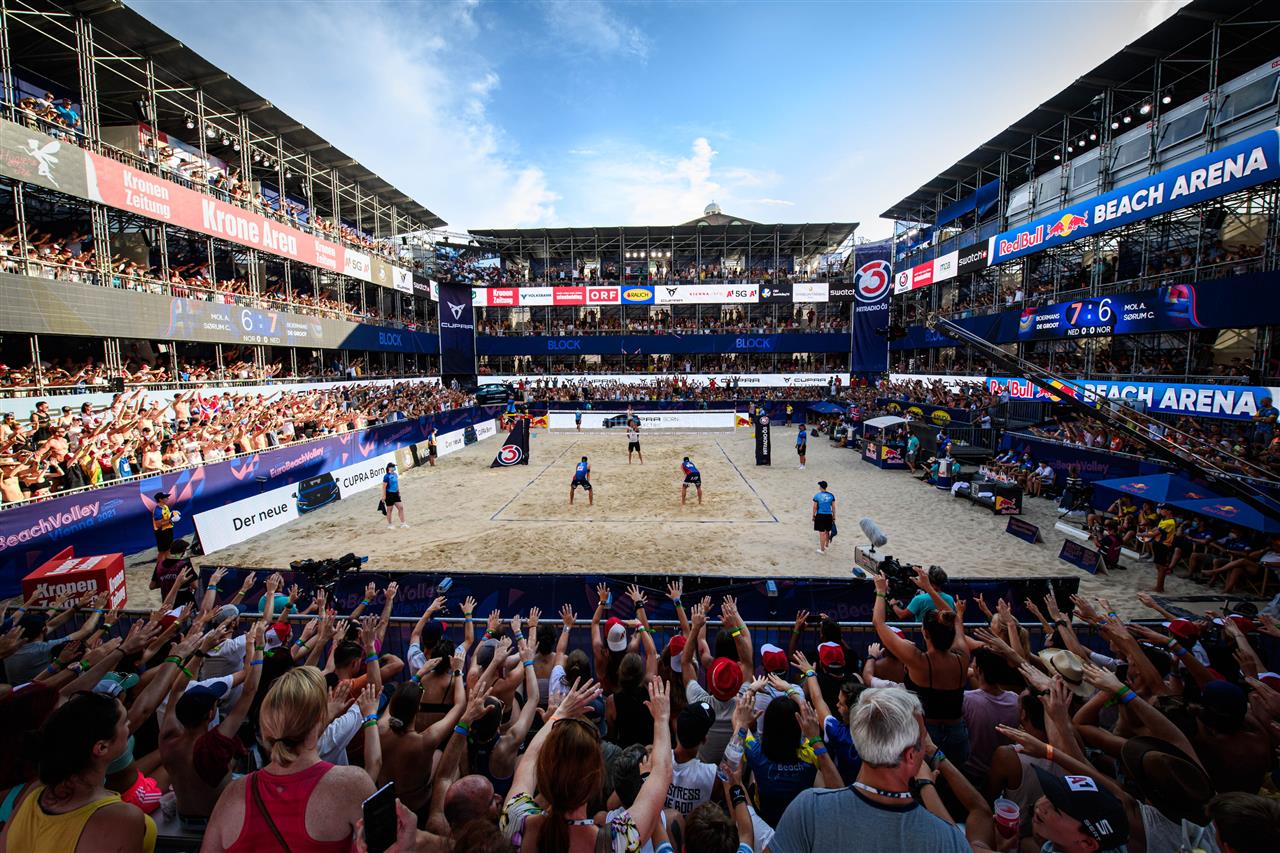 A full house at the iconic venue set up at the very heart of Vienna for last year's CEV EuroBeachVolley
What an amazing week it was! After a very challenging year and the many constraints resulting from the coronavirus pandemic, the organisers of the annual Beach Volleyball highlight in Vienna came up with a truly iconic location, the Heumarkt, and an innovative stadium concept as well. Many question marks resulted in a number of challenges for the implementation and successful delivery of the event. However, the loyal, long-term partners and the best fans in the world did not hesitate even for a minute to join the party!  
They turned the EuroBeachVolley event at the Heumarkt and on the Danube Island into a great experience, with a full house accounting for the best possible atmosphere that the top European Beach Volleyball players could ask for – right after contesting the postponed Tokyo 2020 Olympics before empty stands!
The organisers and event promoters ACTS recently received the Austrian Event Award 2021 in the 'Sports Events' category in recognition of their work in the delivery of the Beach Volleyball party of the year.
"This prize is primarily due to the City of Vienna, the Ministry of Sports, A1 and our partners who have been loyal to us for so many years. They believed in us and the return of a major Beach Volleyball event in Vienna."
Hannes Jagerhofer
Obviously, the award is an incentive for the forthcoming A1 CEV BeachVolley Nations Cup scheduled for August 2-7, 2022. Vienna's Heumarkt will once again become the hub of the Beach Volleyball world with the inaugural competition featuring the highly entertaining and appealing 'country vs country' format.
Click here for further information on the A1 CEV BeachVolley Nations Cup 2022.