CEV
CEV President and Senior Vice-President pay visit to Romania
CEV President Aleksandar Boričić and Senior Vice-President Renato Arena recently travelled to Romania responding to an invitation by the President of the Romanian Volleyball Federation (RVF), Mr Adin Cojocaru, to attend the final stage of the Women's Romanian Cup held in Pitesti on May 13-14, 2023.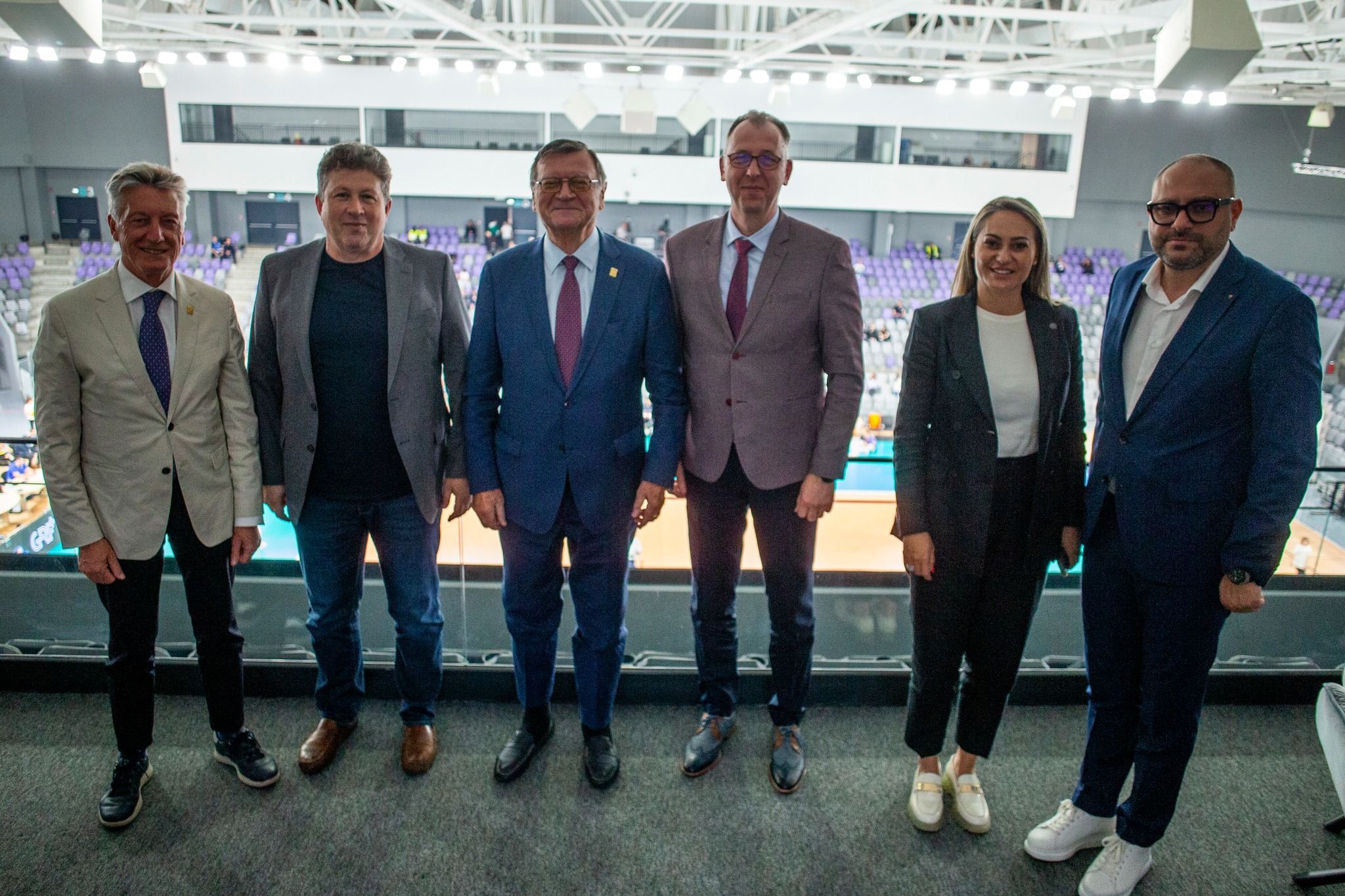 The CEV President and Senior Vice-President portrayed together with members of the Romanian Volleyball Federation BoA
C.S.M. LUGOJ claimed the trophy for the first time in their history under the eyes of the highest authorities in European Volleyball. In the newly constructed Pitesti Arena, they watched some extremely competitive matches. It could not have been otherwise since the event featured two finalists from this year's European Cups (CSM Volei Alba BLAJ from the CEV Cup and C.S.M. LUGOJ in the Challenge Cup) and one CEV Cup semi-finalist, C.S.M. TARGOVISTE. The fourth semi-finalist was Dinamo BUCURESTI. C.S.M. LUGOJ triumphed after they managed to beat C.S.M. TARGOVISTE in the final 3-1 (25-16, 26-24, 22-25, 25-21).
During the two days spent in Pitesti, Mr Boričić and Mr Arena had several working meetings with the President of the Romanian Volleyball Federation, as well as with other members of the RVF Board of Directors.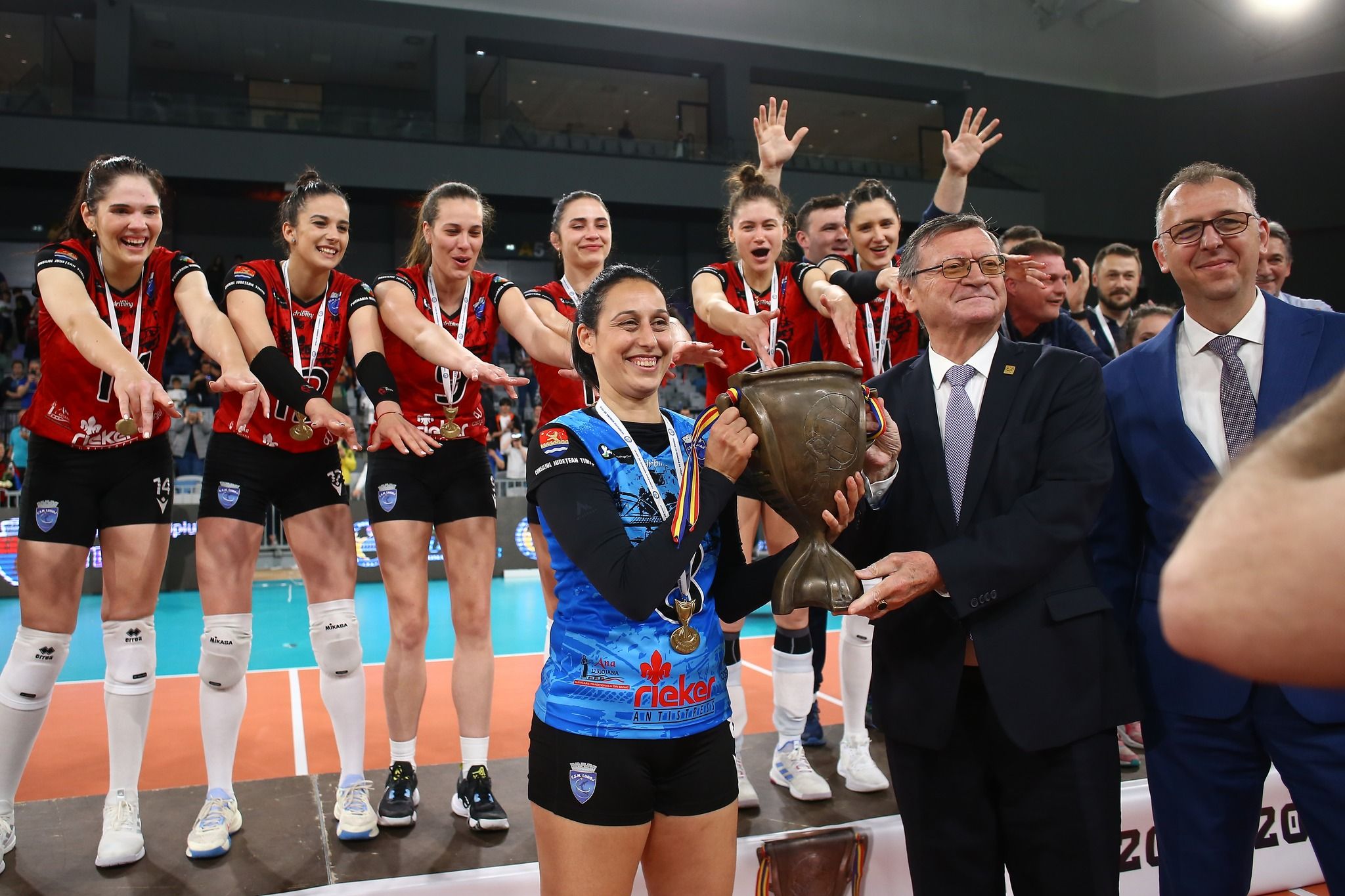 The CEV President awarding Romanian national cup winners C.S.M. LUGOJ
During these meetings, the foundations were laid for the development of joint projects and new links were established between the Romanian Volleyball Federation and the European Volleyball Confederation. "First of all, I wish to emphasise that we have had a very good cooperation with the Romanian Volleyball Federation, and I would like to thank them for the invitation. We have many joint projects for the future. We started with a school project because we need as many children as possible involved in Volleyball. The Romanian Volleyball Federation wanted to join us in this programme, and we have already decided to organise some courses, so five young coaches and teachers have been invited to work with the children. We also want to talk, when the international calendar will be finalised, about the organisation of some future European final tournaments at youth level or maybe even World Championships here in Romania," said CEV President Aleksandar Boričić.
The link between Mr Boričić and Romania is very close. He recalled the matches he played as a player or coach in Romania over the years: "When I was a player for Red Star Belgrade, I played a few tournaments in Bucharest. Back then it was Dinamo, Steaua, Rapid. Also, as a National Team coach I participated with the team in the Tomis Cup. It has been a long time since then, but I have been at many tournaments here. In Timisoara I played in 1973 at the Balkan Games and I have many, many beautiful memories from many cities in Romania," he added.
The two highest officials in European Volleyball standing next to RVF President Adin Cojocaru
For his part, Mr Arena admitted that he always feels at home in Romania: "Romania is like my second home, after Italy. Romania is in my heart. It is not the first time I come here, and I am here to discuss many ideas with the federation. The discussions have been very good and bode well for the future. It was a fruitful conversation, and I hope that in the future Romania will take a step forward to reach a higher level in the sport. We discussed basic ideas for some joint projects, and we agreed on what to do next," said Mr Arena.