CEV
CEV delegation visits Romania to discuss next steps towards historic #EuroVolleyW
A high-profile delegation consisting of CEV Senior Vice-President Renato Arena and CEV Managing Director Thorsten Endres has travelled to Romania for a series of talks with national authorities focussing on the delivery of this year's CEV EuroVolley 2021 Women and the wider promotion of Volleyball in the country.
The CEV and Romanian Volleyball Federation officials at their meeting with the Undersecretary of Sport, Cristian Emilian Ghita
On Tuesday, the CEV officials had a first meeting with the Undersecretary of State for Sport, Mr Cristian Emilian Ghita, at the very premises of Romania's Ministry of Youth and Sports. Later in the day, always accompanied by the President and Vice-President of the Romanian Volleyball Federation, Mr Adin Marian Cojocaru and Ms Oana Sarb, Mr Arena and Mr Endres had a meeting with the President of the National Olympic Committee (NOC) of Romania, Mihai Covaliu, and Secretary General, Mr George Boroi. Mr Constantin Ispas, Secretary General of the Romanian Volleyball Federation, attended this meeting as well.
The discussions revolved around preparations for the eagerly anticipated CEV EuroVolley 2021 Women matches that the city of Cluj-Napoca will be hosting later this summer at the state-of-the-art BT Arena. The event is a truly historic opportunity to promote Volleyball in the Balkan country, since the continental championship will return to Romania for the first time since the 1963 edition.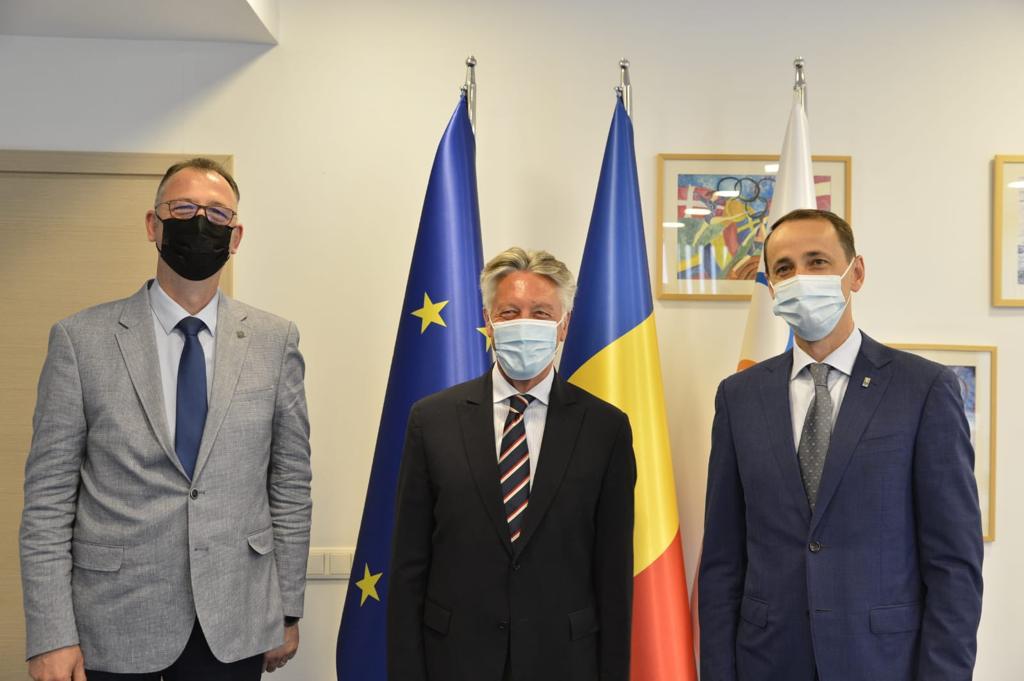 CEV Senior Vice-President Renato Arena with Romanian Volleyball Federation President Adin Marian Cojocaru and Romania's NOC President Mihai Covaliu
As per the results of the DOL held this past May 21 in Belgrade, Romania will be playing the national teams of Turkey, the Netherlands, Ukraine, Finland and Sweden in Pool D, with the top four progressing to the knockout stage of the competition where they will be crossing their ways with the best four teams from Pool B.
The team captain of Romania, Nneka Onyejekwe, and Adelina Budai-Ungureanu are the two EuroVolley Ambassadors chosen to promote the event nationwide. Romanian fans will be looking forward to following the performances of home rising stars as well, such as Alexia Ioana Carutasu, who earlier this year won the CEV Challenge Cup title with Turkey's Sistem9 Yesilyurt ISTANBUL.