CEV
Parade of stars in Ljubljana!
Friday night's CEV Volleyball Gala at the iconic Ljubljana Castle in Slovenia's capital city provided the stage for a very fitting celebration of the athletes, coaches, National Federations, clubs and officials that have made 2021 a truly remarkable year for European Volleyball, filled with unprecedented success. Click here for a picture gallery.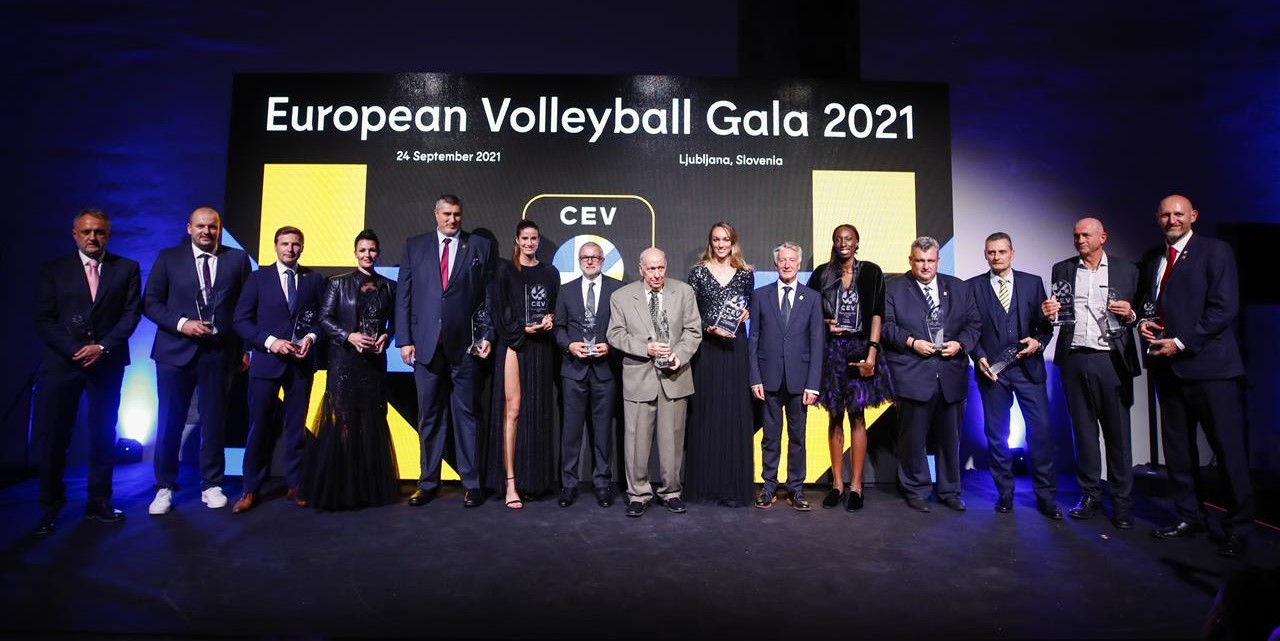 The stars of European Volleyball took centre stage on Friday night in Ljubljana
Even though he could not attend the event in Ljubljana, CEV President Aleksandar Boričić sent a warm message to all stakeholders emphasising that European Volleyball has never been as strong and performing at a higher level:
"European teams claimed six out of 12 medals at stake at the Tokyo 2020 Olympics and shortly after the Games in Japan we had some 40 days of uninterrupted high-level competition across as many as nine countries and 12 cities through the delivery of this year's EuroBeachVolley and EuroVolley. Despite this year's tremendous success, we have to continue to work hard as one team to change the perception of our sport and raise the level of our three disciplines even further."
Aleksandar Boričić
CEV President
Shortly after completion of the Drawing of Lots for the group stage of the CEV Champions League Volley 2022, it was time to award the top performers of the year 2021, with a large share of the recipients attending the Volleyball Gala on site in Ljubljana.
The list of awardees features:
Male Volleyball Player of the Year – Earvin Ngapeth (FRA)
A Volleyball prodigy whose first international successes came in 2007 and 2008 as a teenager when contesting age-group competitions, Ngapeth secured immortal glory when leading 'Les Bleus' to a historic gold medal at the Tokyo 2020 Olympics, where he emerged as the Most Valuable Player of the tournament as well. Ngapeth helped France stop the comeback attempted by the Russian team in the Olympic final – in a match that has already gone down in the history books.
Female Volleyball Player of the Year – Paola Egonu (ITA)
Paola Egonu achieved international fame for the first time in 2016, when she helped Italy qualify for the Rio Olympics at the young age of 17. The 2021 season has cemented her status as real Volleyball superstar – as she helped her club team Imoco Volley CONEGLIANO seal undefeated throughout all competitions, eventually claiming the CEV Champions League Volley title in Verona, before adding EuroVolley gold to her growing resume.
Men's Team Coach of the Year – Laurent Tillie (FRA)
Laurent Tillie coached France for almost ten years in a row, forging a generation of players that has achieved unprecedented success for French Volleyball – starting with the World League and EuroVolley titles claimed in 2015. After the pandemic resulted in the postponement of the Tokyo 2020 Olympics, he stayed at the helm of the team for another year and reached the pinnacle of anyone's career when France claimed Olympic gold in Japan earlier this summer at the end of a drama-filled match with Russia. As previously agreed, Tillie quit the French national team right after the Olympics and is currently coaching the Panasonic Panthers in Japan's V.League. 
Women's Team Coach of the Year – Zoran Terzić (SRB)
Zoran Terzić has been at the helm of the Serbian women's national team for some 20 years now – a truly unique feat not only in Volleyball, but across team sports as well. To continue such a successful journey, in 2021, Terzic helped Serbia secure their second straight Olympic medal – a bronze to go with silver from 2016 – and silver from EuroVolley 2021. Serbia have finished on the podium in six of the last eight editions of the continental championship, doing so always under his guidance.
CEV Event of the Year – EuroVolley 2021 Organisers
Following the truly revolutionary concept introduced in 2019, eight countries – four per gender – joined forces for the second time to deliver the CEV's marquee event for national teams, CEV EuroVolley 2021. Poland, Czech Republic, Estonia and Finland delivered a truly memorable men's event and unique experience, as Serbia, Bulgaria, Croatia and Romania did the same for the women's competition – eventually setting an all-time record of attendance in women's Volleyball when 20,565 fans attended the gold medal match between Serbia and Italy.
Kings of the Beach – Anders Mol and Christian Sørum (NOR)
The 'Beach Volley Vikings' have re-written Beach Volleyball history. Earlier this summer, they won a fourth straight EuroBeachVolley title in Vienna, thus surpassing the record of three consecutive gold medals they previously shared with Beach Volleyball legends Martin and Paul Laciga (SUI) and Richard Schuil/Reinder Nummerdor (NED). Their triumph in Vienna came only a few days after winning gold at the Tokyo Olympics – thus becoming only the second European team in history to achieve this feat after Germany's Julius Brink and Jonas Reckermann did so in 2012.
Queens of the Beach – Joana Heidrich/Anouk Vergé-Dépré (SUI)
After their previous partners retired from international competition and taking some time to adjust to each other's features and develop the right chemistry, Joana and Anouk have become the most successful and consistent women's European team on the international stage. The highlights on their resume include the EuroBeachVolley title they claimed last year in Jurmala and a historic bronze from this year's Tokyo 2020 Olympics. This achievement accounts for only the second Olympic medal in women's Beach Volleyball for European teams – after Germany's Laura Ludwig and Kira Walkenhorst had won gold in Rio in 2016.
Beach Volleyball Coach of the Year – Kåre Mol (NOR)
He is the man who has helped his own son Anders and partner Christian Sørum re-write Beach Volleyball history. The 'Vikings' claimed earlier this summer a fourth straight EuroBeachVolley crown only a week after securing Olympic gold at Tokyo 2020. Mr Mol looks after more Norwegian Beach Volleyball players, including his other sons Hendrik, Markus and Adrian. This is his second such award – after claiming the very same prize in 2019 at the latest CEV Volleyball Gala held in Sofia.
CEV Lifetime Achievement Award – Thanassis Beligratis (GRE)
A former player, coach and international referee, Beligratis moved to sports administration, thus working as Secretary General of the Hellenic Volleyball Federation for 18 years. Afterwards, he was Hellenic Volleyball Federation President for as many as 15 years, joining the CEV Board of Administration in 1995 and holding this function up to 2008. Beligratis was also Treasurer and ExCom member of the Greek National Olympic Committee for 16 years and actively involved in the organisation of the 2004 Olympics in Athens. In recognition of his services to European Volleyball, Beligratis became a CEV Honorary Member in 2012.