CEV
Aleksandar Boričić to lead European Volleyball family for another four years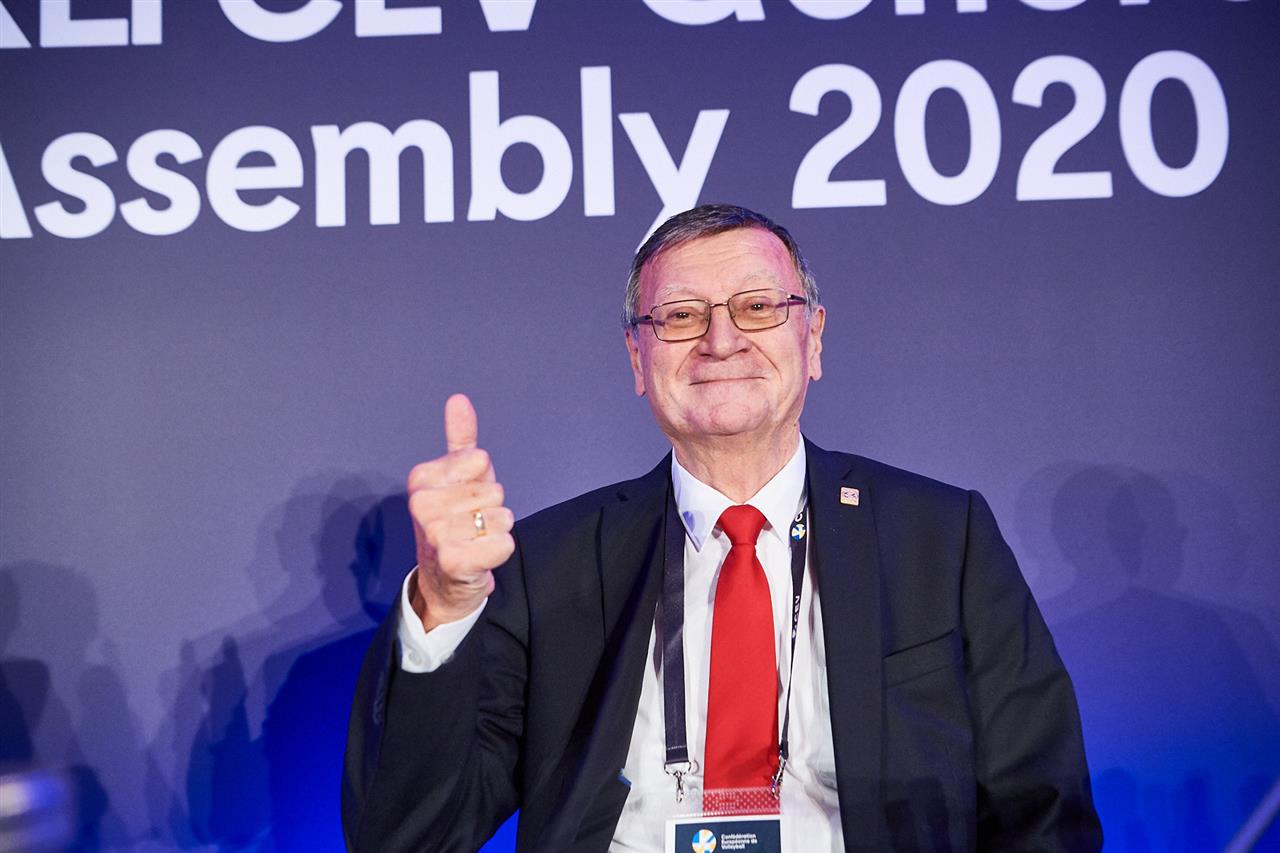 Vienna, Austria, October 16, 2020. Aleksandar Boričić will be leading the European Volleyball family for another term of four years after receiving the majority of the votes cast by the delegates attending the XLI CEV General Assembly held today in Vienna. The incumbent CEV President received 36 votes, with the other candidate standing for the top position, Hanno Pevkur of Estonia, supported by 19 National Federations instead.
After assuming the leadership of the CEV back in 2015, Mr Boričić and his team have re-shaped the organisation and its perception, while fostering a strong sense of solidarity and cohesion among all members of the European Volleyball family. Volleyball in Europe has gone from strength to strength over the course of the last five years, especially through the delivery of major events that have accounted for an unforgettable experience for players and fans alike. This transformational journey has seen unprecedented investments into the sport that have helped grow the game at the grassroots level and more recently, supported all stakeholders in dealing with the many challenges brought by the coronavirus pandemic.
CEV President Aleksandar Boričić congratulated by colleagues from the Executive Committee following his re-election for another four-year term at the helm of the organisation
Born in 1948, Aleksandar Boričić enjoyed a successful career as a player and coach before transitioning to sports management. He was President of the Volleyball Federation of Yugoslavia and subsequently of the Volleyball Federation of Serbia and Montenegro and Volleyball Federation of Serbia from 1992 until early 2016. The graduate from the College of Economic Sciences and the Advanced School of Volleyball Coaches from the University of Belgrade has been at the helm of the European Volleyball family since October 2015 and is the 2nd Executive Vice-President of the International Volleyball Federation (FIVB) as well.
"I would like to thank you all for coming to Vienna for this in-person General Assembly. Despite the current challenges, it is very important that we could spend some time together and speak to each other," Boričić said. "I would like to thank the Austrian Volleyball Federation for hosting us for a second time in less than a year. Five years ago, after the previous elections held in Sofia, I said that we needed to change many things in our organisation. We have done so but there is still room for improvement and we must work even harder to make and achieve further progress even faster," he continued in his closing address. "We are primarily a sports institution, and therefore we need to raise the level of our competitions even further. We have to modernise ourselves and find new ways to serve clubs and National Federations in the best way."
Speaking of the plans for the future, the re-elected CEV President continued: "We have achieved much success with last year's EuroVolley and full gender equality through the inaugural Super Finals. Moreover, we have supported National Federations from Category 1 and 2 in their efforts to organise age-group tournaments. Our wish to is to extend the number of teams participating in age-group European Championships and involve more countries as hosts in order to provide more opportunities for young players to compete internationally. We wish to invest much more in school volleyball, in education and the annual convention for coaches and pursue our wish to distribute as many as 1 million balls among European children. We want to increase opportunities for players in Beach Volleyball and Snow Volleyball – working closely with the FIVB and the Olympic family to make Snow Volleyball an Olympic winter sport in 2026. Finally, I encourage all of you to communicate openly and to exchange information. If we unify and coordinate our actions and programmes, our Volleyball family will become stronger also towards potential international sponsors and partners, so that we can have more money to re-invest in Volleyball. We are ready to work as hard as ever!"
Elections held for all CEV institutional bodies
According to the CEV statutes, the newly elected President had the right to choose up to four members of the CEV Board of Administration among those standing for election in Vienna. Mr Boričić announced to the delegates that he would propose the four following candidates: Renato Arena of Italy, Stanislav Shevchenko of Russia, Miroslaw Przedpelski of Poland and Eric Adler of Denmark. The delegates in attendance ratified this proposal by an absolute majority of the votes cast.
Later in the day, the CEV General Assembly continued with elections for the remaining spots available to join the CEV Board of Administration, the CEV Legal Chamber and for the European representatives in the FIVB Board of Administration, with all mandates covering a four-year term.

The members of the CEV Board of Administration for the 2020-2024 term
The full composition of the 19-person CEV Board of Administration reads as follows:
Aleksandar Boričić (SRB) – President
Renato Arena (ITA) – Senior Vice-President
Eric Adler (DEN) – Vice-President and Treasurer
Michel Everaert (NED) – Vice-President
Margaret Ann Fleming (SCO) – Vice-President
Lubor Halanda (SVK) – Vice-President
Emma Labrador (GIB) – Vice-President
Miroslaw Przedpelski (POL) – Vice-President
Stanislav Shevchenko (RUS) – Vice-President
Zdeslav Barac (CRO)
Geert De Dobbeleer (BEL)
Lubomir Ganev (BUL)
René Hecht (GER)
Jalil Jafarov (AZE)
Gernot Leitner (AUT)
Lennart Neovius (SWE)
Metod Ropret (SLO)
Eric Tanguy (FRA)
Gudmundur Helgi Thorsteinsson (ISL)
Next to the newly elected CEV President, who is as such a member of the FIVB BoA, after two rounds of election, eight officials emerged as the European candidates to join the FIVB Board of Administration for the next four-year term:
Michel Everaert (NED)
Miroslaw Przedpelski (POL)
Renato Arena (ITA)
Stanislav Shevchenko (RUS)
Annie Peytavin (FRA)
Geert De Dobbeleer (BEL)
Lubor Halanda (SVK)
Zdeslav Barac (CRO)
The two substitutes are Hanno Pevkur of Estonia and Portugal's Vicente Araujo. Moreover, Ms Margaret Ann Fleming of Scotland will be a candidate for the gender in minority. 
The CEV Legal Chamber for the next term will include the following five members elected by acclamation: Laurent Moreuil (FRA), Zoya Trifonova (RUS), Slobodan Zecevic (SRB), Déborah Frey (SUI) and Ismail Coskun (TUR). The newly elected CEV Board of Administration appointed Mr Moreuil and Ms Trifonova as the President and Vice-President of the Legal Chamber, respectively.  
Olavi Ala-Nissilä (FIN) and Stoyan Jordanov (MKD) will be serving a four-year mandate as CEV's Internal Auditors.
The next CEV General Assembly will be taking place in Katowice, Poland, on September 18, 2021 in conjunction with the final weekend of CEV EuroVolley 2021 Men.
Click
here
for a picture gallery.