Overview
Team France came through their pool in Montpellier with relative comfort.  Whilst "Les Blues" were pushed hard by the likes of Italy and Bulgaria they were able to rotate their squad and still keep their 100% record.  Finland on the other hand took their fate right to the wire, securing their place in the 1/8 Finals with a tie-break win over Turkey on the final day.  With the eventual winner set to take on the team emerging from EF2 (Italy or Turkey) on Sunday, all eyes will be on Nantes this weekend.
Article - Eighth Finals pairs confirmed
---
"I don't know the team of Finland at all. It's definitely great to play in front of my family and friends given that I'm from the area but I still have a sore back so we'll see if I can play with it."
Kévin Le Roux
France's middle blocker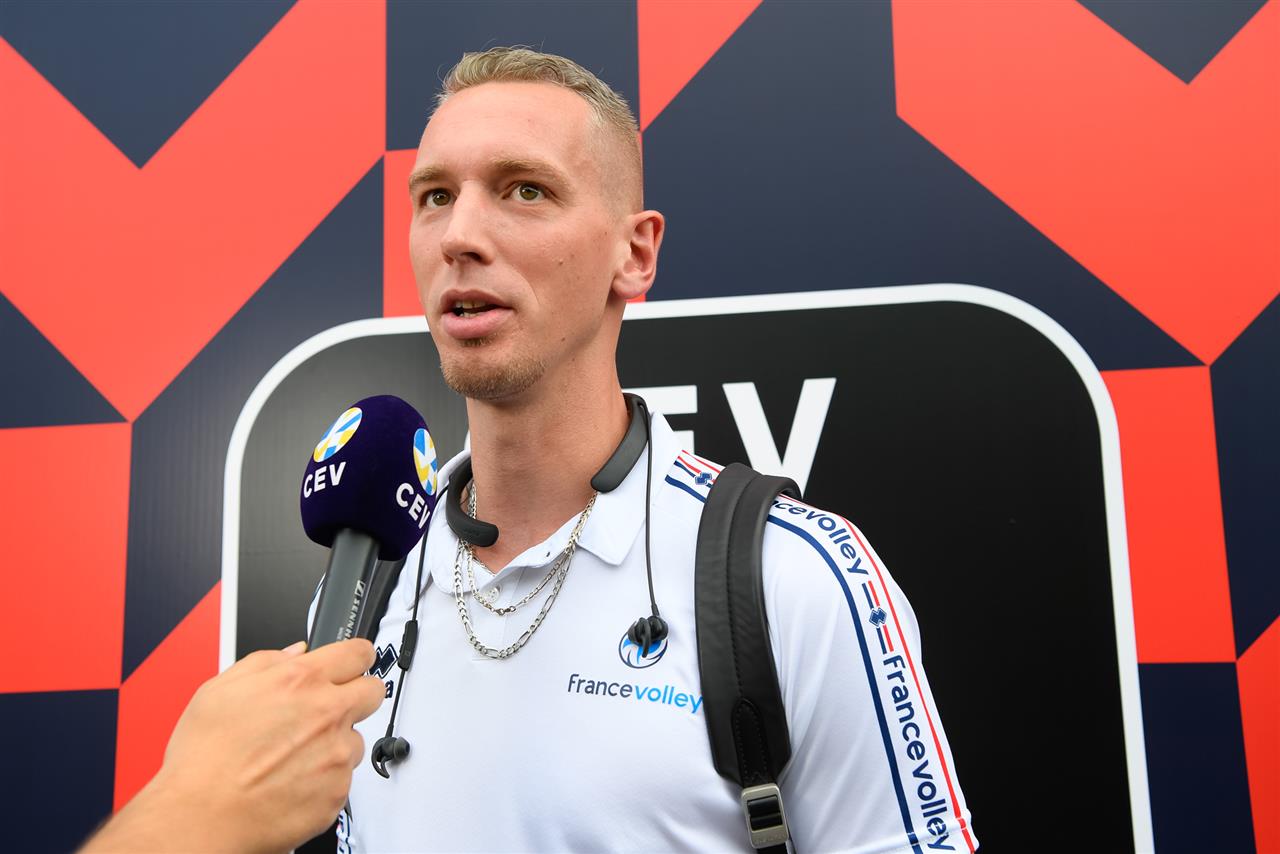 Kévin Le Roux
"We're excited to be here. We're playing better game after game and if we have a chance to beat France, it's definitely thanks to our team spirit. Whenever we score, whenever we lose, it's always together."
Markus Kaurto
Finland's middle blocker
Markus Kaurto
Head-to-Head
· France and Finland will clash for the eighth time in the European Championship. France won five of the previous seven encounters (W5-L2).
· These nations will meet for the first time in the European Championship since 2011, when France beat Finland 3-1 in the preliminary round. Antonin Rouzier scored 20 points, more than any other player on the court.
· Finland's last European Championship victory over France was a 3-1 win in the 1983 consolation round (15-10, 4-15, 15-6, 15-12).
France
· France are aiming for their eighth EuroVolley podium finish and their second European title after 2015.
· Co-hosts France won all their five group stage matches in this year's European Championship. They only dropped one set, in their final fixture against Italy on 18 September (3-1 win).
· The last team to claim the European title with a maximum of one lost set was the Netherlands in 1997. Only Yugoslavia avoided a straight-set defeat against Holland that campaign (3-1 loss in the final).
· On 12 September, France recorded a 3-0 group stage win in their opener against Greece to claim their 100th European championship victory. They became the sixth side to reach this landmark.
· Stephen Boyer has scored 89 points for France in this year's EuroVolley final round, at least 33 more than any of his teammates (Julien Lyneel has piled up 56 points).
· Boyer was France's top scorer in three of their five group stage matches. Lyneel and Earvin Ngapeth both claimed top scoring honours once.
Finland
· Finland are hoping to claim their first ever podium spot in the European Championship. In 2007, they missed out on a medal as Serbia proved too strong in the third-place decider (3-1 loss).
· Finland can reach the European Championship quarter-finals for the first time since 2013, when they were eliminated by Italy (3-1 loss).
· Finland beat North Macedonia (3-1) and Turkey (3-2) in this year's group phase. They can claim more than two wins in a single edition of the European Championship for the first time since 2007 (W4-L4).
· Urpo Sivula (55) and Tommi Siirilä (52) are Finland's leading scorers in this year's competition. The last player to score more points for Finland in the final round of a single edition was Olli-Pekka Ojansivu (62) in 2015.
· Only Siarhei Busel (13) from Belarus and North Macedonia's Risto Nikolov (13) scored more points from blocks in Pool C than Siirilä (12).
Team
Squad Listing
Team
7
TILLIE Kévin
Outside spiker
8
LYNEEL Julien
Outside spiker
10
LE ROUX Kevin
Middle blocker
11
BRIZARD Antoine Arthur Fabien
Setter
14
LE GOFF Nicolas
Middle blocker
16
BULTOR Daryl
Middle blocker
17
CLEVENOT Trévor
Outside spiker
18
ROSSARD Thibault
Outside spiker
21
CHINENYEZE Barthélémy
Middle blocker
Coaches
9892
TILLIE Laurent
Head Coach
TILLIE Laurent
Head Coach
9719
ENARD Cedric
Assistant Coach 2
ENARD Cedric
Assistant Coach 2
27050
JOSSERAND Arnaud
Assistant Coach
JOSSERAND Arnaud
Assistant Coach
Highlights
Team Finland during National anthem
---
Highlights
Team France during National anthem
---
Highlights
Nicolas LE GOFF (FRA) spikes on Finland block
---
Highlights
Urpo SIVULA (FIN) spikes on Earvin NGAPETH (FRA)
---
Highlights
Earvin NGAPETH (FRA) and Team France celebrate the victory
---
Match Report
France easily qualify for quarterfinals

Article
21 September 2019
France easily defeated Finland in three sets despite being behind most of the second. That is when the Finnish made a pleasant display of their analysing and blocking skills. But Tillie's men were much too strong for this matchup. Note that the French coach opted for Ngapeth and his son to fill the spots of outside hitters, as excellent-during-the-pool-phase Lyneel sat on the bench.
Hall XXL Nantes welcomed Team France as it should, with a wave that went on for no fewer than thirty laps to start the third set! Les Bleus will have to wait until tomorrow to know the identity of their opponents for the quarterfinals which will occur on Tuesday at 8:45pm in the same exhilarating atmosphere in Nantes.
Read more
The match in numbers
Points
The combined total number of points scored by both teams throughout the entire match.
Duration
The total length of the match, from the first serve through until the last point has ended.
Spectators
Total number of people in attendance at the venue – taken at the end of the second set.
Match Spikes
The combined total number of successful spikes achieved by both teams throughout the entire match.
Reception Level
An average of the two team service reception percentages from the complete match.
Net Domination
The number of successful point winning blocks of FRANCE compared to FINLAND.
Ace Count
FRANCE number of service aces compared to FINLAND
Error Difference
Errors leading to points of FRANCE, next to those from FINLAND
"It's wonderful to play in such an atmosphere of course, it's the first time that we have that in France. But the real match will be next Tuesday, so hopefully the crowd will be even able to top itself, even though it was incredible tonight."
Earvin Ngapeth
France's outside hitter
Earvin Ngapeth attacking
"We lost the reception/pass battle, and we cannot win in these conditions. Reaching the quarterfinals was our main goal but we may have been able to go further."
Antti Siltala
Finland's outside hitter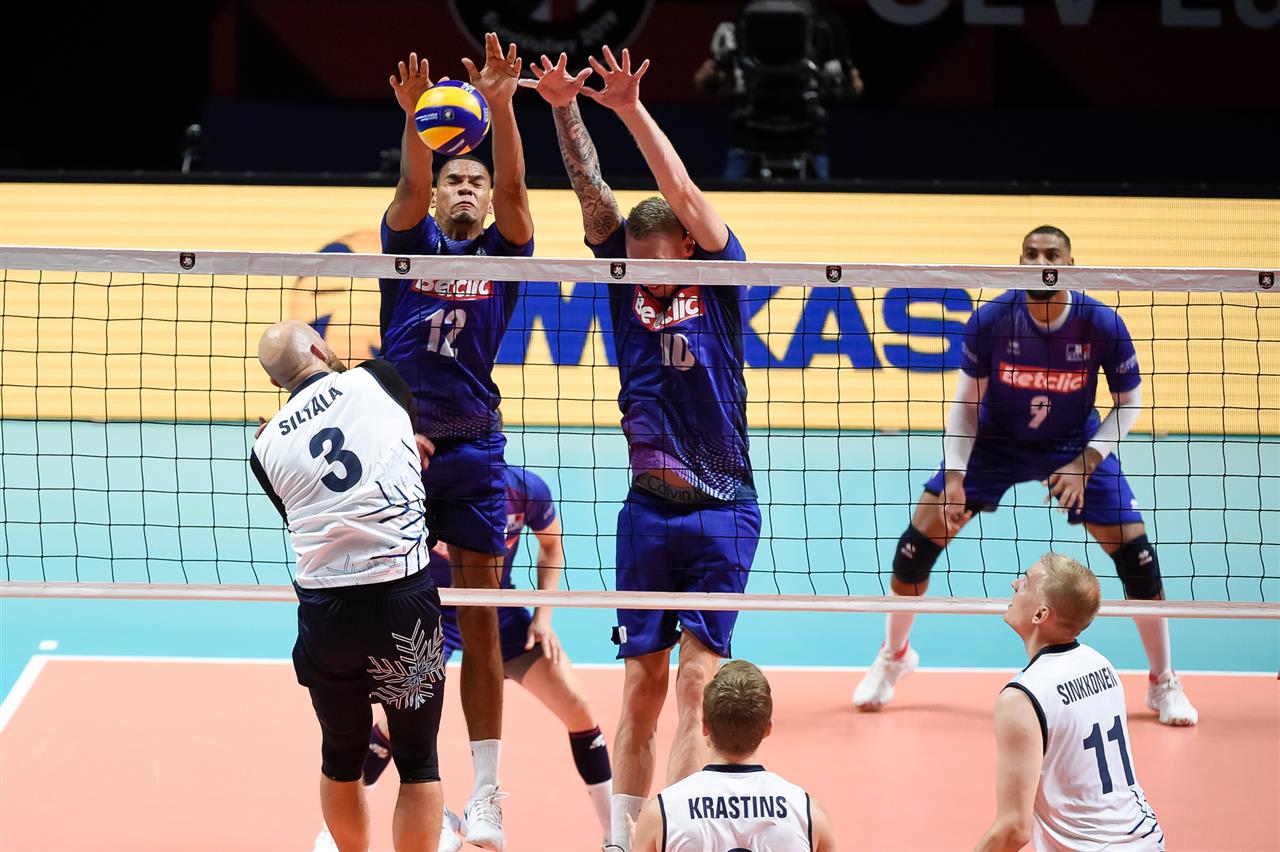 Siltala spiking