Overview
The quarterfinal's encounter between Serbia and Bulgaria is a re-match of their Pool Phase meeting. Then, Serbia won in four sets, however from that time, Bulgaria managed to visible improve their game. The EuroVolley reigning champions are still undefeated in this year's edition, dropping only three sets along the way. However, during the 8th final Bulgaria led by Gergana and Nasya Dimitrova (no relation) showed their teeth and they will definitely try to make a surprise in game against Serbia.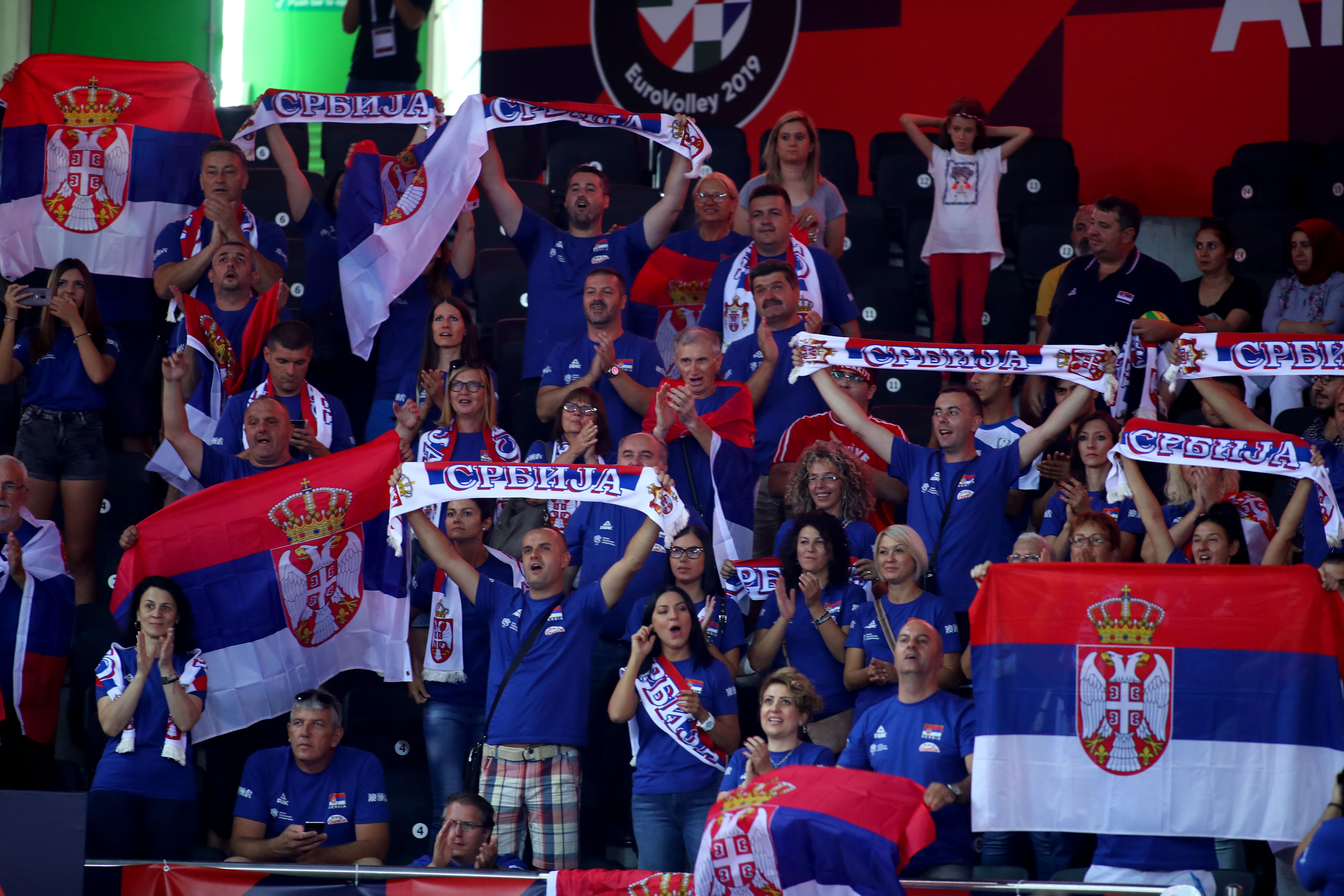 Serbian fans were out in force
Head-to-Head

· Serbia (incl. predecessors) and Bulgaria met six times in European championships, including in this year's group stage.
· Bulgaria won four of their previous six European championship meetings, in 1958 (3-2), 1963 (3-1), 1989 (3-0) and 2013 (3-2).
· Serbia's wins over Bulgaria came in the 2007 (3-1) and 2019 (3-1) editions.
· In their group stage match on 25 August, Brankica Mihajlovic (24) and Tijana Boškovic (15) scored the most points for Serbia, while Nasya Dimitrova (18) and Elitsa Vasileva (16) led Bulgaria in points.
· These nations also recently met in the 2019 FIVB Volleyball Nations League, where Bulgaria won 3-1 in the preliminary round. Nasya Dimitrova and Miroslava Paskova (both 16) were Bulgaria's top scorers, while Milica Kubura (17) won the most points for Serbia.


Serbia

· Defending champions Serbia are on a winning streak of 13 European championship matches since a 3-1 loss against Russia in the 2015 semi-finals.
· The last team to win at least 14 successive European championship matches was Italy - 18 successive victories from 2007 to 2011.
· Serbia reached the semi-finals in each of the least four European championships, from 2011 to 2017.
· Brankica Mihajlovic and Mina Popovic (both 11) won the most points in their round of last 16 win against Romania (3-0).
· Mihajlovic's 24 points against Bulgaria in the group stage are the most for a Serbian player in a match in this year's tournament.


Bulgaria

· Bulgaria won their last three European championship matches, their longest winning run in the competition since five successive wins from 1999 to 2001.
· Bulgaria did not lose a set in their last three matches. The last time they did not drop a set in four consecutive European championship matches was in 1987.
· Bulgaria could reach the last four teams in the European championships for the first time since 1997.
· In their round of last 16 win against Azerbaijan (3-0), Bulgaria were led by Nasya (14 points) and Gergana Dimitrova (12). Nasya won three points from serves and three from stuff blocks.
Team
Squad Listing
Team
1
BUSA Bianka
Outside spiker
2
LAZOVIĆ Katarina
Outside spiker
5
POPOVIC Mina
Middle blocker
9
MIHAJLOVIC Brankica
Outside spiker
11
VELJKOVIC Stefana
Middle blocker
13
BJELICA Ana
Outside spiker
14
ALEKSIĆ Maja
Middle blocker
19
MILENKOVIĆ Bojana
Outside spiker
20
BLAGOJEVIC Jelena
Outside spiker
Coaches
9704
KOVACEVIC Branko
Assistant Coach
KOVACEVIC Branko
Assistant Coach
45715
GRSIC Marko
Assistant Coach 2
GRSIC Marko
Assistant Coach 2
Highlights
WQF-01-SERBIA vs BULGARIA
---
Highlights
WQF-01-SERBIA vs BULGARIA
---
Highlights
WQF-01-SERBIA vs BULGARIA
---
Highlights
WQF-01-SERBIA vs BULGARIA
---
Highlights
WQF-01-SERBIA vs BULGARIA
---
Highlights
WQF-01-SERBIA vs BULGARIA
---
Highlights
WQF-01-SERBIA vs BULGARIA
---
Highlights
WQF-01-SERBIA vs BULGARIA
---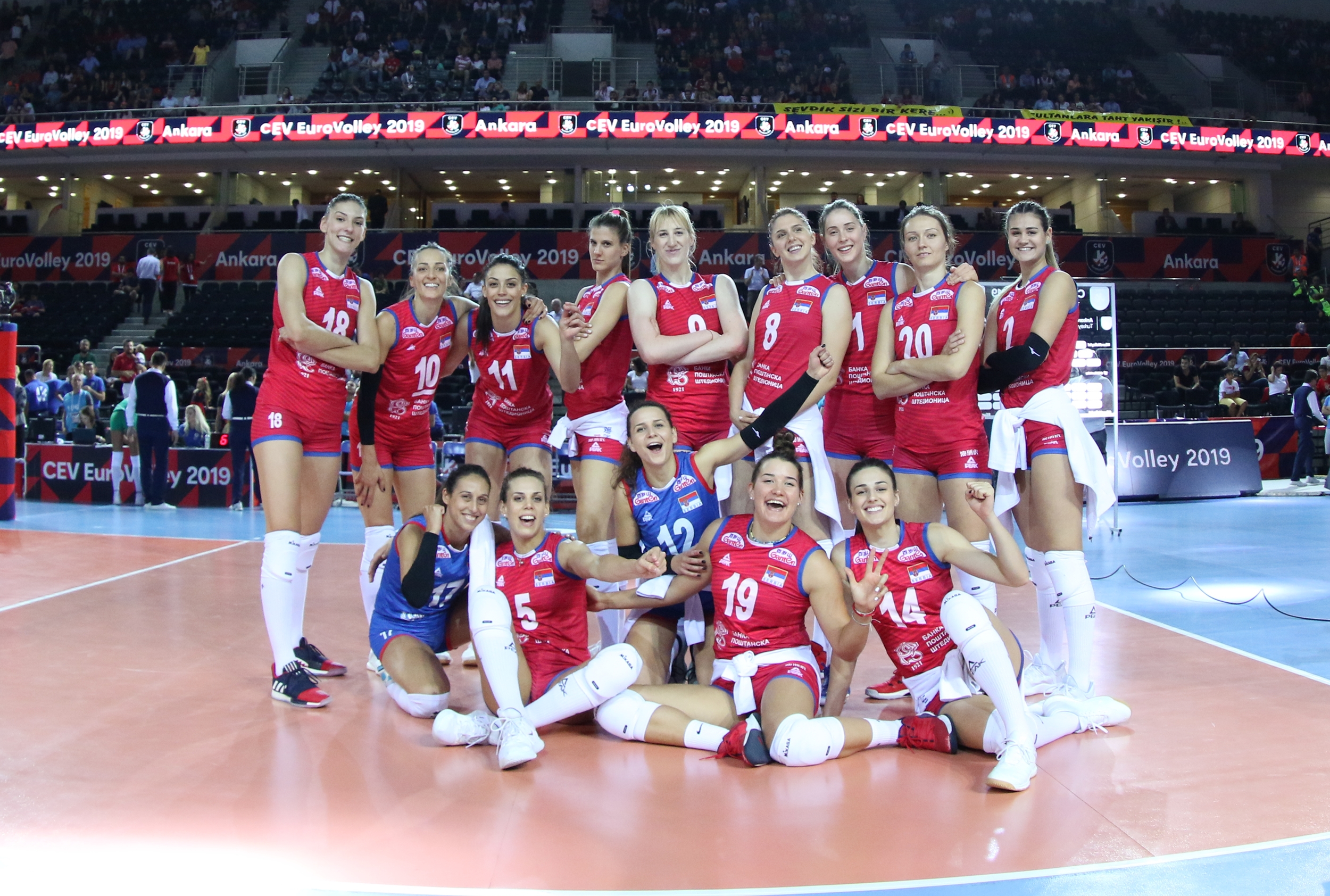 Serbia still unbeaten in EuroVolley
Match Report
Serbia rout Bulgaria to 'fly' to EuroVolley semis

Serbia routed Bulgaria to open the programme of the quarterfinals and secure a spot in the EuroVolley semis for the fifth straight edition. Serbia claimed gold in 2011 and 2017, bronze in 2015 and finished the competition in fourth place in 2013.

In a repeat of a Pool A match, which had ended 3-1 Serbia's way, the titleholders were even more impressive and stormed to a comprehensive 3-0 victory. Tijana Bošković set the pace for the Balkan team with 22 points.

Serbia out-blocked Bulgaria 10-5 and the Lionesses failed to capitalise on a set point in the third set – which eventually ended 28-26 for Serbia.

In the semis, Serbia will be playing Italy which won 3-1 eagerly anticipated quarterfinal fixture against Russia played at the Atlas Arena in Lodz, Poland.
Read more
The match in numbers
Points
The combined total number of points scored by both teams throughout the entire match.
Duration
The total length of the match, from the first serve through until the last point has ended.
Spectators
Total number of people in attendance at the venue – taken at the end of the second set.
Match Spikes
The combined total number of successful spikes achieved by both teams throughout the entire match.
Reception Level
An average of the two team service reception percentages from the complete match.
Net Domination
The number of successful point winning blocks of SERBIA compared to BULGARIA.
Ace Count
SERBIA number of service aces compared to BULGARIA
Error Difference
Errors leading to points of SERBIA, next to those from BULGARIA
Stefana VELJKOVIC, middle blocker of Serbia:
"I am happy because we qualified to semifinal one more time and we are still unbeaten. It can be dangerous as we didn't play any difficult game till now. We have to be focused a bit more. I think we will face Italy. I still can not think about this game, because we were focused on today's match. We will prepare for the semifinal after today, but for sure it will be
tough game. We will fight for a ticket to the final on Saturday and let's see which side will win."
"I regret that we didn't fight more, we could have done it. Of course I am not happy because of this loss, playing against the world champions is always difficult. We could have done it better in the EuroVolley. I think we could have won more games and play better. Sometimes we did great and sometimes we showed a very bad performance. We should have found our rhythm in the middle of the tournament."
Elitsa VASILEVA
captain of Bulgaria