Overview
Both teams lost just one match during the Pool phase: Russia lost at the tie-break with Germany, first ranker of the Pool D, whilst Belgium has been defeated for 3-0 by Italy, group winner of the Pool B. The last clash between this two team has been played in June, where Belgium won the VNL match against Russia for 3-0
Head-to-Head
Russia and Belgium first met at the European championship in 2009, when Russia won 3-2 in the group phase.
The most recent encounter between Russia and Belgium was in the 2019 FIVB Volleyball Nations League. Belgium won 3-0 on 4 June. Britt Herbots scored 20 points for Belgium in that match and Kaja Grobelna added 15 points for the Yellow Tigers.
Belgium's only other victory against Russia in a major world level competition was in the 2015 World Grand Prix (3-0).

Russia
Russia only lost sets in their 3-2 loss against group winners Germany at the 2019 European championship.
Russia could claim five wins in straight sets at a single European championship for the first time since five in 2007.
Two years ago, Russia were eliminated in the first knock-out round at the European championship, losing 3-0 to Turkey in the quarter-finals.
Russia had four different top scoring players in their five group matches at this year's European championship - Nataliya Gonchareva against Belarus and Switzerland, Gonchareva and Kseniia Parubets both against Germany, Irina Koroleva versus Spain, and Irina Voronkova against Slovakia.

Belgium
Belgium won four of their five group matches in this year's European championship, only losing to group winners Italy (3-0).
Belgium can reach the quarter-finals for the third time at the European championship, after 2013 and 2015.
Britt Herbots scored 33 points in Belgium's last group match, the 3-2 victory versus Poland. She has been her team's top scoring player in all five group matches, scoring a total of 109 points.
Team
Squad Listing
Team
C
13
STARTSEVA Evgeniya
Setter
1
LAZARENKO Angelina
Middle blocker
3
EFIMOVA Ekaterina
Middle blocker
6
KOROLEVA Irina
Middle blocker
8
GONCHAROVA Nataliya
Opposite
11
KURILO Margarita
Outside spiker
14
FETISOVA Irina
Middle blocker
16
VORONKOVA Irina
Outside spiker
18
PARUBETS Kseniia
Outside spiker
19
KHALETSKAIA Mariia
Outside spiker
Coaches
5225
BUSATO Sergio
Assistant Coach
BUSATO Sergio
Assistant Coach
67192
BULYCHEV Yuri
Assistant Coach
BULYCHEV Yuri
Assistant Coach
Match Report
Russia move to #EuroVolleyW quarter-finals

Belgium made an impressive start. The team came back from 1-3 to 12-6 in the first set and having a lead for a long time, but in the end there was just one hero – Nataliya Goncharova. Her super spikes and 10 points just in the first set gave the success to Russia.

The Russians were clearly the better team in the second set and it looked like the game will end as another straight-sets victory for them. But Belgium raised the head, took the third set and kept chances alive. Belgium players fought until the very end, but Russia didn't give them any chance to make a surprise.
Read more
The match in numbers
Points
The combined total number of points scored by both teams throughout the entire match.
Duration
The total length of the match, from the first serve through until the last point has ended.
Spectators
Total number of people in attendance at the venue – taken at the end of the second set.
Match Spikes
The combined total number of successful spikes achieved by both teams throughout the entire match.
Reception Level
An average of the two team service reception percentages from the complete match.
Net Domination
The number of successful point winning blocks of RUSSIA compared to BELGIUM.
Ace Count
RUSSIA number of service aces compared to BELGIUM
Error Difference
Errors leading to points of RUSSIA, next to those from BELGIUM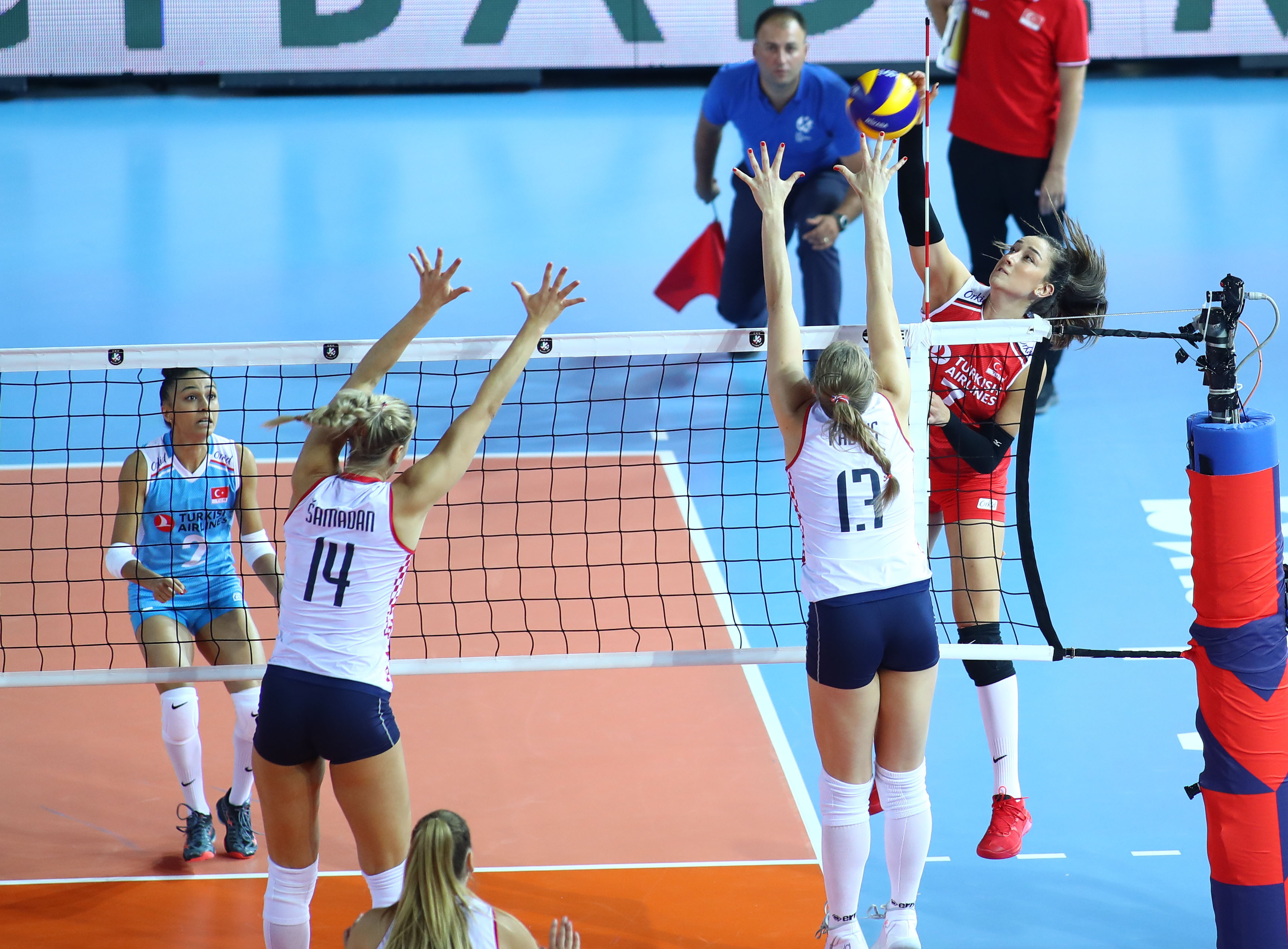 "It was the 1/8 Final, we had to play with concentration from the first moment. I am glad we have added another victory."
Tatiana Romanova
Russia Setter
Vadim Pankov, Russia coach: "The most important thing is that we have won and are going further. We are prepared already for our next game."
"We know very well, if we want to have a chance, we have to serve well and we did it in some moments. Russia is a team who knows how to get back, when it needs to. We are sad now, but Russia is a good team. We lost, that´s the reality. The key moment was probably the first set."
Dominika Sobolska
Belgium Setter