Overview
Italy and Slovakia will face each other for the first time in a major event. Italy, defeated only by Poland in the Pool phase, is the favourite team and it can count on Paola EGONU, one of the best opposite of the tournament, but Slovakia has, on its side, the cheering supporter of Bratislava: after an historical qualification to the eighth-finals of EuroVolley, the fans wants more. 
Head-to-Head
Italy and Slovakia wil meet for the first time at the European championship.
This will also be the first time they will face each other in a major world level competition.

Italy
Italy won their first four group matches at this year's European championship in straight sets, before a 3-2 loss against Poland. Despite that defeat, Italy finished top of their group.
Italy finished in the top eight in each of the last 19 European championships.
The last time Italy lost two successive matches at the European championship was in 2011, when they lost to Germany in the semi-finals and versus Turkey in the bronze-medal match.
Paola Ogechi Egonu was Italy's top scorer in all five group matches, including 28 points against Belgium and 25 versus Poland.

Slovakia
Slovakia won their first three matches at the 2019 European Championship, before losing their last two fixtures.
Slovakia's three wins in this year's tournament is already more than they had claimed in all of their previous matches in European championships (2 wins).
This is the first time Slovakia have reached the knockout stages at a European championship.
Slovakia had a different top scorer in all five matches in this tournament - Nina Herelova (vs Spain), Karin Palgutova (vs Switzerland), Jaroslava Pencova (vs Belarus), Maria Kostelanska (vs Germany) and Nikola Radosova (vs Russia).
Team
Squad Listing
Team
C
10
CHIRICHELLA Cristina
Middle blocker
7
FOLIE Raphaela
Middle blocker
11
DANESI Anna
Middle blocker
13
FAHR Sarah Luisa
Middle blocker
15
NWAKALOR Sylvia Chinelo
Outside spiker
16
BOSETTI Lucia
Outside spiker
17
SYLLA Miriam Fatime
Outside spiker
18
EGONU Paola Ogechi
Opposite
20
PARROCCHIALE Beatrice
Libero
21
ENWEONWU Terry Ruth Nkemdilim
Opposite
Coaches
43332
MAZZANTI Davide
Head Coach
MAZZANTI Davide
Head Coach
20558
BENDANDI Simone
Assistant Coach
BENDANDI Simone
Assistant Coach
28194
BREGOLI Giulio Cesare
Assistant Coach
BREGOLI Giulio Cesare
Assistant Coach
47266
PIERAGNOLI Luca
Assistant Coach
PIERAGNOLI Luca
Assistant Coach
Match Report
Straight-sets success give to Italy the access to #EuroVolleyW quarter-finals

Article
"Ďakujeme (Thank you)" – chanted the biggest volleyball attendance ever in Slovakia in the end of an historic eight-final win for the home team. Marco Fenoglio´s team produced resilient effort and missed some luck to grab one set from huge favourites of the second game in Bratislava.

Slovakia had a small lead in the first two sets during some moments. Especially the second set looked promising with three attacks for a final lead, but Italy had strong nerves, levelled to 23-23 and unique Egonu ended the drama with two powerful serves.
In the last set Italy controlled the game, but big applause is going for both teams.
Read more
The match in numbers
Points
The combined total number of points scored by both teams throughout the entire match.
Duration
The total length of the match, from the first serve through until the last point has ended.
Spectators
Total number of people in attendance at the venue – taken at the end of the second set.
Match Spikes
The combined total number of successful spikes achieved by both teams throughout the entire match.
Reception Level
An average of the two team service reception percentages from the complete match.
Net Domination
The number of successful point winning blocks of ITALY compared to SLOVAKIA.
Ace Count
ITALY number of service aces compared to SLOVAKIA
Error Difference
Errors leading to points of ITALY, next to those from SLOVAKIA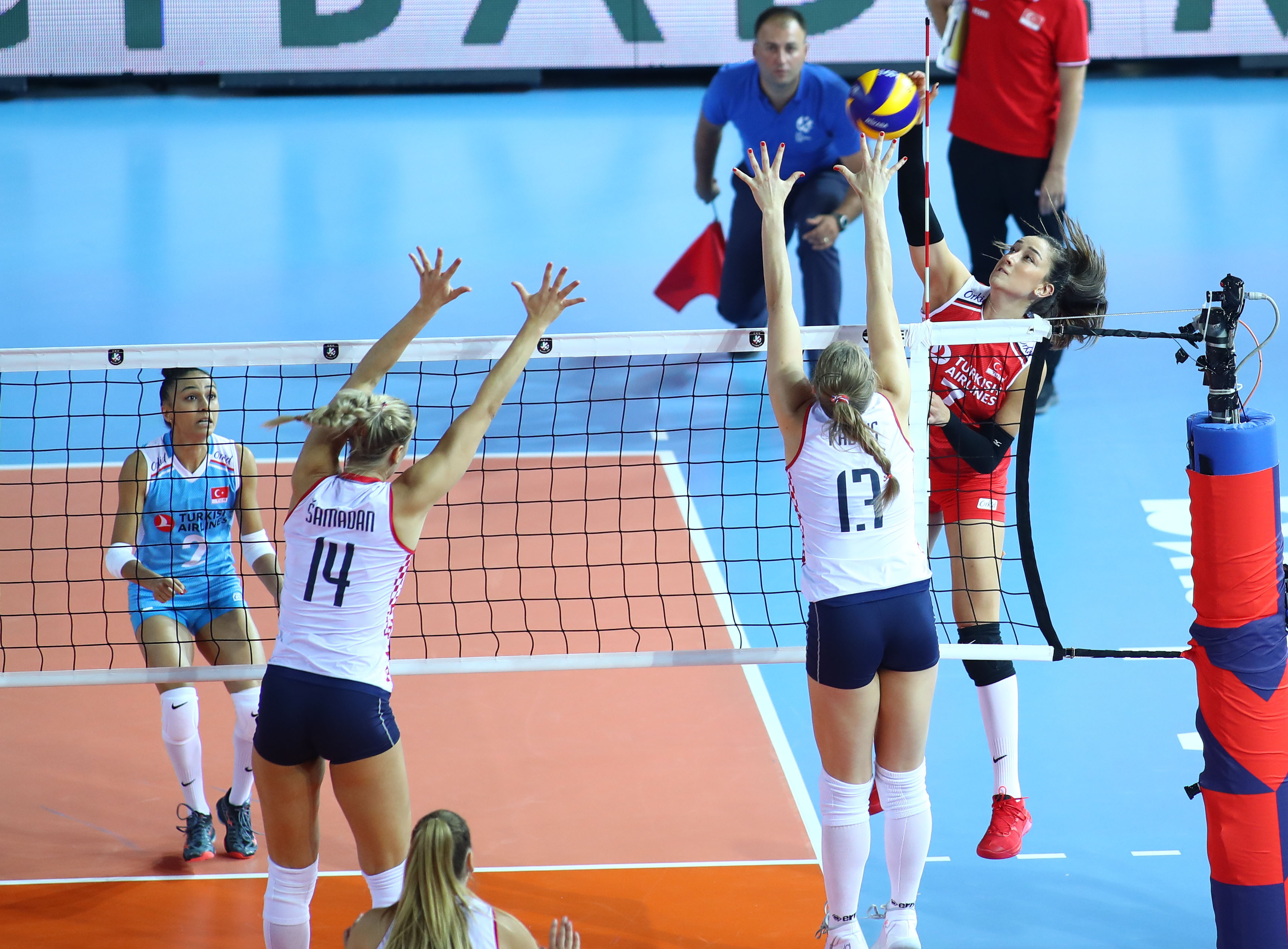 "It was a terrible match for us. I am sad for our performance. We have got trouble in a few moment, we have got trouble in blocking. This is a lesson to learn for us to approach a match in different way with Russia. It will be very tough game for us."
Davide Mazzanti
Italy Coach
Cristina Chirichella, Italy's captain: "I am sure we can play better. The result is good, for now. But in the next game we have to show something more because it will be tough game. The atmosphere was great, we have a fun a little bit"  
Marco Fenoglio, Slovakia's coach: "We lost, but due to fantastic spectators and unique atmosphere here in Bratislava I feel like we won the game. We arrived on the end of this tournament on very high level – to played close game with opponents like Italy is unbelievable for me. I can´t ask from my girls nothing more."