Overview
Azerbaijan progressed to the EuroVolley 8th final, finishing 2nd in Pool C. They claimed 4 wins and lost to the unbeaten Netherlands. Two of their wins came in tie-breaks (against Croatia and winless Estonia). On the other hand, Bulgaria were ranked 3rd in Pool A, after a disappointing beginning with three losses (including unexpected defeat to France), they managed to recover in last minute claiming two straight-set wins which qualified them to next round.
Head-to-Head

· Azerbaijan and Bulgaria meet for the first time in European championships.
· Bulgaria won their only meeting in a major world level tournament, 3-0 in the 2018 world championship second round.
Azerbaijan

· Azerbaijan finished second in Pool C, only losing to group winners Netherlands (3-0).
· Azerbaijan could win four successive European championship matches for the third time, after 2005 and 2017 (runs of four).
· Azerbaijan can win five matches at a European championship for the first time.
· Azerbaijan could reach at least the quarter-finals for the third time, after fourth-place finishes in the 2005 and 2017 editions.
· Azerbaijan won only one of their six previous knockout matches in European championships, a 3-0 win versus Germany in the 2017 quarter-finals.
· Polina Rahimova scored a match-high 30 points in Azerbaijan's most recent match, the 3-0 win vs Romania, including 10 aces.
Bulgaria
· Bulgaria won two of their five matches, finishing in third place in Pool A. They won their two most recent matches, 3-0 wins versus Greece and Finland.
· Bulgaria could win three successive European championship matches for the first time since a run of five wins from 1999 to 2001.
· Bulgaria played only one knockout match in their last seven European championship appearances, a 3-2 defeat against Germany in the play-offs for the quarter-finals in 2017.
· In their most recent match, against Finland, Bulgaria outblocked their opponents by 13-4. Mira Todorova (4), Lora Kitipova (3) and Nasya Dimitrova (3) all won more than two points from stuff blocks.
Team
Squad Listing
Team
C
5
ALIYEVA Odina
Outside spiker
6
ABDULAZIMOVA Ayshan
Middle blocker
7
HASANOVA Olena
Middle blocker
8
SAMADOVA Yelyzaveta
Outside spiker
9
BEZSONOVA Anastasiya
Outside spiker
14
YAGUBOVA Krystsina
Setter
18
ALISHANOVA Shafagat
Setter
20
AZIZOVA Marharyta
Opposite
22
KIRYLIUK Maryia
Middle blocker
Coaches
57941
CAPRARA Giovanni
Head Coach
CAPRARA Giovanni
Head Coach
15038
AGHAYEV Famil
Assistant Coach
AGHAYEV Famil
Assistant Coach
58431
ABILOV Emin
Assistant Coach 2
ABILOV Emin
Assistant Coach 2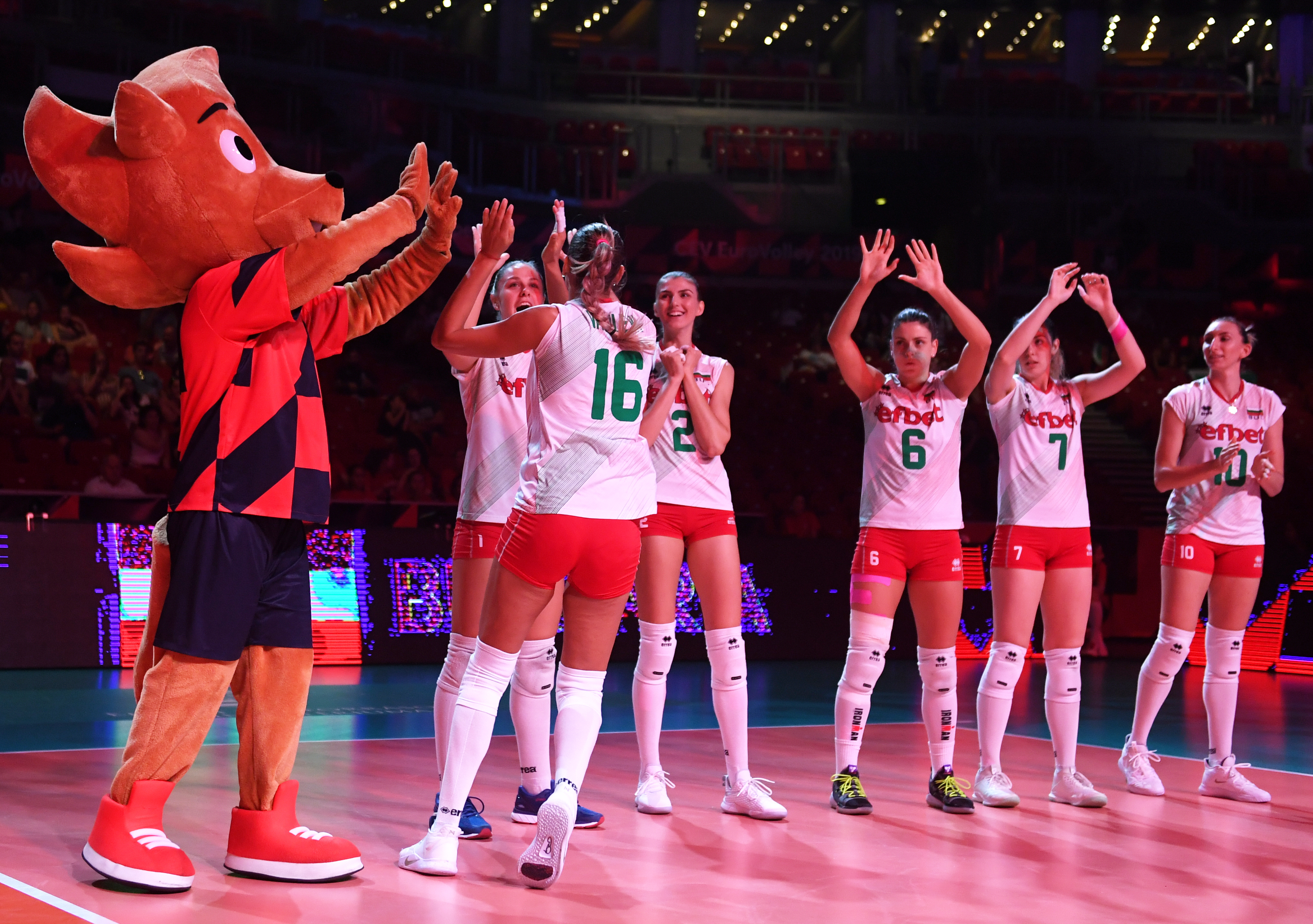 Bulgaria win in impressive style in Budapest
Match Report
Bulgaria's Lionesses romp to victory over Azerbaijan

In the first set Bulgaria showed lots of impressive defences, the Azerbaijani attackers were totally uncertain about what to do, they only had 19% efficiency in attacks and their leader Polina RAHIMOVA was powerless.
Thus, the Bulgarians easily claimed secure advantage which let them win the first set 25-12. Bulgarian libero Zhana TODOROVA played outstandingly, Bulgaria served and blocked a lot better than Azerbaijan which led to a clear second set victory.
In the third set Polina RAHIMOVA's serves gave back the hope to Azerbaijan. From 4-7, with her service Azerbaijan tied at 7-7. Both teams were not able to gain any bigger advantage, so the game was continued on point-by-point basis until 21-21. Three crucial attacks from Bulgaria's middle-blockers helped them to qualify for the EuroVolley quarterfinals.
Nasya DIMITROVA was the best scorer with 14 points (3 aces), being followed by Gergana DIMITROVA who scored two points less. Also Polina RAHIMOVA tallied 12 points. It was the last game in Papp László Sportaréna in Budapest.
Read more
The match in numbers
Points
The combined total number of points scored by both teams throughout the entire match.
Duration
The total length of the match, from the first serve through until the last point has ended.
Spectators
Total number of people in attendance at the venue – taken at the end of the second set.
Match Spikes
The combined total number of successful spikes achieved by both teams throughout the entire match.
Reception Level
An average of the two team service reception percentages from the complete match.
Net Domination
The number of successful point winning blocks of AZERBAIJAN compared to BULGARIA.
Ace Count
AZERBAIJAN number of service aces compared to BULGARIA
Error Difference
Errors leading to points of AZERBAIJAN, next to those from BULGARIA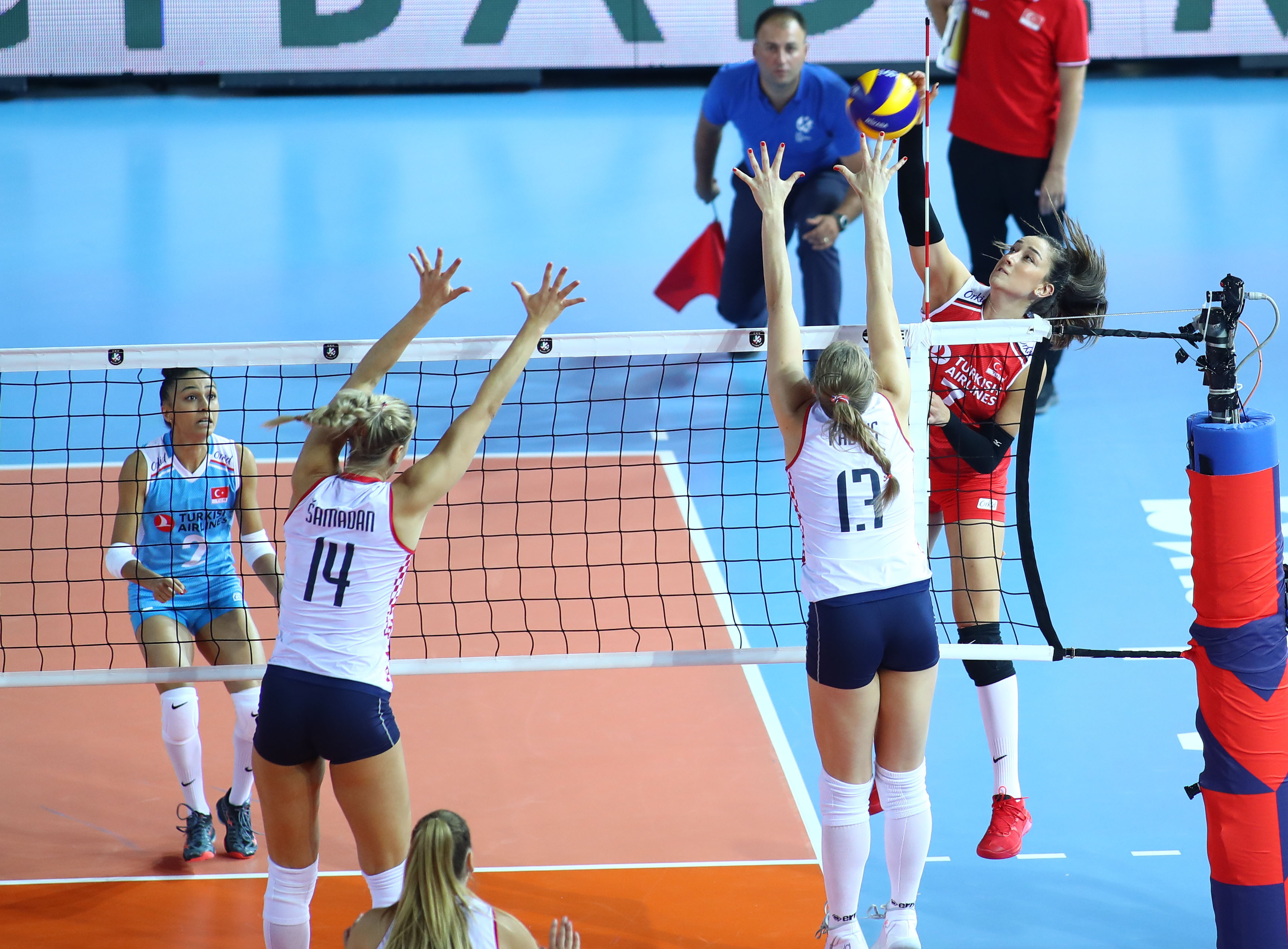 "My players were mentally and tactically incredible, it was our best game in the tournament so far. We prepared well against Polina Rahimova, because she played high-level volleyball during the whole tournament. We spent hours with analyzing her serves and attack, and we did a great job tonight. We are going to celebrate this victory with the players, but after that, we will focus on our next game against Serbia."
Ivan PETKOV
head coach of Bulgaria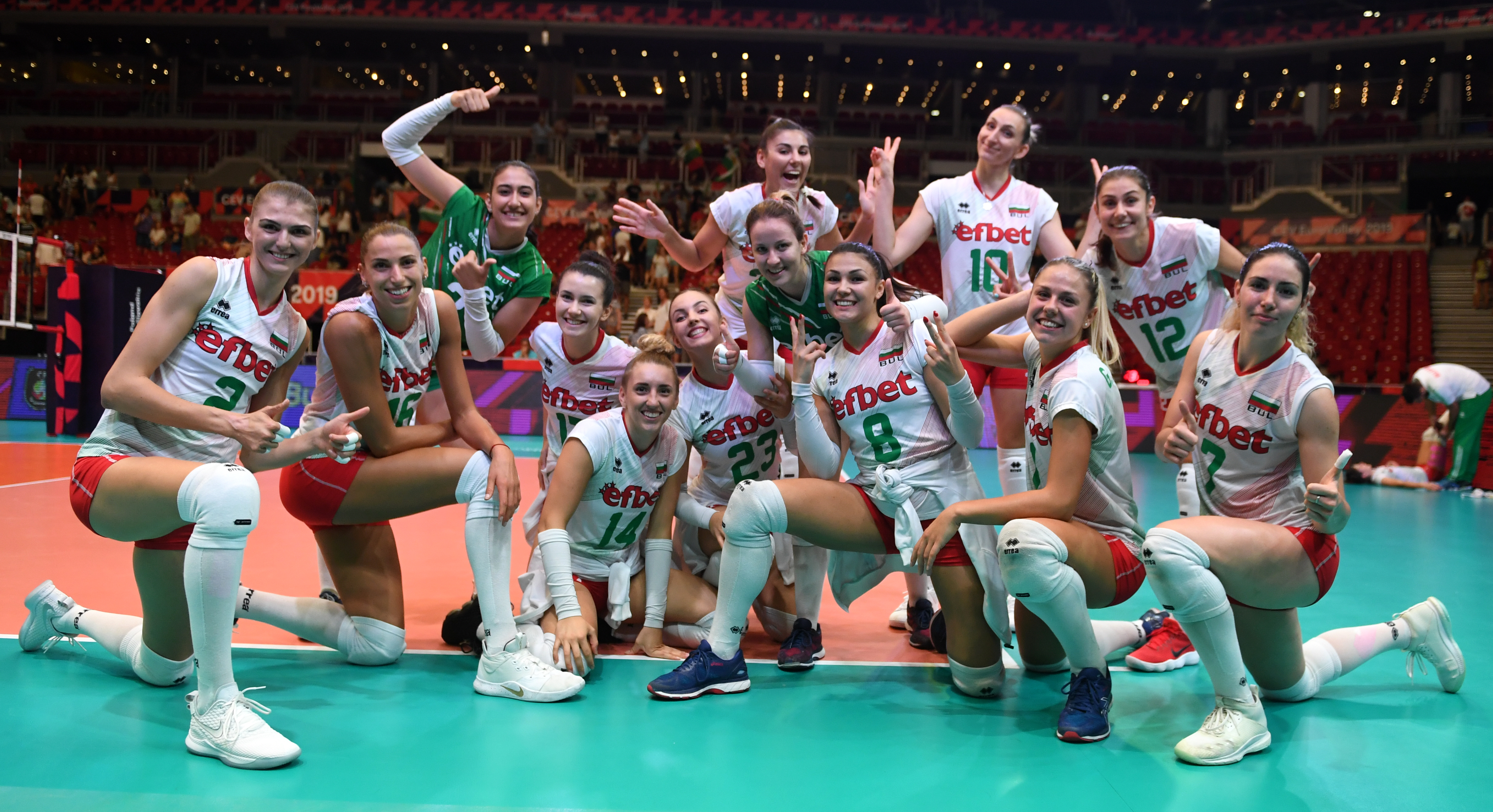 Bulgarian team celebrating their victory
"We have good memories from here, it's a big pleasure to play here. I'm so happy that we managed to win the game in 3 sets. In the next round against Serbia we'll give our best and we see what happens."
Mira TODOROVA
middle blocker of Bulgaria
Giovanni CAPRARA, head coach of Azerbaijan:

"I would like to congratulate to the Bulgarian team, because they played incredible match. In the first two sets we weren't able to attack. With this low level of play we couldn't win this match."