Overview
The Netherlands completed the group stage staying unbeaten, and in addition not dropping a single set in Pool C. The 2015 and 2017 EuroVolley silver medallist hope to continue their winning streak in Budapest. Greece, finished 4th in Pool A with record of 2 wins and 3 defeats (all in straight sets).
Head-to-Head

· Netherlands and Greece will play against each other for the first time at the European championship.
· These two teams neither have met in any world level major competition.
Netherlands

· Netherlands are the only team to have won all five of their group matches at this European championship without losing a set.
· The Dutch can reach the quarter-finals for the third time in a row, after finishing runners-up in 2015 and in 2017.
· Netherlands can win six successive European championships matches for the first time since a run of seven wins in 2009. They had won their opening five matches in straight sets that year, before a 3-2 victory against Russia in their sixth match.
· Lonneke Slöetjes en Nika Daalderop each were Holland's top scoring players in two matches at this year's European championship.
Greece

· Greece finished fourth in their group at this year's European championship after two wins and three defeats.
· All three of Greece's defeats were straight-set losses, against Turkey, Bulgaria and Serbia.
· Greece can reach the quarter-finals of a European championship for the first time. They reached the last eight teams once, in the 1991 edition where no quarter-finals were contested.
· Anthi Vasilantonaki was Greece's top scoring player in four of their five group matches. Olga Strantzali claimed top scoring honours in Greece's 3-0 win against France.
Team
Squad Listing
Team
C
6
BALKESTEIN-GROTHUES Maret
Outside spiker
3
BELIEN Yvon
Middle blocker
4
PLAK Celeste
Outside spiker
5
DE KRUIJF Robin
Middle blocker
7
LOHUIS Juliet
Middle blocker
10
SLÖETJES Lonneke
Opposite
11
BUIJS Anne
Outside spiker
18
JASPER Marrit
Outside spiker
19
DAALDEROP Nika
Outside spiker
22
KOOLHAAS Nicole
Middle blocker
Coaches
43098
MORRISON Jamie
Head Coach
MORRISON Jamie
Head Coach
20440
KLOK Marko
Assistant Coach
KLOK Marko
Assistant Coach
58450
BELTRAMI Alessandro
Assistant Coach
BELTRAMI Alessandro
Assistant Coach
Highlights
Get well soon, Sándor HOBOTH!
---
Highlights
Funny moment with NED's Nika DAALDEROP and Rett LARSON
---
Highlights
NED's Robin DE KRUIJF touch the ball
---
Highlights
NED's celebrate a point
---
Highlights
NED's celebrate a point
---
Highlights
NED's Robin DE KRUIJF
---
Highlights
WEF-03-THE NETHERLANDS vs GREECE
---
Anne Buijs scored 14 points in attack
Match Report
No suprise in Budapest, the Netherlands earn a spot in quarterfinal

The Netherlands were favourites of the first 8th final in Budapest. However, Greece didn't spare efforts and causing some troubles to the Oranjes. In the first set the Dutch team got an early lead 5-2, but the Greeks tied at 7-7, starting a point-by-point race which lasted to 16-16. Then, Jamie Morrison's team jumped to 19-16 and kept this advantage closing the first part 25-21. Anthi VASILANTONAKI did her best scoring 9 points in attack and one with ace.
The Dutch setter Britt BONGAERTS tried to involve every attacker – none of them scored more than 3 points in set one. Also the second set was pretty equal. Greece improved their reception and fought hard, but were unable to stop the Dutch team led by Lonneke SLOETJES and Anne BUIJS. Greece saved 3 set points, but the Dutch team managed to also win this set.
In the third, the Netherlands totally dominated on court from the very beginning, making Greece totally powerless in attack. Eventually, the silver medallists of EuroVolley 2017 won with 13 point difference and booked their ticket to quarterfinals in Ankara. The best scorer of the match was Anthi VASILANTONAKI with 17 points, on the other side of the net Anne BUIJS scored 14.
Read more
The match in numbers
Points
The combined total number of points scored by both teams throughout the entire match.
Duration
The total length of the match, from the first serve through until the last point has ended.
Spectators
Total number of people in attendance at the venue – taken at the end of the second set.
Match Spikes
The combined total number of successful spikes achieved by both teams throughout the entire match.
Reception Level
An average of the two team service reception percentages from the complete match.
Net Domination
The number of successful point winning blocks of THE NETHERLANDS compared to GREECE.
Ace Count
THE NETHERLANDS number of service aces compared to GREECE
Error Difference
Errors leading to points of THE NETHERLANDS, next to those from GREECE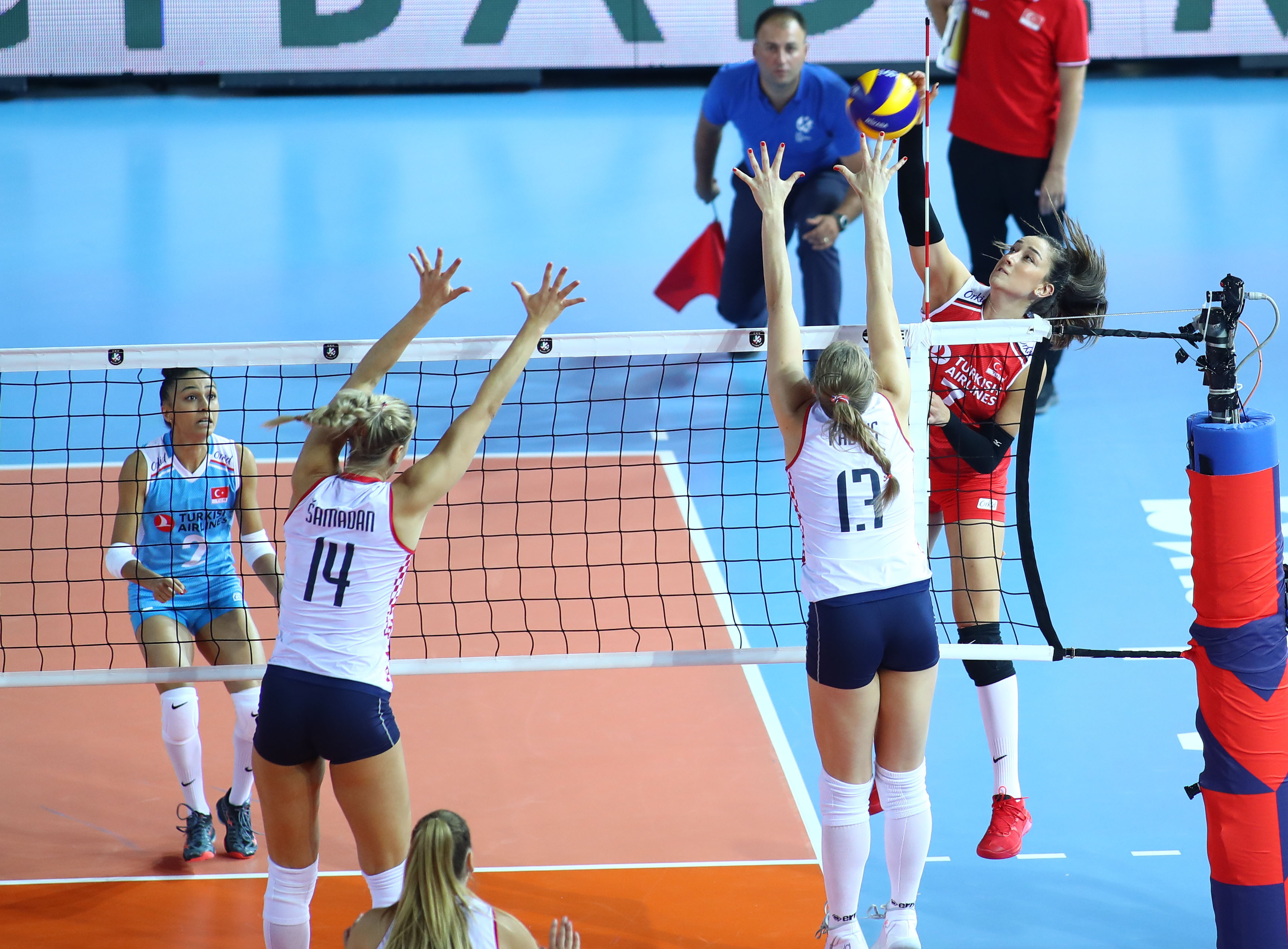 "We were a little bit nervous during the first rallies, but in the second set we were able to improve a lot in attack. Greece served really hard and received well, but we could find the key against their reception. We don't have exact goals for the rest of the tournament: we are just trying to play good volleyball and win every single game."
Jamie MORRISON
head coach of the Netherlands
Lonneke SLÖETJES, opposite of the Netherlands:
"The first set was really difficult for us, we tried to score, but they had everywhere a hand or a foot under the ball to keep it up... Then our service and reception got better, so we could control the last set. Of course, we would like to reach the semifinal, but it won't be easy, because the Turkish team will play in home court."
Gulliermo NARANJO HERNANDEZ, head coach of Greece:
"I think we did our best against one of the best teams in Europe. They were finalist in the last two European Championships. Our team is not on this level, but we are very proud of the first 2 sets, but in the last set we didn't have enough energy. We are proud that we could be here in the 8th final."