Overview
Co-hosts Turkey finished second in Pool A on a record of four wins and one loss. Their only setback came in the final match of the group phase against titleholders Serbia, which they lost 1-3 before a sell-out crowd of 10,700 fans. Croatia had a rough start to the tournament but regrouped to finish third in Pool C in Budapest on a 3-2 win-loss record. Croatia are three-time EuroVolley silver medal winners (1995, 1997, 1999), while Turkey have a silver medal (2003) and bronze from the 2011 and 2017 editions to their name.
Şeyma Ercan - From mopper to Volleyball star
---
Head-to-Head

Turkey and Croatia meet for the fifth time in European Championships. Both nations won two of their previous four meetings.
Croatia won in straight sets in both the 1995 and 2011 group stages.
Turkey won 3-1 in the play-offs for 5th to 8th place in 2005 and 3-2 in the 2007 group stage.
These nations have never met in a major world level tournament.
Turkey

Turkey finished in second place in Pool A, only losing to group winners Serbia (3-1) in their most recent match.
Turkey reached at least the quarter-finals in each of the last four European championships, from 2011 to 2017.Turkey could win five matches at a single European championship for the third time after 2003 and 2011 (both 5).
In their defeat against Serbia, Eda Erdem Dündar won a team-high 16 points, including seven from stuff blocks. No other player on court that day scored more than three points from blocks.
Croatia

Croatia finished third in Pool C on three wins and two defeats. Their three wins came in their last four games.
Croatia could win three successive European Championship matches for the first time since a six-match winning run in 1997.
The 1997 edition was also the last time Croatia won more than three European championship matches.
Croatia could reach the quarter-finals for the first time since 2013. They lost in the play-offs for the quarter-finals in 2015 (3-0 vs Italy) and 2017 (3-0 vs Netherlands).
In their most recent match, a 3-0 win against Hungary, Samanta Fabris won a match-high 25 points.
Team
Squad Listing
Team
C
14
ERDEM DÜNDAR Eda
Middle blocker
5
ERCAN Seyma
Outside spiker
6
AKMAN Kübra
Middle blocker
7
BALADİN Hande
Outside spiker
9
İSMAİLOĞLU Meliha
Outside spiker
13
BOZ Meryem
Outside spiker
18
GÜNEŞ Zehra
Middle blocker
21
YILDIRIM Fatma
Outside spiker
99
KARAKURT Ebrar
Outside spiker
Coaches
8314
GUIDETTI Giovanni
Head Coach
GUIDETTI Giovanni
Head Coach
11447
PAKKAN Saim
Assistant Coach
PAKKAN Saim
Assistant Coach
42124
HAMURCU Alper
Assistant Coach
HAMURCU Alper
Assistant Coach
75016
VATANSEVER recep
Assistant Coach
VATANSEVER recep
Assistant Coach
Highlights
Two Italian coaches chatting before the match - Giovanni Guidetti (TUR) and Daniele Santarelli (CRO)
---
Highlights
Hande Baladin of Turkey celebrates
---
Highlights
Fans waving Turkish flags at Ankara Sports Hall
---
Highlights
The charismatic Eda Erdem Dündar erupts in joy
---
Highlights
Lucija Mlinar of Croatia spikes past the block of Turkey
---
Highlights
Team Turkey celebrate their dramatic victory over Croatia
---
Highlights
WEF-02-TURKEY vs CROATIA
---
Match Report
Turkey survive drama to play Netherlands in the quarterfinals

Article
Turkey fought hard to make it to the quarterfinals and they did so coming from behind to pull off a dramatic 3-2 victory to face the Netherlands for a spot in the semis.

Turkey failed to capitalise on a number of set points towards the end of the third set, which eventually went Croatia's way at 33-31.

The hosts caught a flying start to the tiebreak, leading 6-0, but Croatia came back and even edged ahead at 12-11, before the 'Sultans of the Net' triumphed at 16-14 to get the party started with more than 8,000 fans at Ankara Sports Hall.

Despite losing the game, Croatia scored the most points – 118 to Turkey's 116. Turkey recorded 10 blocks – as Croatia registered five only and none in the last two sets.
Read more
The match in numbers
Points
The combined total number of points scored by both teams throughout the entire match.
Duration
The total length of the match, from the first serve through until the last point has ended.
Spectators
Total number of people in attendance at the venue – taken at the end of the second set.
Match Spikes
The combined total number of successful spikes achieved by both teams throughout the entire match.
Reception Level
An average of the two team service reception percentages from the complete match.
Net Domination
The number of successful point winning blocks of TURKEY compared to CROATIA.
Ace Count
TURKEY number of service aces compared to CROATIA
Error Difference
Errors leading to points of TURKEY, next to those from CROATIA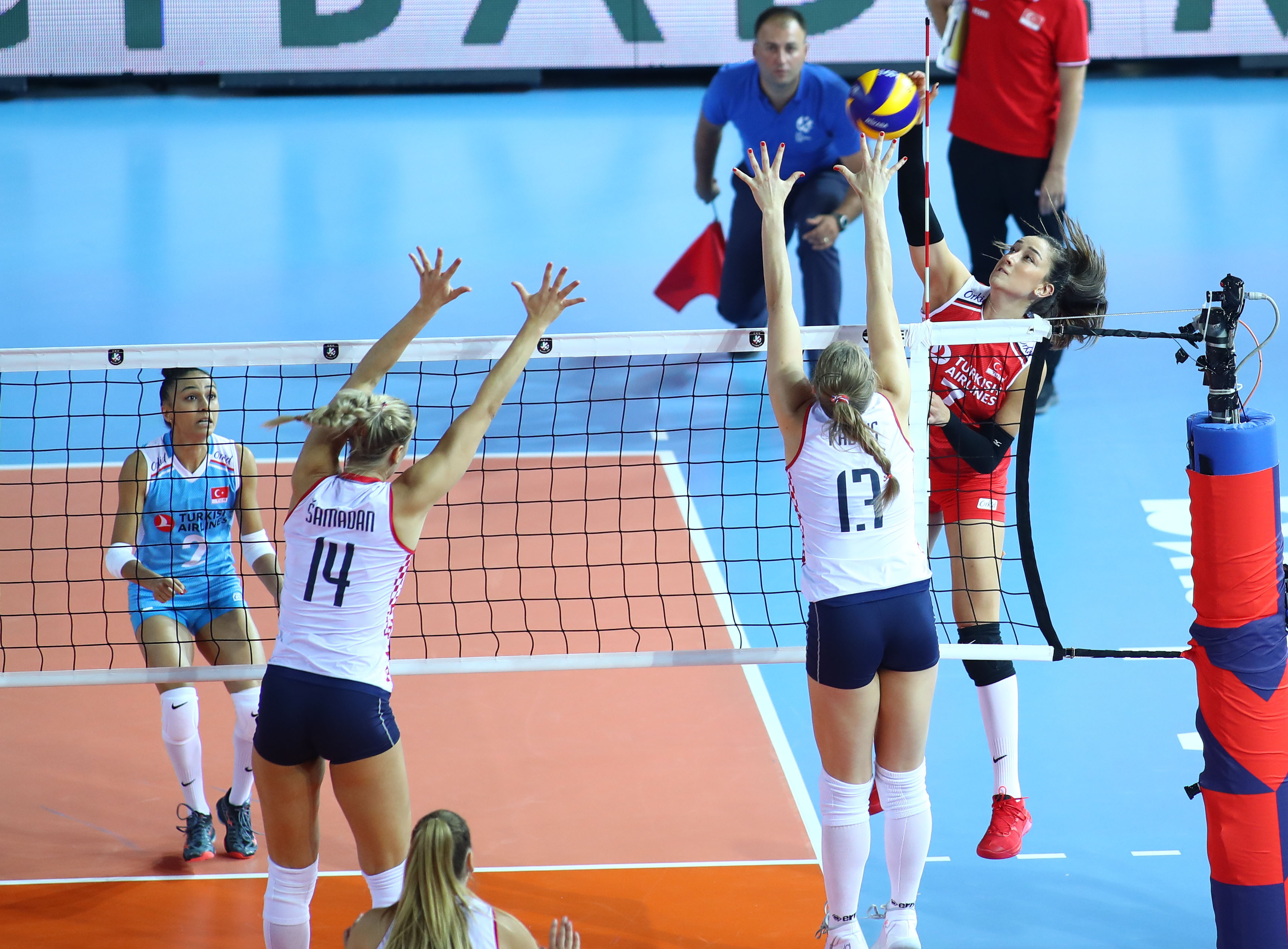 Naz Aydemir Akyol, setter of Turkey: "After the group stage, we said that we should play four finals if we want to get a medal. We started the match well, but the Croats played a very good and stable game. They served very well and their defence was very good too. Samanta Fabris played especially very well. They certainly have improved since the start of the tournament. It was not easy for us. With the support of the audience in Ankara, we tried not to give up. It was not a good day for us but it was good to win anyway.

In the quarterfinals, our opponent, the Netherlands, is the second team in Europe. A very respectable team, but it is just one match. We have not played against them for a long time but our coach will do the technical and tactical analysis. We will do our best to get to the podium in Ankara."
Daniele Santarelli, coach of Croatia: "Reaching the quarterfinals was a dream for us. We fought hard for this dream and I am proud of my team. It is not easy to play in this arena, in front of these fans. It is something I had never heard or seen before but we played a great match. Losing this way is not simple. We have worked a lot with this team. We had a lot of ups and downs this summer but now we have fixed most of the problems.

It is normal that when you play against a team like Turkey, you cannot find perfection all the time. This good match was the last step of our long trip with this group. After a loss like this, it is not easy to say I am happy, but I am happy and I am proud as well."