Overview
Titleholders Serbia completed a clean sweep of their five matches in Pool A, taking maximum 15 points in the process. Romania, on the other hand, finished fourth in Pool C, with a record of two wins and three losses.
Head-to-Head

· Serbia have won the last three matches against Romania at European Championships, 3-2 in 2005, 3-0 in 2011 and 3-0 in 2015
· Romania had won the first nine matches versus Serbia (incl. Yugoslavia, Serbia and Montenegro) at European Championships.
· These nations have never met in major world level tournaments.
Serbia

· Defending champions Serbia are on a winning streak of 12 European championship matches since a 3-1 loss against Russia in the 2015 semi-finals.
· The last team to win at least 13 successive European Championship matches were Italy - 18 successive victories from 2007 to 2011.
· Tijana Boškovic was Serbia's (joint-) top scorer in their last three matches at this year's European Championship.
· Brankica Mihajlovic's 24 points against Bulgaria are the most for a Serbian player in a match in this year's tournament.
Romania

· Romania's previous chance of reaching the quarter-finals at the European Championships was in 2011 when they lost the playoff match for the quarter-finals to Serbia (3-0).
· Romania could win more than two matches at a European Championship for the first time since four victories in 2001.
· Adelina Budai-Ungureanu was Romania's (joint-) top scorer in four of their five matches in this year's tournament, including 25 points against Estonia.
· Ioana Maria Baciu was the top scoring player against Croatia on 24 points.
Team
Squad Listing
Team
1
BUSA Bianka
Outside spiker
2
LAZOVIĆ Katarina
Outside spiker
5
POPOVIC Mina
Middle blocker
9
MIHAJLOVIC Brankica
Outside spiker
11
VELJKOVIC Stefana
Middle blocker
13
BJELICA Ana
Outside spiker
14
ALEKSIĆ Maja
Middle blocker
19
MILENKOVIĆ Bojana
Outside spiker
20
BLAGOJEVIC Jelena
Outside spiker
Coaches
9704
KOVACEVIC Branko
Assistant Coach
KOVACEVIC Branko
Assistant Coach
45715
GRSIC Marko
Assistant Coach 2
GRSIC Marko
Assistant Coach 2
Highlights
Team Romania celebrate a point
---
Highlights
Serbian players working hard in defence
---
Highlights
Serbia captain Maja Ognjenovic setting for the titleholders
---
Highlights
Romania team captain Nneka Onyejekwe erupts in joy
---
Highlights
Bianka Busa fighting hard at the net
---
Highlights
Team Serbia celebrate their success over Romania
---
Match Report
Serbia through to quarterfinals following 3-0 victory over Romania

Article
Serbia further extended their EuroVolley winning streak with their last setback in the competition dating to the 2015 semi-final match they lost to Russia. After triumphing 3-0 over Romania, they will play Bulgaria in the quarterfinals in a repeat of a Pool A match, which ended 3-1 in Serbia's favour.
Serbia came from behind in the first set, taking the lead only at 19-18 before pulling off a 25-20 victory. As many as six out of nine Serbian blocks in the match came in the first set.
Adelina Budai-Ungureanu of Romania was the top scorer of the match with 12 points, as Mina Popovic and Brankica Mihajlovic scored 11 apiece for Serbia.
Serbia's superstar Tijana Boskovic did not play at all, saving energy for the remainder of the tournament.
Read more
The match in numbers
Points
The combined total number of points scored by both teams throughout the entire match.
Duration
The total length of the match, from the first serve through until the last point has ended.
Spectators
Total number of people in attendance at the venue – taken at the end of the second set.
Match Spikes
The combined total number of successful spikes achieved by both teams throughout the entire match.
Reception Level
An average of the two team service reception percentages from the complete match.
Net Domination
The number of successful point winning blocks of SERBIA compared to ROMANIA.
Ace Count
SERBIA number of service aces compared to ROMANIA
Error Difference
Errors leading to points of SERBIA, next to those from ROMANIA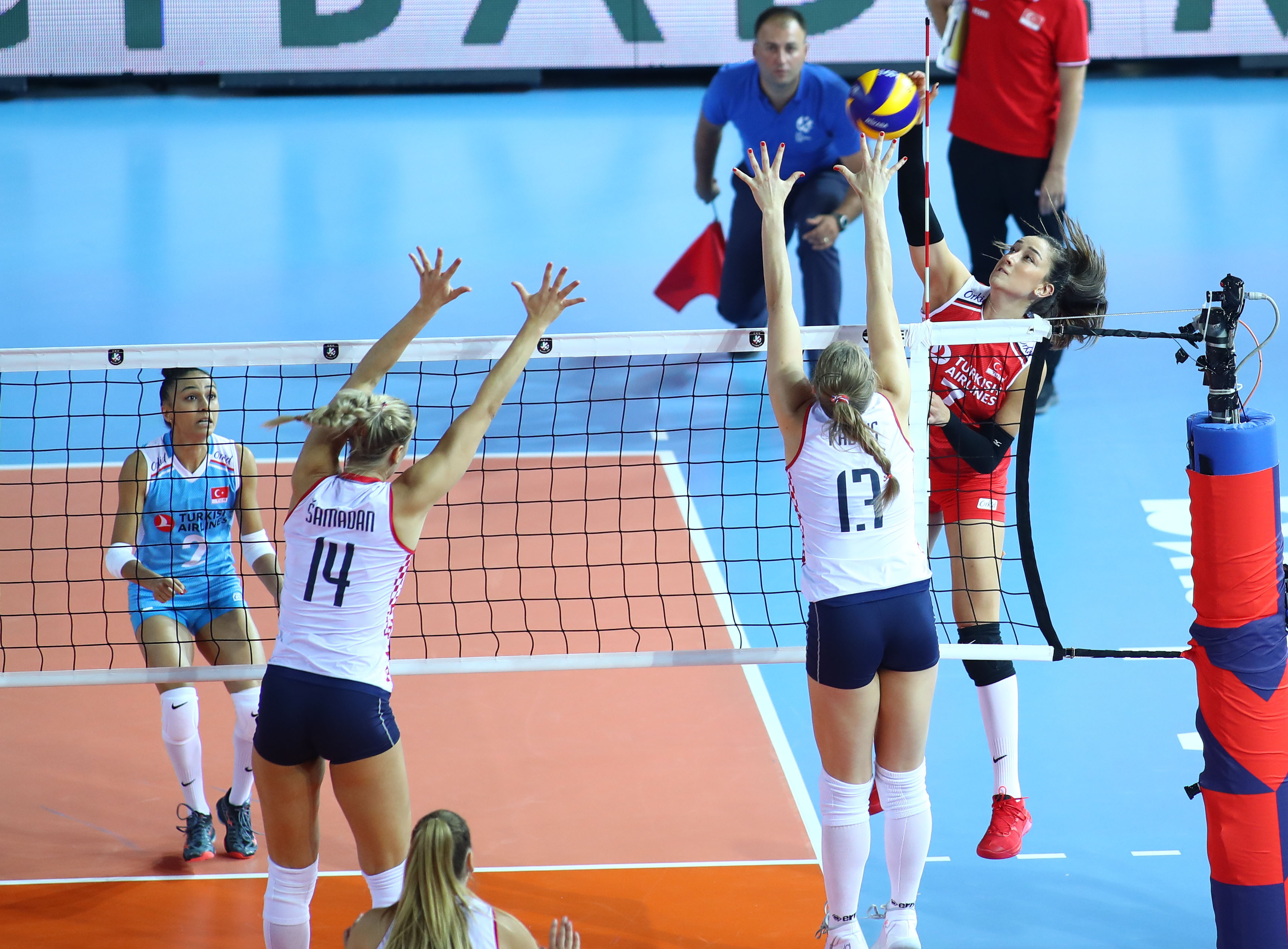 Mina Popovic, player of Serbia: "We did not start as we had to and we had too many ups and downs. At the end, we still managed to win the game 3-0, which is always a good thing of course. I think the opponent was extremely good, especially at the beginning of the match. They had a very good attack and I think they prepared very well for this match. Our coach tried some players who did not play so much this far."
"How we have to prepare to play even better in the quarterfinals. We already played against Bulgaria because we were in the same group here in Ankara. We did not play against Azerbaijan this year, but whomever we play against, it is not going to be easy. It is the quarterfinals of EuroVolley, so everybody is motivated and we just want to improve the level of our performance with every match."
"I expected my players to take on this match with a good attitude. We were very close to Serbia in all three sets. I know that not all of the starting players from Serbia were on the court but we worked very well and always kept a smile on our faces. We fought for every ball until the end. I think that this EuroVolley journey was important for the development of our team."
Luciano Pedullà
Coach of Romania