Overview
With their consistently high-level Volleyball demonstrated so far on the EuroVolley 2019 courts of Belgium, Serbia are not only the clear favourite to win this quarterfinal match with Ukraine, but also a very likely winner of this year's continental title. All of coach Slobodan Kovač's players have given their quality contributions to the victories so far, but the one who stood out in the eighthfinal win over Czech Republic was Uros Kovacevic, good receiver, successful spiker and emotional team leader in the key moments. Ukraine, however, are clearly a team not to be underestimated. They upset hosts Belgium in their eighthfinal game outplaying them not only in technical aspects, such the fantastic blocking, but mostly with their great teamwork and youthful togetherness. Ukraine's Yurii Semeniuk is the tournament's best blocker, statistically, so far. They have two among the best six servers as well, but it's their great fighting spirit Serbia need to worry about the most. The winner of this quarterfinal will face France or Italy in a September 27 semifinal in Paris.
Head-to-head
• Serbia and Ukraine have met once before at EuroVolley. In 1995, Serbia (as Yugoslavia) beat Ukraine 3-0 in the group stage.
• The only other clash between these teams at a major tournament was at the 1998 world championships, when Yugoslavia also won 3-0.
Serbia
• Serbia are hoping to claim their third EuroVolley crown, after 2001 (as Yugoslavia) and 2011.
• Serbia can become the fourth country to win at least three European titles, after Russia (14 - 12 as Soviet Union, 2 as Russia), Italy (6) and Czech Republic (3 as Czechoslovakia).
• Serbia finished on the podium in nine of the last 12 EuroVolley tournaments - two first, one second and six third places.
• Serbia can win eight successive matches at EuroVolley for the second time, after eight wins in a row from 2009 to 2011. Their current winning run started with a 3-2 victory against Belgium in the bronze medal match in 2017.
• Serbia can win more than six matches in a single EuroVolley tournament for the first time.
• Uros Kovacevic is Serbia's top scorer on 74 points, including 17 points in their 3-0 eight finals win against Czech Republic. Marko Podrascanin scored five points from blocks against the Czechs.
Ukraine
• Ukraine's best result in EuroVolley history is a sixth place in 1993. They are among the top eight teams in Europe for the first time since the 1997 edition of EuroVolley.
• Ukraine beat Belgium 3-2 in the eight finals. Both teams scored 100 points in this match.
• It was the first EuroVolley win for Ukraine in a five-set match since 1997.
• Ukraine can win five matches in a single EuroVolley championship for the first time.
• Dmytro Viietskyi (23 points) was Ukraine's top scorer in their 3-2 win against Belgium in the eight finals. Yurii Semeniuk scored five points from blocks.
• Viietskyi is Ukraine's top scoring player in this year's EuroVolley, with a personal tally of 87 points.
"We feel like favourites because we haven't lost a match at this European Championship. But for this quarterfinal it means nothing. The team of Ukraine showed amazing last few games and showed that we need to respect them. They even beat Belgium in front of a full gym here. Yes, we feel like favourites, but we need to play well, if we want to win today."
Srecko Lisinac
Middle blocker of Serbia
"The atmosphere in our team is really good. We understand that Serbia is a top team, maybe one of the best in the world. We will try and we will see what happens."
Oleh Plotnytskyi
Outside spiker and captain of Ukraine
Team
Squad Listing
Team
C
4
PETRIC Nemanja
Outside spiker
1
OKOLIC Aleksandar
Middle blocker
2
KOVACEVIC Uros
Outside spiker
5
CIROVIC Lazar
Outside spiker
7
KRSMANOVIĆ Petar
Middle blocker
8
IVOVIC Marko
Outside spiker
14
ATANASIJEVIC Aleksandar
Opposite
18
PODRASCANIN Marko
Middle blocker
20
LISINAC Srecko
Middle blocker
Coaches
20423
KOVAČ Slobodan
Head Coach
KOVAČ Slobodan
Head Coach
17620
RISTIC Ljubisa
Assistant Coach
RISTIC Ljubisa
Assistant Coach
80579
ŽAKIĆ Igor
Assistant Coach 2
ŽAKIĆ Igor
Assistant Coach 2
Highlights
Serbian fans on the stands
---
Highlights
Coach Krastins (UKR) with Ace
---
Highlights
Captain Petric (SRB)
---
Highlights
Iereshchenko (UKR) attacks
---
Highlights
Plotytskyi (UKR) against Serbian triple block
---
Highlights
Didenko (UKR) sets the ball
---
Highlights
Ukraine celebrate
---
Highlights
Kovacevic (SRB) attacks
---
Highlights
Serbia triumph victorious
---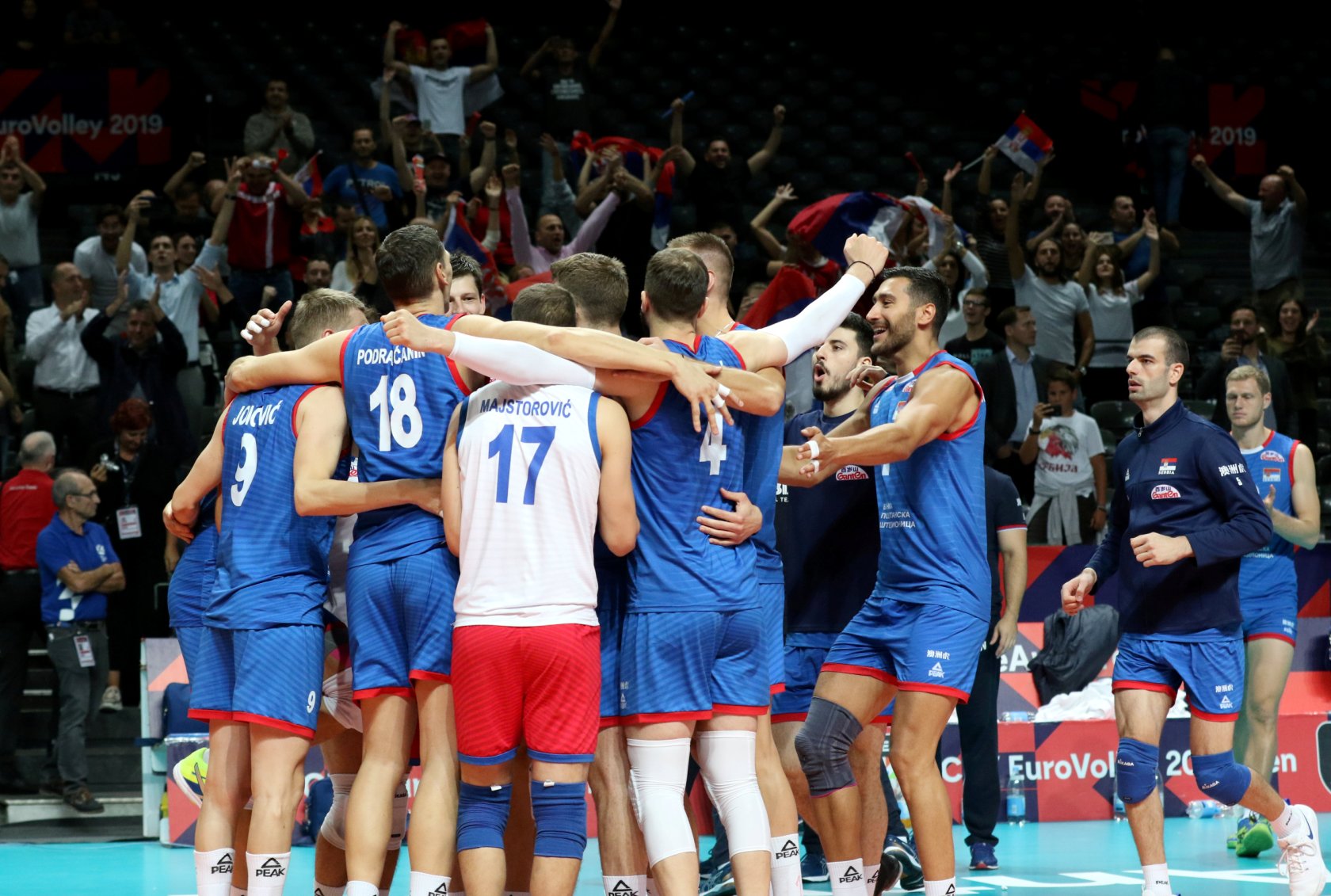 Match Report
Serbia survive big match with Ukraine to book trip to Paris

Article
Ukraine got close to delivering a major upset in their semifinal match against Serbia, but managed to go as far as a tie-breaker, in which the 2017 bronze medallists finally asserted their superiority to triumph with a hard-fought victory and the spot against France in Friday's semifinal in Paris.

Ukraine survived a very competitive first set and eight points by Uros Kovacevic to win it with four points in a row for 25-21. They continued the series to 3-0 in the second set and were well in control through 21-17, when Aleksandar Atanasijevic brought Serbia back to life with two successful spikes in a row, followed by two mega aces in a row for 21-21 and towards an individual nine-point set total. Finally, Kovacevic finished a long rally with an elegant off-the-block tip to close the set at 25-23 Serbia's way. Further stepping up their spiking and blocking efforts, the Serbs broke away with an 8-3 lead in the third set, after a series of five consecutive points. With Ian Iereshchenko doing a fantastic job from the serving line (three aces), Ukraine gradually caught up at 17-17, but never managed to step in front. It was once again Kovacevic who closed the set with an off-the-block spike for 25-22. The fourth set was all about Ukraine. Merciless Dmytro Viietskyi in offence gave them a solid early lead, which they built nicely to a comfortable 25-19 win to prompt a tie-break. The deciding set, however, was all about Serbia. With their backs against the wall, the favourites to win the match made sure to deny a major upset and cruised to a 15-9 close.

Aleksandar Atanasijevic was the top scorer of the match, on 24 points. Uros Kovacevic proved very valuable in key situations and totalled 21. Ian Iereshchenko was Ukraine's most prolific point-maker, scoring 18 times, including four from the serving line.
Read more
The match in numbers
Points
The combined total number of points scored by both teams throughout the entire match.
Duration
The total length of the match, from the first serve through until the last point has ended.
Spectators
Total number of people in attendance at the venue – taken at the end of the second set.
Match Spikes
The combined total number of successful spikes achieved by both teams throughout the entire match.
Reception Level
An average of the two team service reception percentages from the complete match.
Net Domination
The number of successful point winning blocks of SERBIA compared to UKRAINE.
Ace Count
SERBIA number of service aces compared to UKRAINE
Error Difference
Errors leading to points of SERBIA, next to those from UKRAINE
"As we expected after the game against Belgium, Ukraine was a very tough opponent. They started the game with really powerful serves and lot of variations from the setter. We managed to come back in set two and took over the game. We reached our best level in set five and that was decisive to take the win and move to Paris."
Srecko Lisinac
Middle blocker of Serbia
"I am very proud of my team. In seven games, we played six on a high level. We are sad we lost the quarterfinal. After not being at a European Championship for a long time, this is a very big step for Ukrainian Volleyball. We missed the semis by only a few points. But I am sure we showed Europe our fighting spirit on the court."
Ugis Krastins
Coach of Ukraine