Overview
This is a clash between two very strong teams stacked with top-quality players that many expected to see in Sunday's final. Well, in sports nothing is predictable, and after losing their respective semifinals France and Poland will have to battle it out in the third place match. With the EuroVolley 2019 bronze medals at stake, one can expect that a spectacular duel will take place anyway. Hosts France will enjoy the support of thousands of fans on the stands at the AccorHotels Arena, hoping to see Earvin Ngapeth show more of the magical spiking he did in the semifinal against Serbia despite the defeat. Poland are certainly not to remain unsupported by their incredible fans, who are expected to make their voice heard in Paris on Saturday afternoon while fantastic spiker and server Wilfredo Leon does his best to achieve first big podium with his new national team.
"We feel a little bit tired and sad. After yesterday's semifinal, we finished late. But this morning we talked about the bronze medal, the box, the dream, the spectators, the atmosphere. And we got pumped up a bit more, I don't know what will happen, but we will give our best."
Laurent Tillie
France's head coach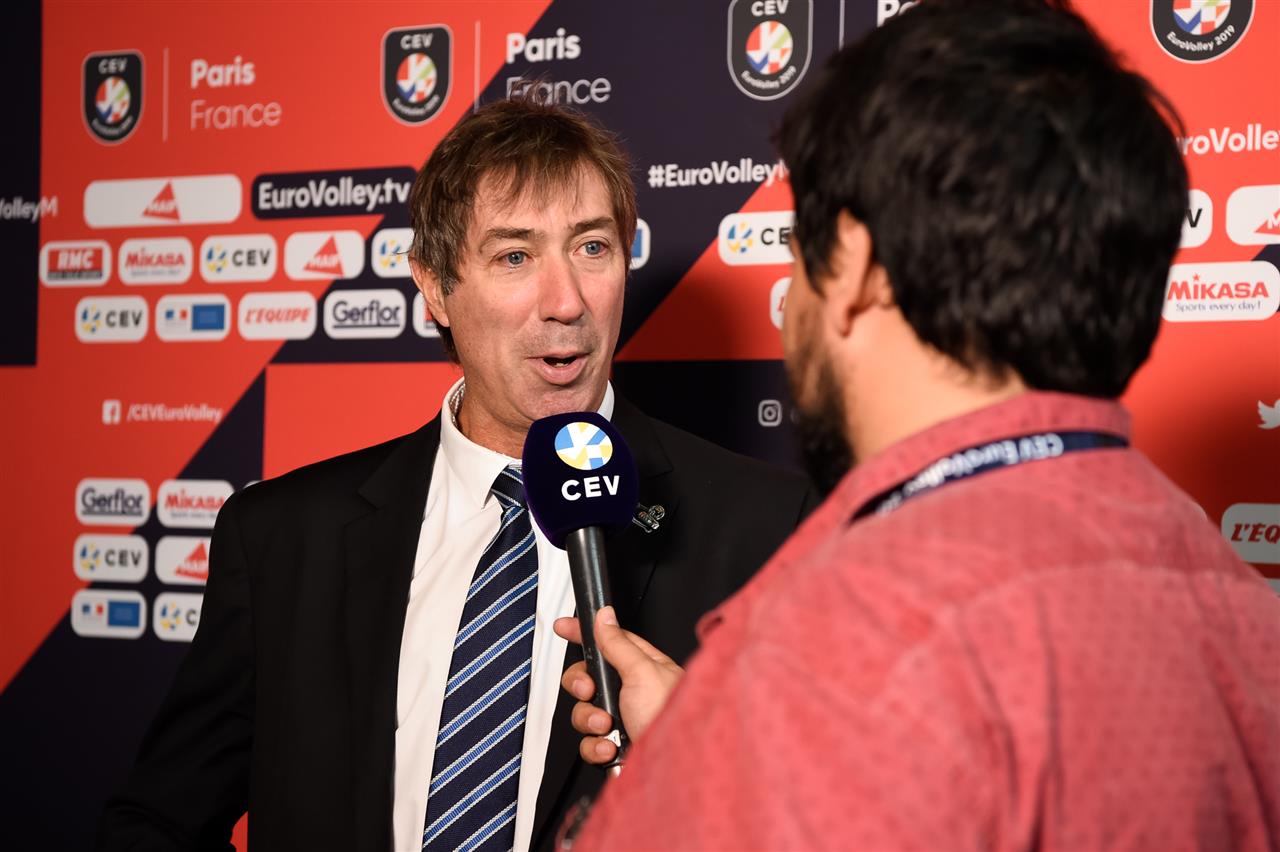 Tillie before the match
"We may feel the same as the French. We were hoping for gold, so it's a challenge for my players to show that they find bronze is also important. Both teams will not be 100% but they will fight for bronze so it's a very interesting game."
Vital Heynen
Poland's head coach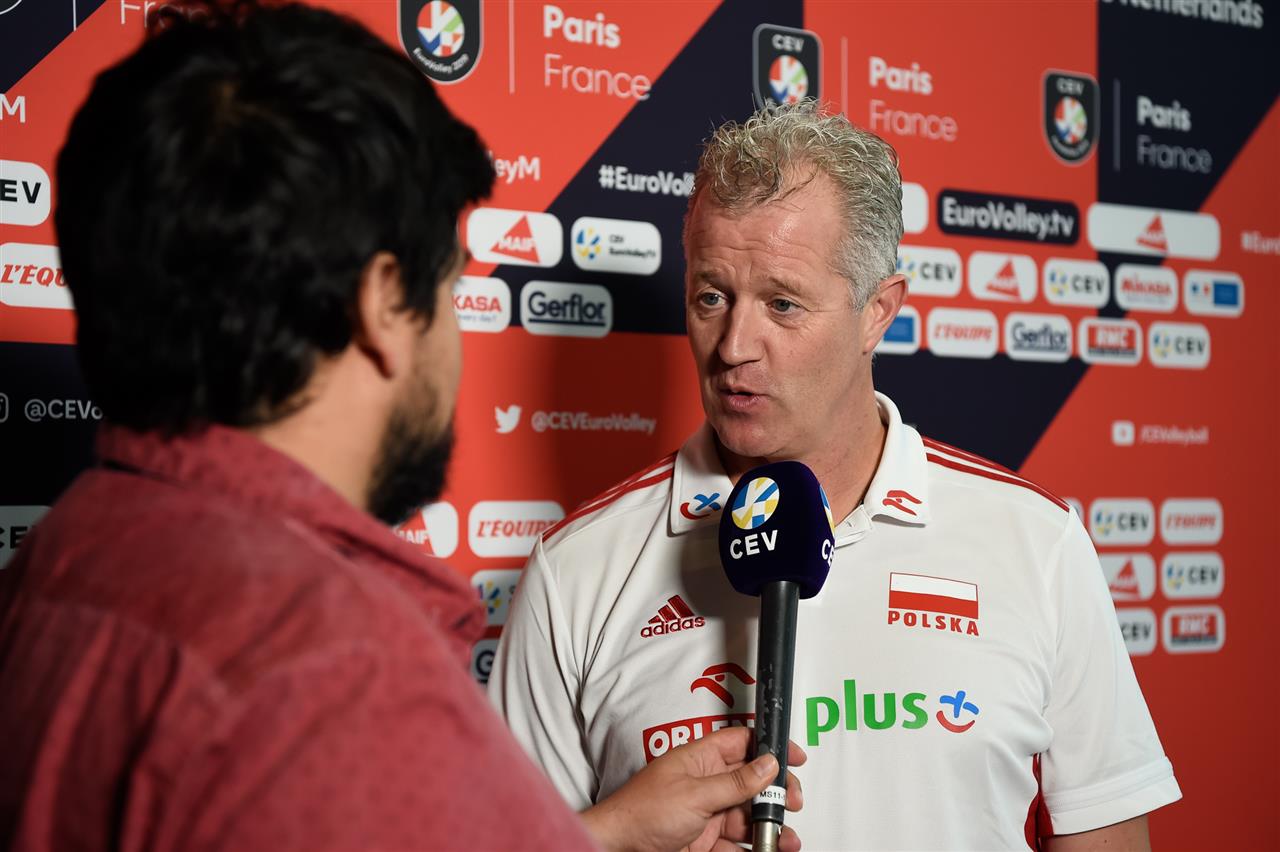 Heynen before the match
Head-to-Head
• France and Poland have met 12 times in EuroVolley tournaments. Poland have won nine, France three.
• This is a rematch of the 2009 EuroVolley final, won 3-1 by Poland in Izmir, Turkey.
• France won their most recent EuroVolley match against Poland, 3-1 in the group phase in 2013.
• Poland have claimed at least one set in each of their 12 EuroVolley matches against France.
• This year, Poland and France have met twice. France won 3-1 in the Volleyball Nations League, while Poland won 3-0 during the Olympic Qualification Tournament last August.
France
• After winning each of their first seven EuroVolley matches in 2019, including six in straight sets, France were beaten in five sets by Serbia in their semi-final.
• The last time France lost two matches in a row in EuroVolley tournaments was from 2007 to 2009, when they lost their last four matches of the 2007 edition and their first of the 2009 tournament.
• France can win eight matches in a single EuroVolley tournament for the first time.
• France have claimed seven EuroVolley medals (G1-S4-B2), most recently their only gold medal in 2015.
• Earvin Ngapeth was outright top scorer in France's semi-final against Serbia, scoring 29 points.
• Stephen Boyer has equalled Nimir Abdel-Aziz as top scorer at EuroVolley 2019 (final round) - both players have scored 152 points in the tournament.
Poland
• After winning each of their first seven EuroVolley matches in 2019, including six in a row in straight sets, Poland were beaten 3-1 by Slovenia in their semi-final.
• The last time Poland lost consecutive matches in the same EuroVolley tournament was in 2011: group phase defeats against Bulgaria and Slovakia (both 3-1).
• Poland can win their first EuroVolley medal since 2011, when they claimed bronze. They beat Russia 3-1 in the bronze-medal match.
• In total, Poland have won eight EuroVolley medals (G1-S5-B2). Besides 2011, Poland also finished in third place in 1967 when the final round was played in round-robin format.
• Wilfredo Leon Venero was top scorer in Poland's semi-final defeat against Slovenia on 22 points, to bring his total tally in the tournament to 98. No other Polish player has scored more than 68 points in the tournament.
• Leon scored four points from aces against Slovenia. In total, he has scored 17 points from aces at EuroVolley 2019, third-most in the competition.
"It does not matter who we are coming up against. We want to win the bronze and we will do everything in our power to achieve this goal. For many people here the bronze is something they were never even close to, so I don't think there will be lack of motivation or lack of anything, for that matter, in our team."
Michal Kubiak
Outside spiker and captain of Poland
Team
Squad Listing
Team
7
TILLIE Kévin
Outside spiker
8
LYNEEL Julien
Outside spiker
10
LE ROUX Kevin
Middle blocker
11
BRIZARD Antoine Arthur Fabien
Setter
14
LE GOFF Nicolas
Middle blocker
16
BULTOR Daryl
Middle blocker
17
CLEVENOT Trévor
Outside spiker
18
ROSSARD Thibault
Outside spiker
21
CHINENYEZE Barthélémy
Middle blocker
Coaches
9892
TILLIE Laurent
Head Coach
TILLIE Laurent
Head Coach
9719
ENARD Cedric
Assistant Coach 2
ENARD Cedric
Assistant Coach 2
27050
JOSSERAND Arnaud
Assistant Coach
JOSSERAND Arnaud
Assistant Coach
Highlights
AccorHotels Arena
---
Highlights
Trevor CLEVENOT (FRA) in action
---
Highlights
Earvin NGAPETH (FRA) in action
---
Highlights
Team France reacts
---
Highlights
Team Poland wins the 3rd place
---
Highlights
Polish fan in dark
---
Highlights
Team Poland holding their bronze medal
---
Highlights
LEON and KUBIAK (POL) holding the cup
---
Match Report
Poland beat France in straight sets for bronze

Article
27 September 2019
Poland placed third at EuroVolley 2019 after their ultimate win against hosts France 3-0. All the sets were tight but Heynen's men, helped by solid experience in important matches, played better at the end of each one. Kubiak (14) and Leon (18) were decisive in claiming the bronze medal, eight years after their last one in Vienna.
Paris' AccorHotels Arena was once again the setting of a great event match as fans from both countries cheered throughout the whole 3rd-place match. Though France missed to claim a medal, they offered an outstanding show in Montpellier, Nantes, and the capital. To crown it all, Slovenia will face Serbia tomorrow at 5:30pm for gold.
Read more
The match in numbers
"There is a lot of frustration and disappointment. We dreaded this match given what happened yesterday but the players showed a good face, they played fully until the last point, even if we lost 3-0."
Laurent Tillie
France's head coach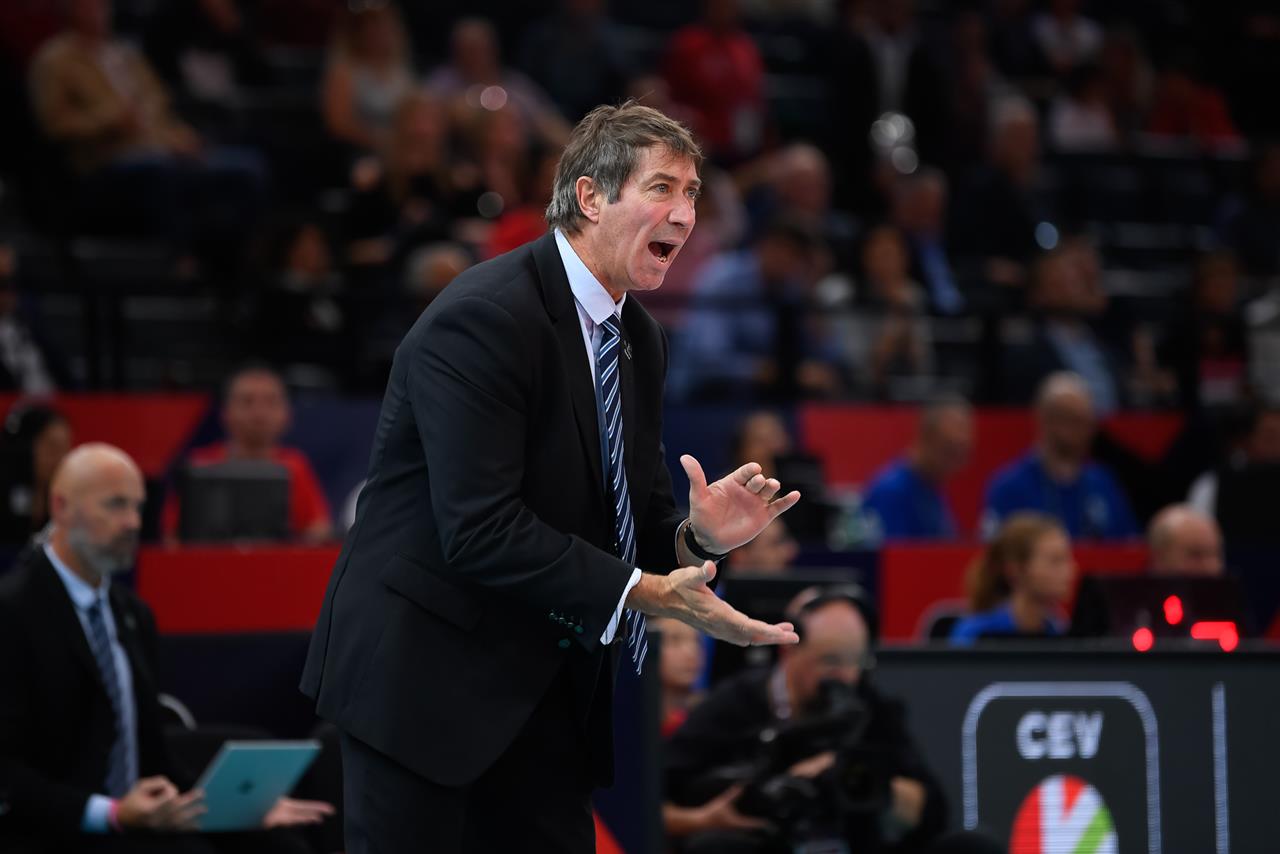 Tillie coaching his players
"Both France and Poland came for gold, the match for 4th is always a mental game. I am very pleased with how we played, we pushed and were far behind in the first set but came back. In the long term it is always nice to collect medals, you never forget medals. We can take some lessons from it through to next year. We could have played better in Slovenia, but that is sport."
Vital Heynen
Poland's head coach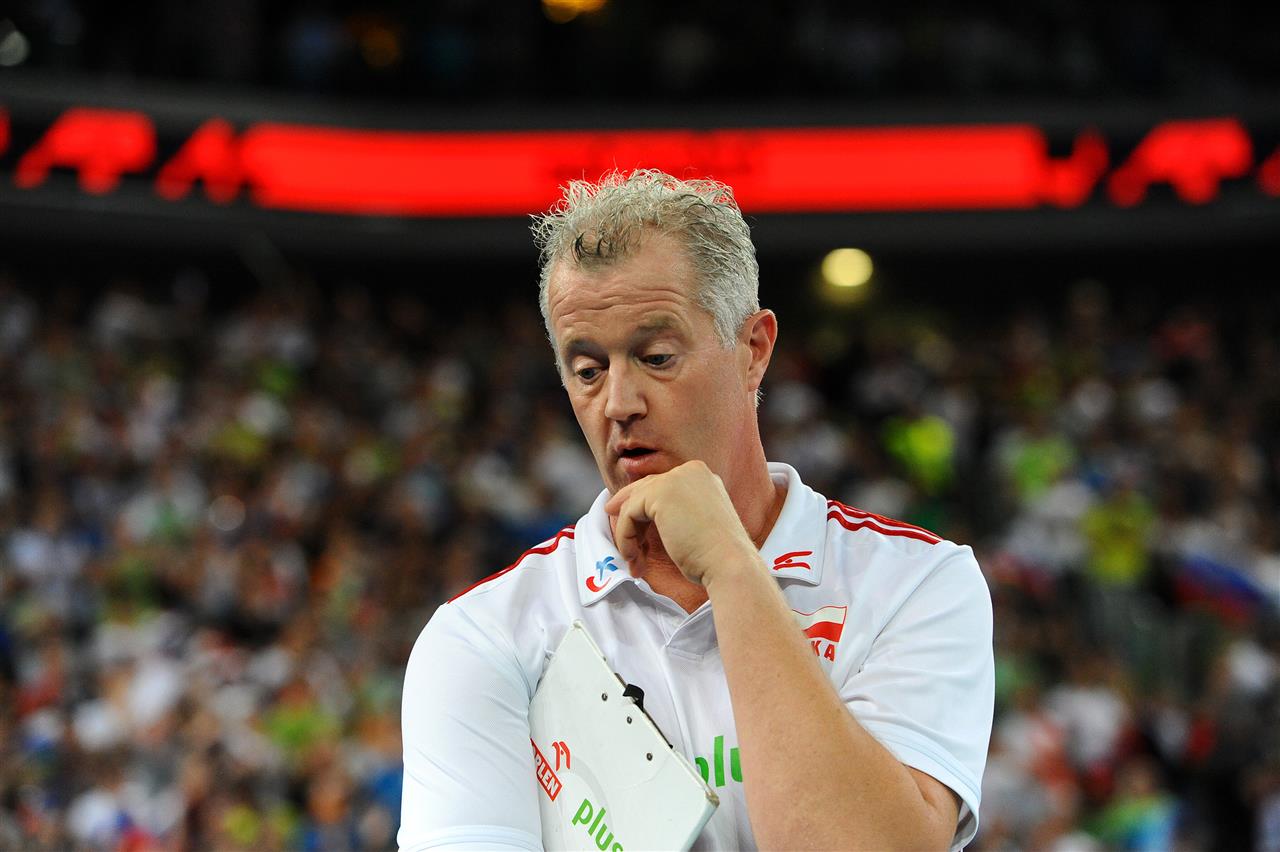 Heynen
"It's a big disappointment. It was a tight match but they were able to make a difference at the end of each set; they aren't nobodies, they're the double world champions. Maybe the additional resting day helped them too."
Nicolas Le Goff
France's middle blocker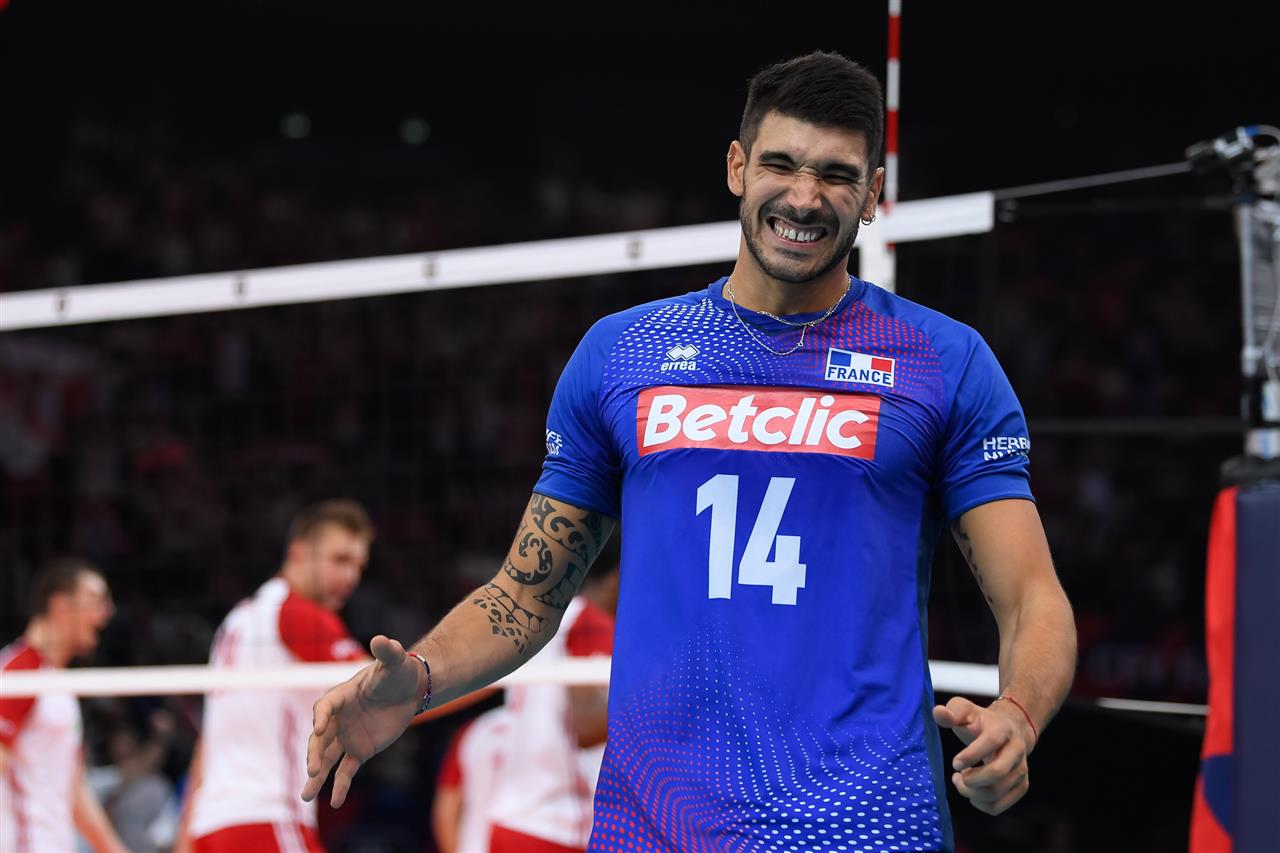 Le Goff after a missed block
"Of course, before the tournament we expected to play against France tomorrow, not today. But it was still good. I even preferred to play against France than against Serbia today, because of the fully crowded gym, with which it was easier to motivate ourselves."
Pawel Zatorski
Poland's libero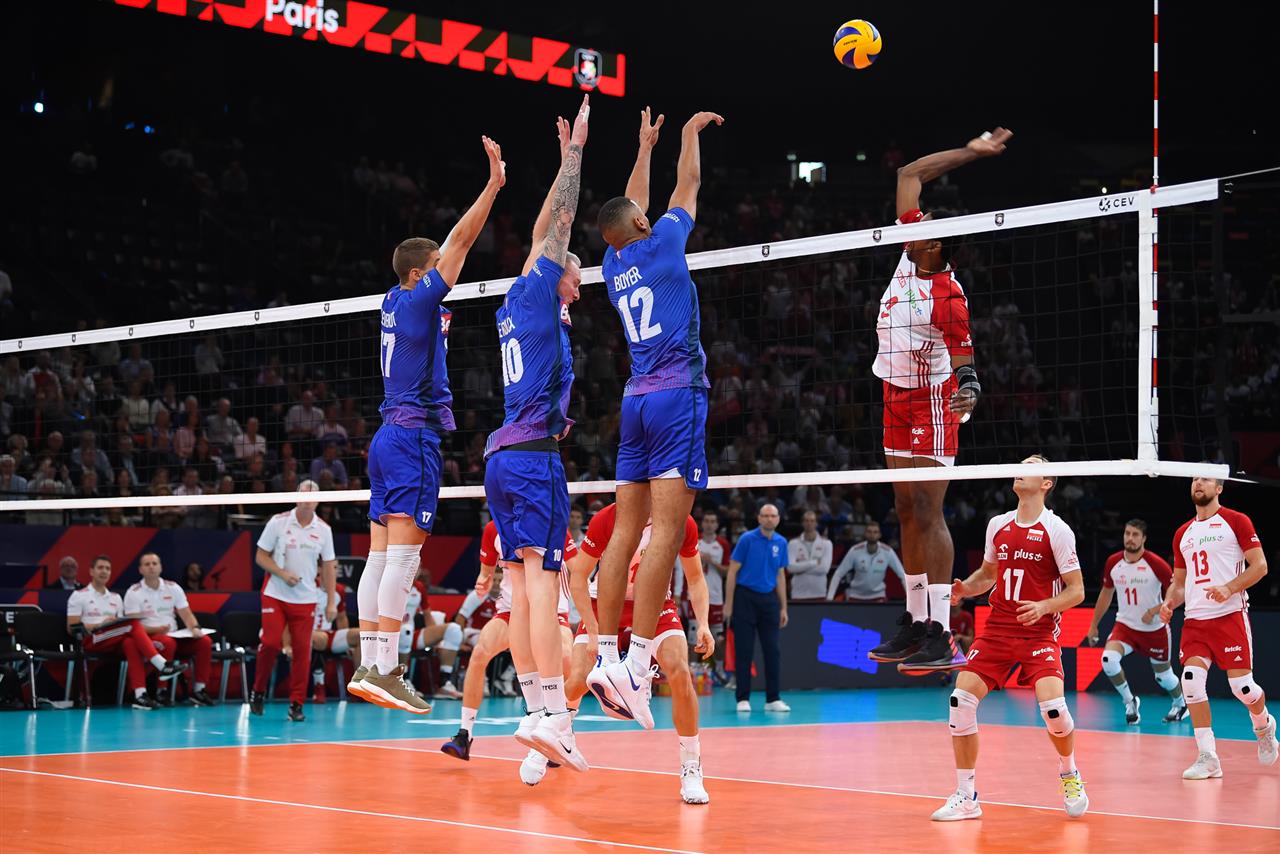 Zatorski covering for Leon
"For sure, we're really disappointed, but happy that the crowd was so big here in Paris. Placing fourth is horrible, we experienced it in 2014 at the World Championship but that's sport."
Kévin Tillie
France's outside hitter
"It was not easy coming in at 0-2, but nothing to lose on my part. It's true that I haven't played much so I need to let go, and enjoy the moment, which is exceptional here in Paris for the bronze medal. The context was difficult, we were tired, but the audience helped us a lot."
Jean Patry
France's opposite