Overview
The pool concludes with Poland against Ukraine in what will prove to be an important match for the Ukranians, although they will know they have a fight on their hands to beat their all-time highest position of sixth – achieved in 1993 in Finland.  While Poland finished second in 5 successive European Championships between 1975 and 1983, finally winning Gold for the first time in 2009 in Turkey. This remains the only EuroVolley gold medal to this date for the three-time world champions (1974, 2014 and 2018) and 1976 Olympic champions.Ukraine can take 2nd place in Pool D over The Netherlands with a win tonight.; 
Pool D Scenarios:
- Poland have already secured top spot, whilst Ukraine will take second away from the Netherlands with a win over the Polish side.
Team
Squad Listing
Team
C
13
KUBIAK Michał
Outside spiker
1
NOWAKOWSKI Piotr
Middle blocker
7
SZALPUK Artur
Outside spiker
9
LEON VENERO Wilfredo
Outside spiker
14
ŚLIWKA Aleksander
Outside spiker
15
KOCHANOWSKI Jakub
Middle blocker
20
BIENIEK Mateusz
Middle blocker
77
KLOS Karol
Middle blocker
Coaches
10303
GOGOL Michal
Assistant Coach
GOGOL Michal
Assistant Coach
27393
PAWLIK Sebastian
Assistant Coach 2
PAWLIK Sebastian
Assistant Coach 2
Highlights
Dawid Konarski
---
Highlights
Crowd in Amsterdam
---
"We are happy we achieved this. We played pretty well, and we enjoyed the volleyball, which is most important. We have a lot of fans here, so its like playing at home. Next, we are playing in Apeldoorn, so we are happy we are staying in Holland."
Dawid Konarski
Opposite for Poland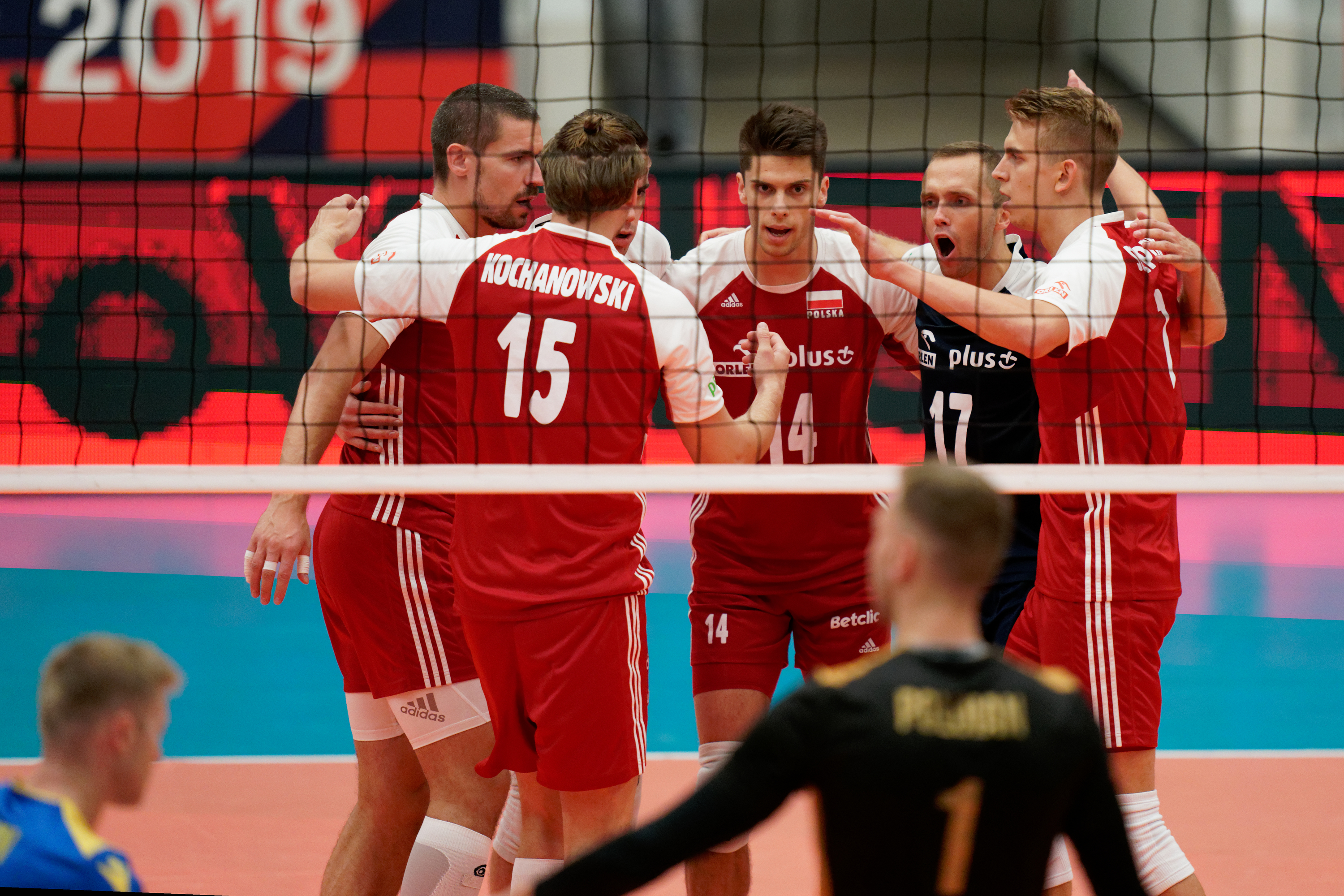 Poland place 1st in Pool D
Match Report
12 different players score for Poland as they win the match and take 1st place in Pool D

Article
19 September 2019
In the last match of pool D before the playoffs begin, Poland showed the depth of their roster by using every player in a 3-0 victory. Sporthallen Zuid in Amsterdam was almost completely filled with loud, rambunctious Polish fans. The first set was a quick victory for the reigning world champion: 25-17. At 14-8 in the second set, coach Vital Heynen substitutes all 6 of his starters at once; despite this, Poland still won the following three points. The Polish train rolls on, reaching the end of the second act with a spacious lead: 25-16. In the third set, the Polish domination continued, within an hour they finished their 5th victory in a row, losing only one set in all of them.
With that result, Poland is the convincing winner of pool D, followed by hosting country the Netherlands. After them, Ukraine and the Czech Republic will also continue their EC in Belgium. Montenegro and Estonia go home tomorrow after a hard-fought pool phase.
Read more
The match in numbers
Points
The combined total number of points scored by both teams throughout the entire match.
Duration
The total length of the match, from the first serve through until the last point has ended.
Spectators
Total number of people in attendance at the venue – taken at the end of the second set.
Match Spikes
The combined total number of successful spikes achieved by both teams throughout the entire match.
Reception Level
An average of the two team service reception percentages from the complete match.
Net Domination
The number of successful point winning blocks of POLAND compared to UKRAINE.
Ace Count
POLAND number of service aces compared to UKRAINE
Error Difference
Errors leading to points of POLAND, next to those from UKRAINE