Overview
The very last matchup of Pool C will decide the fate of not only its participants, but also other teams in the pool, especially North Macedonia, who still have a chance to qualify for the 1/8 finals. Finland has more at stake in the match, as any loss will leave them outside of the best four of the pool.
Finland finished just off the podium at the 2007 CEV European Championship. Turkey have not been that successful at the continent's showpiece event. Their best achievement at the European Championships is 11th place, in 1963, 2011, and in the last CEV Euro Volley in Poland in 2017.
Article - Pool C preview
---
Scenarios:
•    A win for Turkey (by any score) will see them qualify with North Macedonia.
•    A win by Finland (by any score) would move them up to 3rd and push North Macedonia out of the top four.
•    A heavy defeat for Slovenia against Russia could even open the door for Turkey to finish 2nd.
Team
Squad Listing
Team
3
SILTALA Antti
Outside spiker
6
RONKAINEN Antti
Outside spiker
7
SUIHKONEN Niko
Outside spiker
8
KRASTINS Elviss
Outside spiker
9
SIIRILÄ Tommi
Middle blocker
11
SINKKONEN Sauli
Middle blocker
12
KAISLASALO Samuli
Opposite
14
KAURTO Markus
Middle blocker
Coaches
33038
KURTTILA Sami
Assistant Coach
KURTTILA Sami
Assistant Coach
Highlights
SILTALA Antti (FIN) and captain TERVAPORTTI Eemi (FIN)
---
Highlights
Team Turkey celebrating the point
---
Highlights
SIVULA Urpo (FIN)
---
Highlights
Head coach of team Turkey Nedim ÖZBEY
---
Highlights
Team FINLAND celebrating progressing to next round
---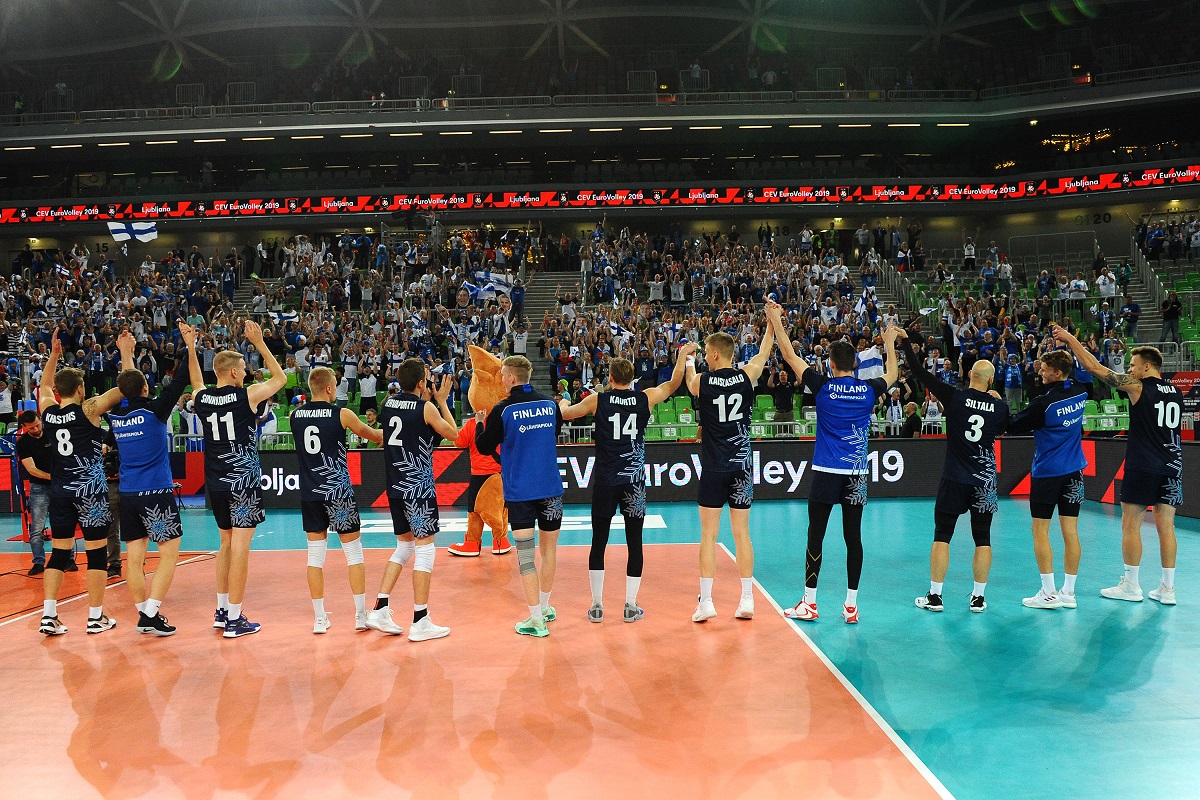 Match Report
Finnish celebration in Ljubljana - Suomi make it to the next round

Article
18 September 2019
Finland started the match with a great desire to claim a spot among 16 best European teams. Supported by numerous, loud fans they took the first set. Turkey staged a comeback in the second one. With solid blocking and powerful serving they stormed over the opponent, leaving Suomi on 15 points.
Turkey continued with their streak and they were just a set away of their third win. Finland caught a flying start but the opponents closed the gap at 7-7. After a thrilling finish Finland made it to a tie break, where they gave their best to secure a win and the next #EuroVolleyM round. Even impressive 40 points of Adis Lagumdzija were not enough for Turkey, who have been already qualified for the next phase.
Read more
The match in numbers
Points
The combined total number of points scored by both teams throughout the entire match.
Duration
The total length of the match, from the first serve through until the last point has ended.
Spectators
Total number of people in attendance at the venue – taken at the end of the second set.
Match Spikes
The combined total number of successful spikes achieved by both teams throughout the entire match.
Reception Level
An average of the two team service reception percentages from the complete match.
Net Domination
The number of successful point winning blocks of FINLAND compared to TURKEY.
Ace Count
FINLAND number of service aces compared to TURKEY
Error Difference
Errors leading to points of FINLAND, next to those from TURKEY
"We've had so much turbulence this summer, so many challenges and now what we got is some ups. This team showed an amazing character, we knew what this match brings – win or go home. We stepped into the game with that preassure so we played as hard as we could. There is no quick solution, no magic formula. During the summer we've got a lot of criticism, a lot of negative comments from the press, but we've kept ourselves with our focus in working hard and trying to improve our game. "
Joel Banks
head coach (FIN)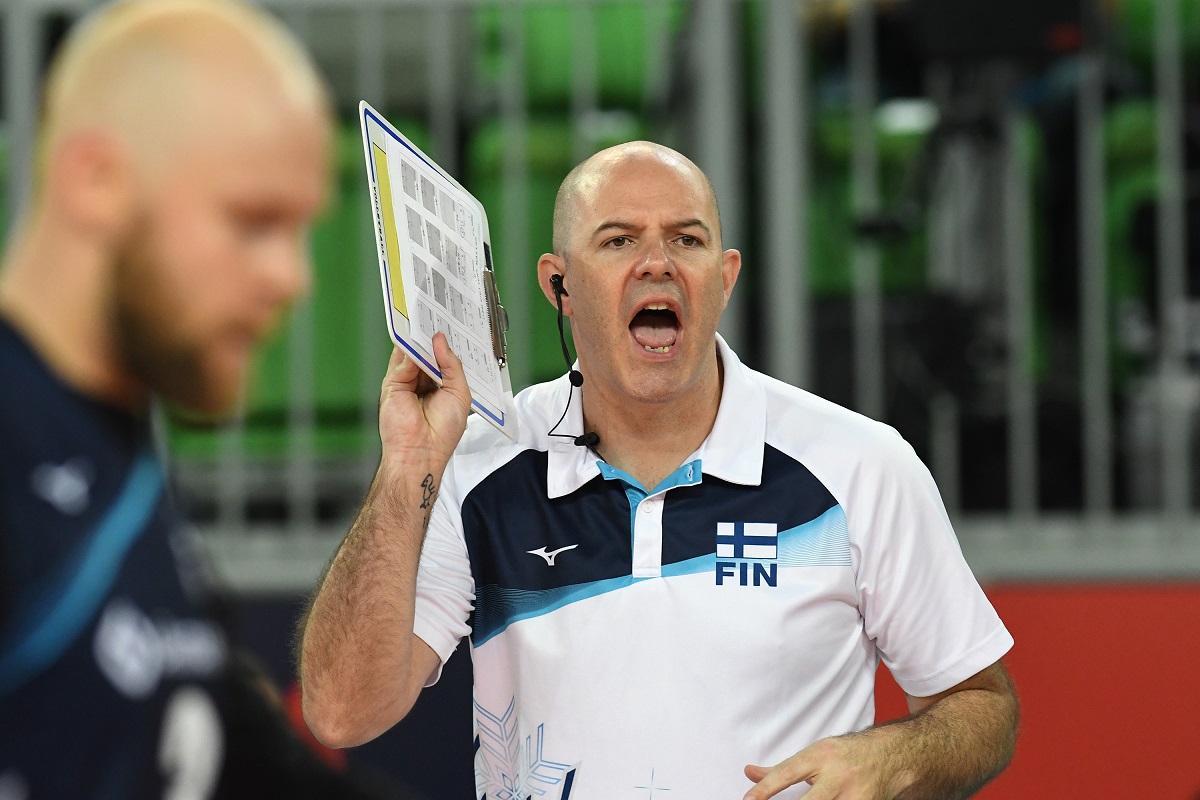 Joel Banks instructing his players
"We were in deep waters in the 2nd and the 3rd set, the Turkey's defence was killing us. All that we were thinking was that we cannot give up, play until the end and this was the result. Our goal was to go throuht the round. We've had a difficult summer so this is a big prize for us! "
Urpo Sivila
opposite (FIN)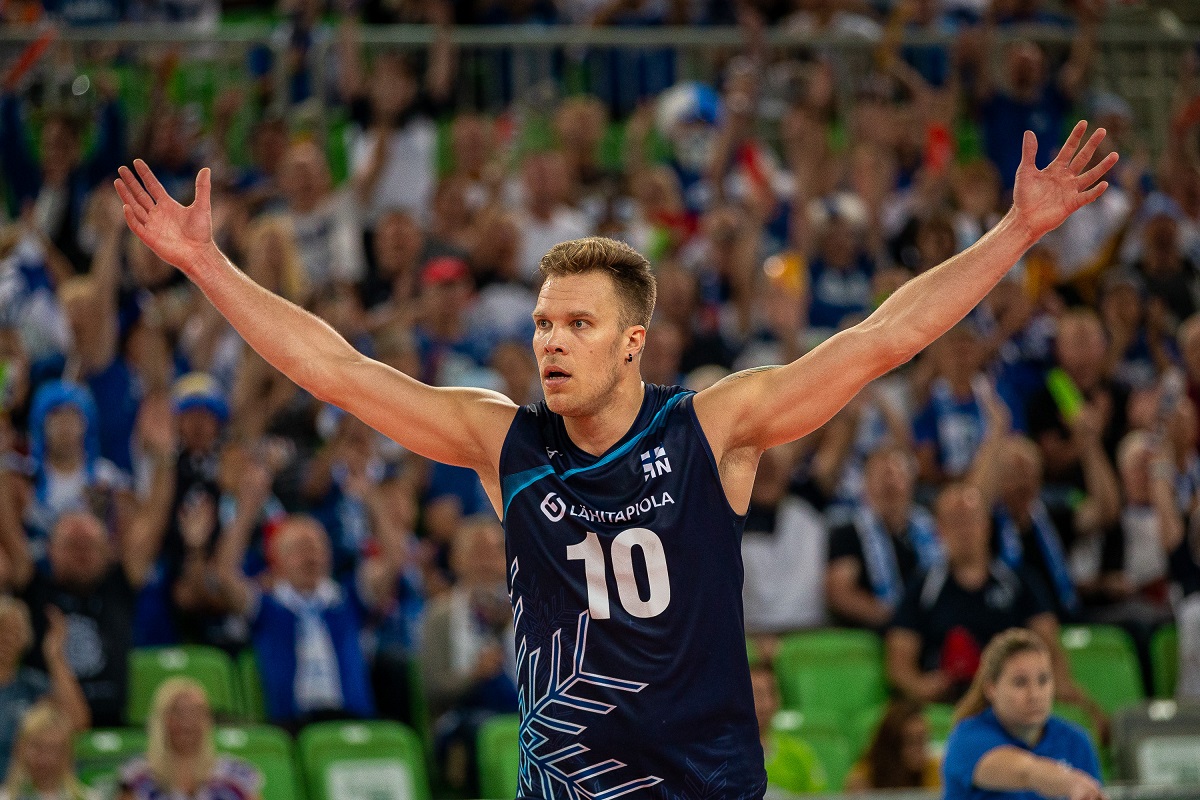 Urpo Sivula celebrating
"Finish team played really good, they played like a home team because of all the fans in the hall. We made too many mistakes. We were really close in score the whole game actually, but we just couldn't win the set. We are sad because of this match but we are in 1/8 finals and we have at least one more match and we will do our best."
Gungor Baturalp
outside-spiker (TUR)