Overview
The top two teams of Pool C will battle it out in their last pool phase match, in a hope to top the chart at the and of this round. Russia have won all of their matches so far. Slovenia were going equally strong, leading in the pool at one point byt suffered an unexpected loss at the hands of North Macedonia last night. The last clash of these two teams took place at the 2017 CEV Euro Volley in Poland, when Russia edged Slovenia 3-0
Article - Pool C preview
---
Scenarios:
•    If Russia win at least two sets, they will finish first.
•    If Slovenia win in straight sets, they will finish first.
•    If Slovenia win by 3-1, the first place will go to the team with the better point ratio.
•    If results go their way, Turkey can still finish 2nd.
Team
Squad Listing
Team
C
17
URNAUT Tine
Outside spiker
2
PAJENK Alen
Middle blocker
4
KOZAMERNIK Jan
Middle blocker
10
ŠTALEKAR Sašo
Middle blocker
11
STERN Ziga
Outside spiker
15
VIDEČNIK Matic
Middle blocker
18
CEBULJ Klemen
Outside spiker
Coaches
5218
GIULIANI Alberto
Head Coach
GIULIANI Alberto
Head Coach
1549
SKORC Sebastijan
Assistant Coach
SKORC Sebastijan
Assistant Coach
8673
MARTILOTTI Alfredo Walter
Assistant Coach
MARTILOTTI Alfredo Walter
Assistant Coach
Highlights
Team Slovenia during national anthem
---
Highlights
Warm greeting between head coach of team Russia and GOLUBEV Valentin (RUS)
---
Highlights
Head coach of team Slovenia Alberto GIULIANI
---
Highlights
Slovenian fans
---
Highlights
Team Russia is on fire!
---
Highlights
KLIUKA Egor (RUS) spikes
---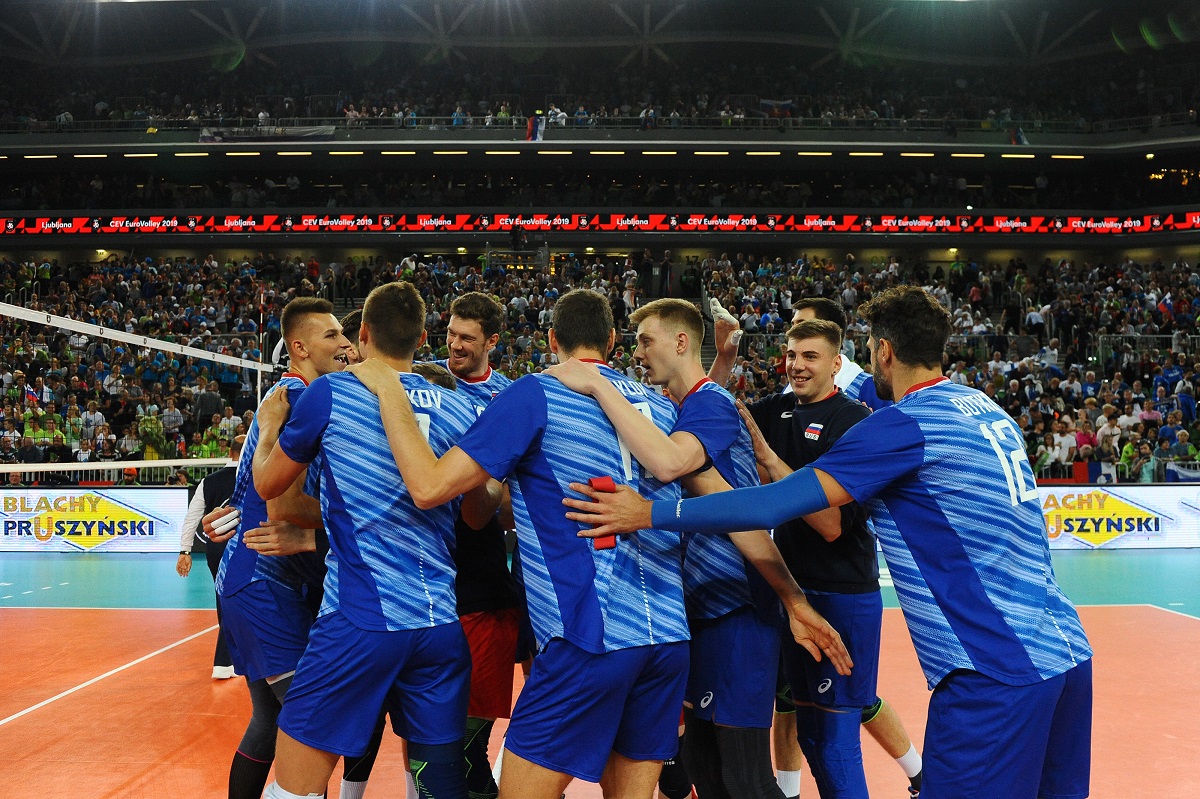 Match Report
Straight set win completes Russia's clean Pool C record

Article
18 September 2019
A tight start of the match promised a true Volleyball spectacle to the full house of fans in  Stožice Arena. Strong serving and solid attacking by both sides determined the path of the first set with many exchanges on the lead, but Viktor Poletaev's serving and an ace for 25-21 sealed the set.
Poletaev and Egor Kliuka scored five aces already in the first half of the second set, taking Russia to a 15-10 lead. Slovenians encouraged by their numerous fans fought back with good defence and effective attacks by Tine Urnaut and Jan Kozamernik, but Toumas Sammelvuo's players found their focus and claimed the second set. Russia took matters in their hands, leading from the start of the last set. The home team did their best but still had to accept the second defeat in a row, their final position in the group now uncertain. Dmitrii Volkov and Victor Poletaev finished the match with 13 points each, which brought them a shared title of the best scorers.
Read more
The match in numbers
Points
The combined total number of points scored by both teams throughout the entire match.
Duration
The total length of the match, from the first serve through until the last point has ended.
Spectators
Total number of people in attendance at the venue – taken at the end of the second set.
Match Spikes
The combined total number of successful spikes achieved by both teams throughout the entire match.
Reception Level
An average of the two team service reception percentages from the complete match.
Net Domination
The number of successful point winning blocks of SLOVENIA compared to RUSSIA.
Ace Count
SLOVENIA number of service aces compared to RUSSIA
Error Difference
Errors leading to points of SLOVENIA, next to those from RUSSIA
"Very tough match, it was a lot about service and reception. Both teams served really hard I'm happy that we played stable all the time, but it doesn't mean anything. We have to serve better, play better, we have to keep the focus day by day and not think about anything else. Our goal is to improve slowly and play better and better day by day. In the future there will be no easy games, it doesn't matter who the opponent will be."
Tuomas Sammelvuo
head coach (RUS)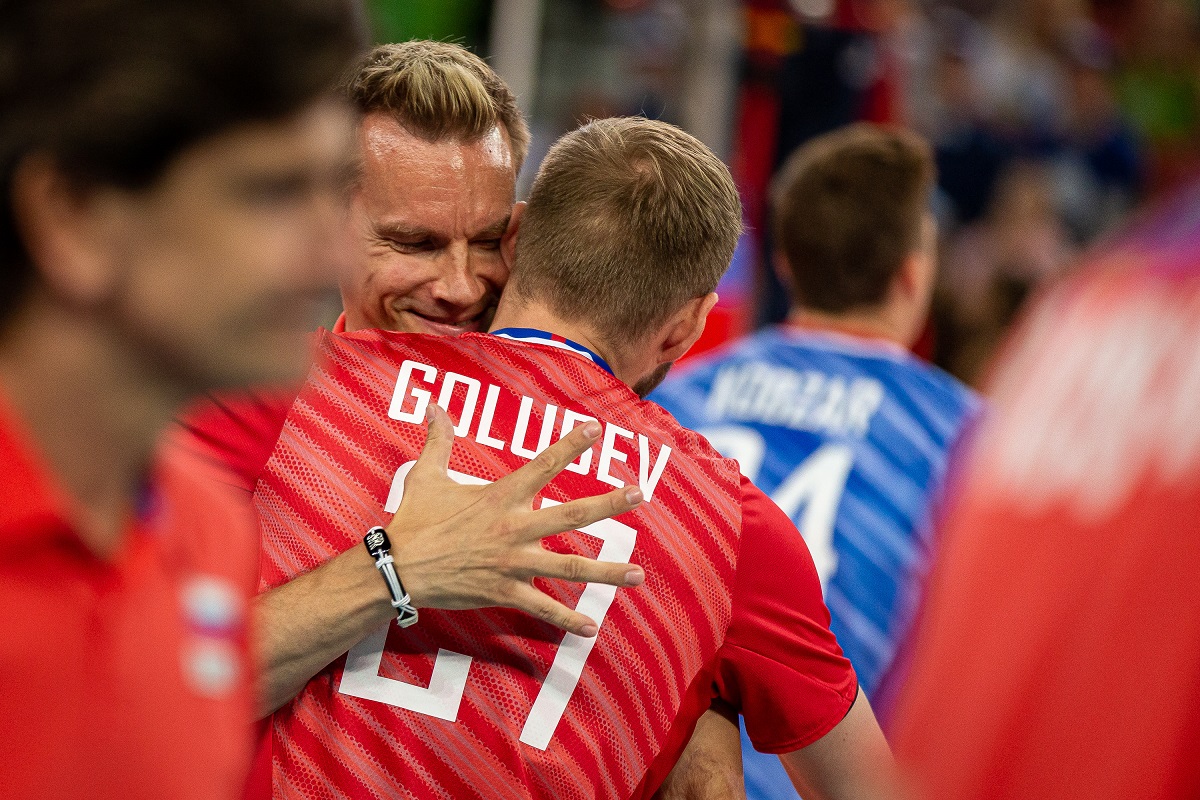 Tuomas Sammelvuo
"Very emotional match against the home team, arena was full of fans and it was very loud. Slovenian guys easily found their confidence even if they lost a point against us because the fans always lifted them up. But we prepared well on their game and I am glad we won 3:0."
Dmitriy Muserskiy
middle-blocker (RUS)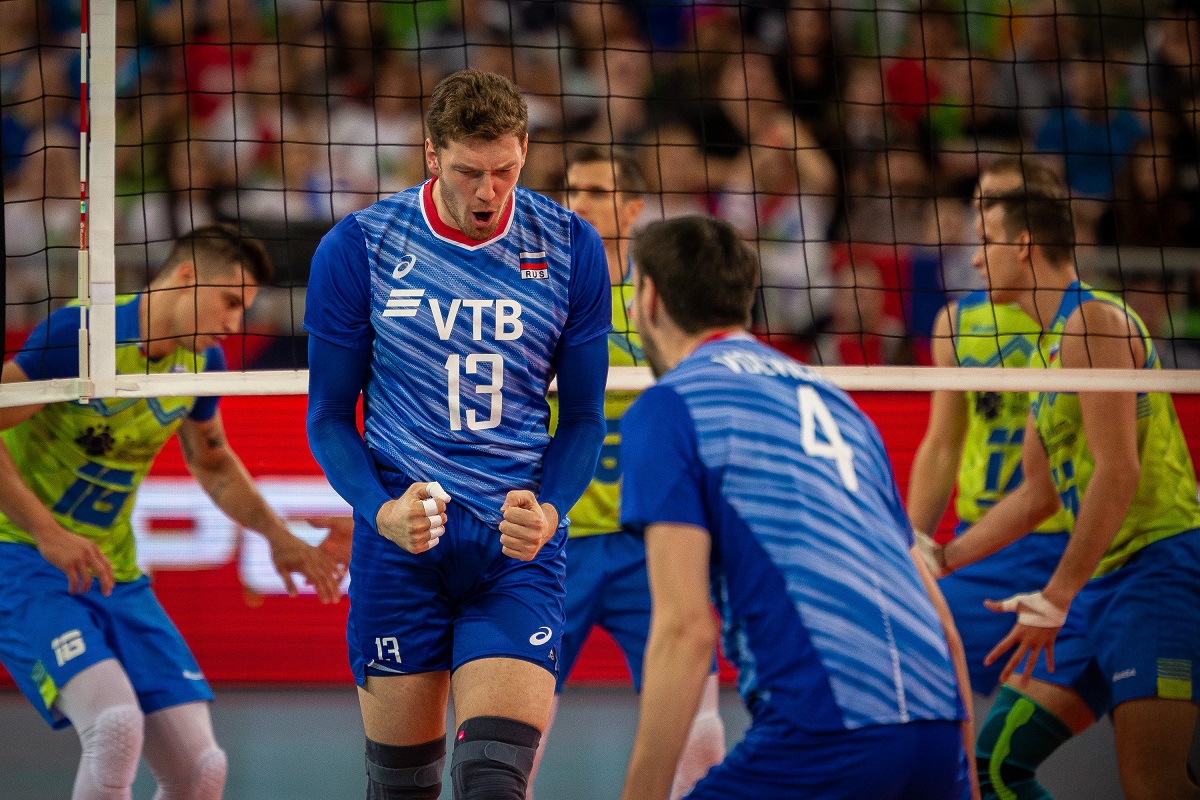 Muserskiy (RUS) on fire
"Yes, it is hard to accept defeat in front of full arena, but unforunately we were a little bit short, not patient enough and we lost. Honestly, they were really consistent in serve, which we expected before the match. We thought that we ourserves will be better and we made too many mistakes. Both teams showed good pressure, but unfortunately they were better."
Jan Kozamernik
middle-blocker (SLO)
"After yesterdays match we cleared our heads and stepped into this game with a different attitude and a big desire to win. We prepared well for Russia, who was the favourite, but we showed on the court that we belong amongst best european teams. Russians were better today and I congratulate them for their victory. We have to prepare now for the next matches of the tournament."
Alen Pajenk
middle-blocker (SLO)
Alen Pajenk