Overview
Slovenia's greatest achievement is a silver medal at the 2015 CEV European Championship. In the 2018 they competed at the FIVB World Championship for the first time in history and finished 12th. Another success came this July, with the FIVB Volleyball Challenger Cup on home soil, and consequently a qualification for the FIVB Volleyball Nations League. North Macedonia play at their first ever EuroVolley. They have been in the finals of European Golden League a few times, but never finished with the top honours. In the 2015 edition they faced Slovenia, who proved to be a better team, winning 3-0.
Slovenia already qualified to 1/8 finals of EuroVolley and will now try to regain the 1st place in Pool C. Last night North Macedonia scored their first, historic #EuroVolleyM win, remaining in the race for final 16.
Article - Pool C preview
---
"Even if we start with a different line-up today, we still need to get a victory to win thie first place in the pool"
Ziga Stern
outside-spiker (SLO)
Team
Squad Listing
Team
C
17
URNAUT Tine
Outside spiker
2
PAJENK Alen
Middle blocker
4
KOZAMERNIK Jan
Middle blocker
10
ŠTALEKAR Sašo
Middle blocker
11
STERN Ziga
Outside spiker
15
VIDEČNIK Matic
Middle blocker
18
CEBULJ Klemen
Outside spiker
Coaches
5218
GIULIANI Alberto
Head Coach
GIULIANI Alberto
Head Coach
1549
SKORC Sebastijan
Assistant Coach
SKORC Sebastijan
Assistant Coach
8673
MARTILOTTI Alfredo Walter
Assistant Coach
MARTILOTTI Alfredo Walter
Assistant Coach
Highlights
Libero KOVAČIČ Jani (SLO) in action
---
Highlights
LJAFTOV Aleksandar (MKD) in action
---
Highlights
Team North Macedonia celebrates
---
Highlights
Head coach of North Macedonia Nikola MATIJASEVIC
---
Highlights
Team North Macedonia celebrates the second set win
---
Highlights
ČEBULJ Klemen (SLO) attempt to save the ball
---
Highlights
Captain GJORGIEV Nikola (MKD) celebrating a victory
---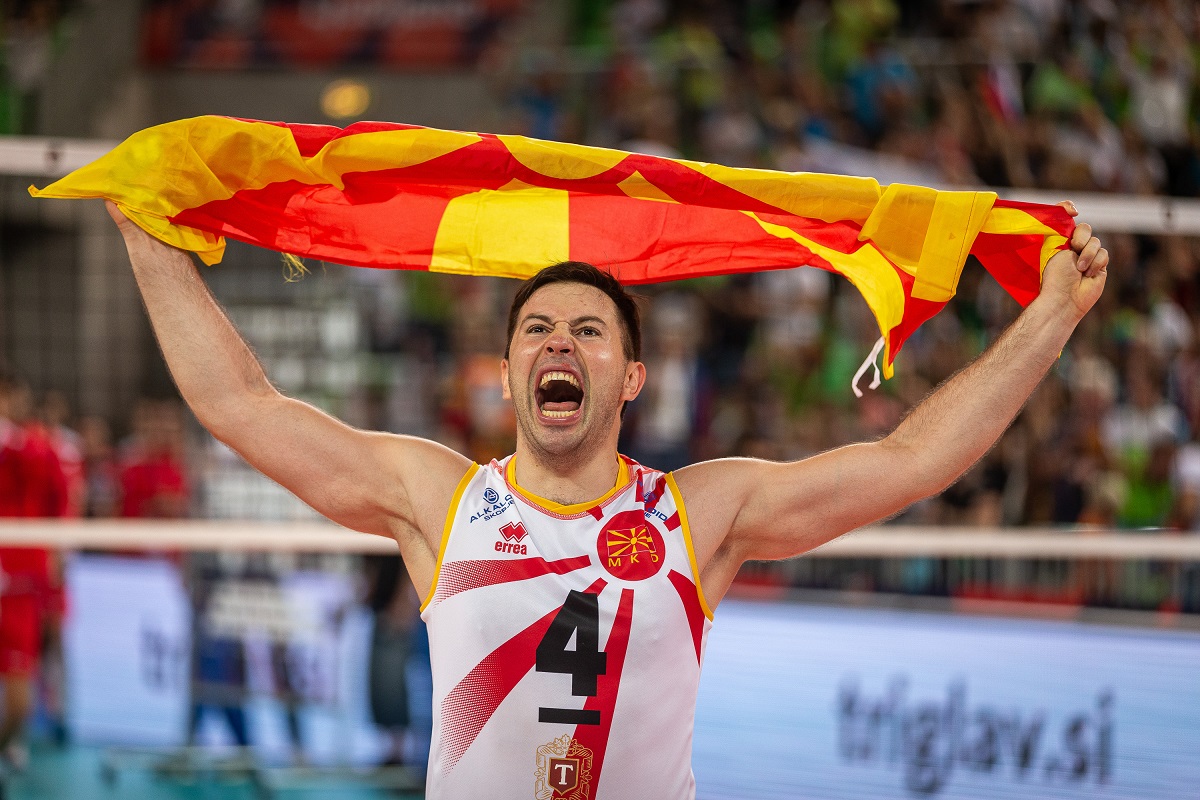 Match Report
North Macedonia silence the home crowd in Slovenia

Article
17 September 2019
North Macedonia went into the match against home favourites strong, on the wings of yesterday's maiden win at the European Championships against Belarus. Nikola Gjorgiev delivered amazing performance once more. Slovenia, who played without their captain Tine Urnaut and Jan Kozamernik, made a comeback, closing the gap at 23-23, but slipped on the very last step of the opening set.
Alen Pajenk scored 3 aces and added 5 spikes to secure his team 21-17 lead, but the opponent stroke once more, with Aleksandar Ljaftov leading their way. Urnaut's powerful serving brought his team the third set. North Macedonia came back in the finish of the fourth set and emerged victorious on the second consecutive day. Nikola Gjorgiev top scored with 24 points, while Alen Pajenk claimed 19 for Slovenia.
Read more
The match in numbers
Points
The combined total number of points scored by both teams throughout the entire match.
Duration
The total length of the match, from the first serve through until the last point has ended.
Spectators
Total number of people in attendance at the venue – taken at the end of the second set.
Match Spikes
The combined total number of successful spikes achieved by both teams throughout the entire match.
Reception Level
An average of the two team service reception percentages from the complete match.
Net Domination
The number of successful point winning blocks of SLOVENIA compared to NORTH MACEDONIA.
Ace Count
SLOVENIA number of service aces compared to NORTH MACEDONIA
Error Difference
Errors leading to points of SLOVENIA, next to those from NORTH MACEDONIA
"I am satisfied with the team, we played really manly. It was a hard day. Yesterday the whole team went to sleep at four or five in the morning. I have never seen stronger servers. We love our country too much, so we gave our maximum to represent it. We got new three points, which is unbelievable. We hope to advance and go to France."
Darko Angelovski
libero (MKD)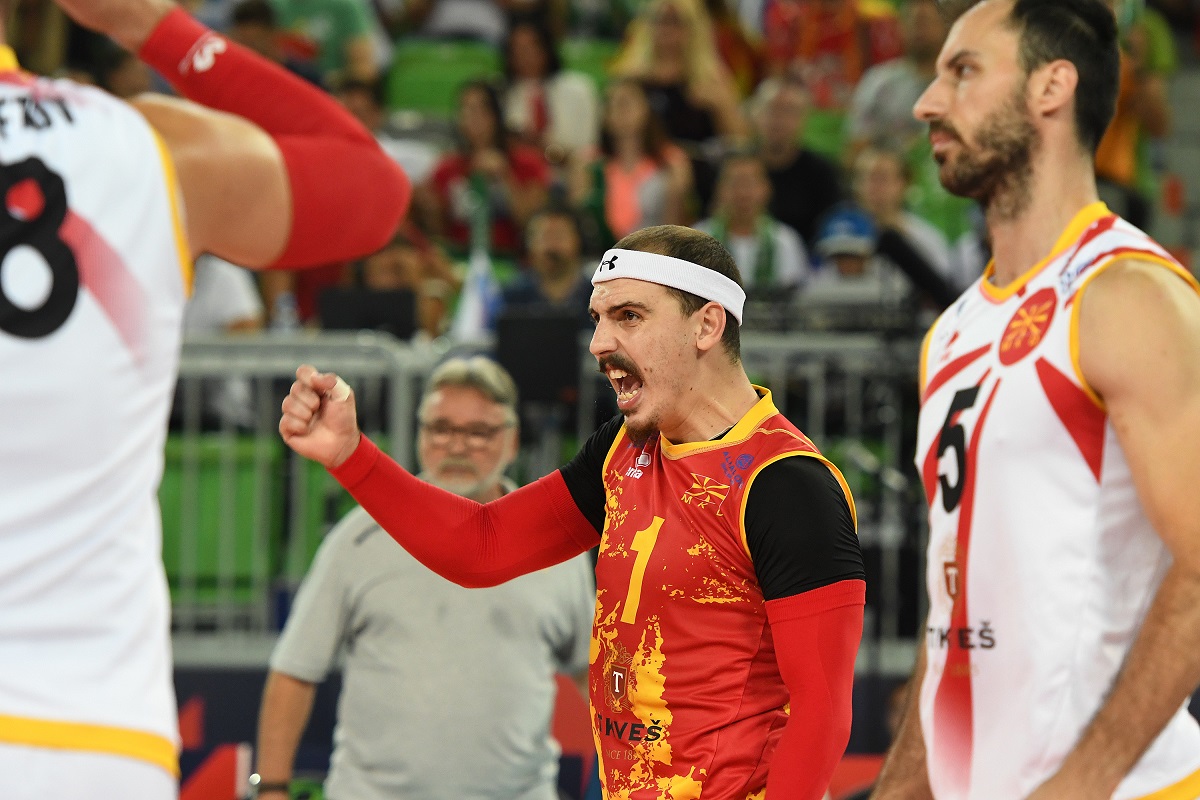 Angelovski and his teammates celebring a point
"Many have written us off, that we came here accidentally as outsiders. We have proved that we are not. We opened the championship badly, but it is normal - it is our first EuroVolley and we are euphoric. We did not have enough strength, we played a bit stiff. In the match with Belarus we showed we can play against other teams here. Our team-play, which is our trademark, showed we deserve some luck and here it is. We managed to do what we wanted."
Aleksandar Ljaftov
outside-spiker (MKD)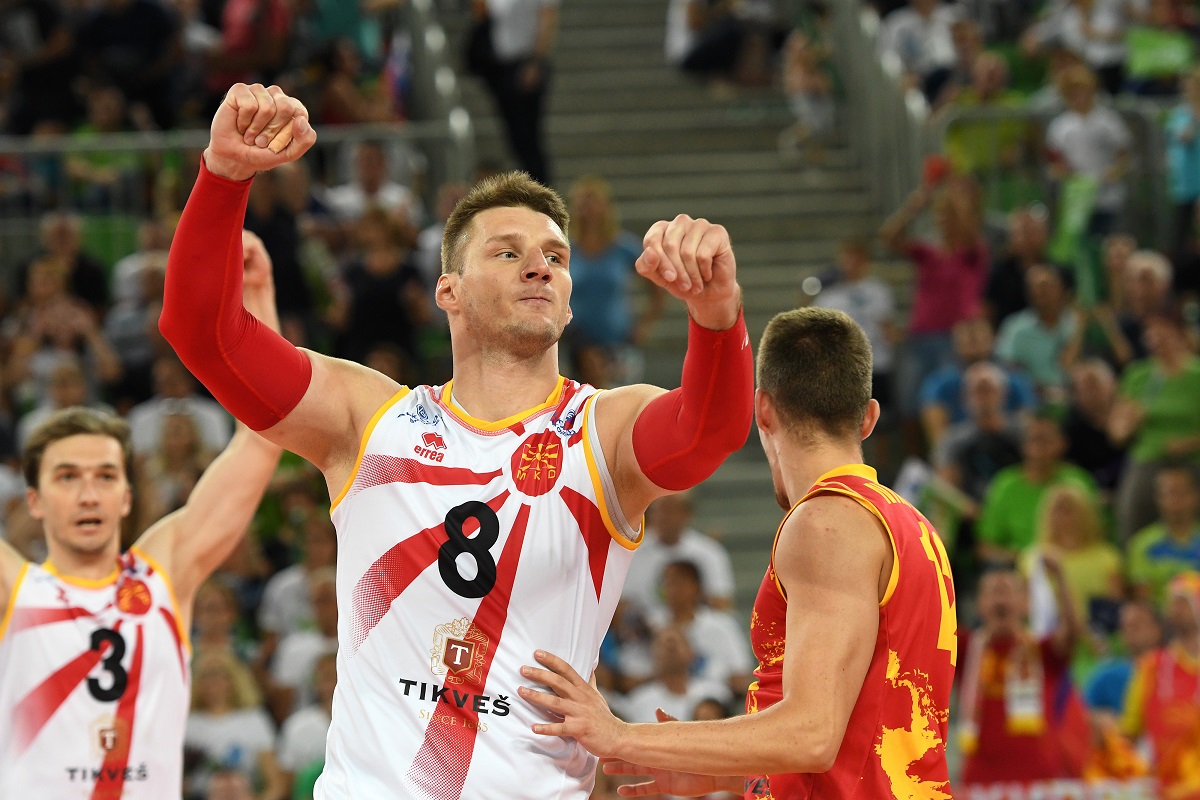 Ljaftov celebrates 2nd set win
"Congratulations to North Macedonia, they fougt really well. Tomorrow is a new day and a new game for us. We have to recover and concentrate, as we are expecting even tougher match against Russia, but I hope we will avenge two losses from 2017."
Alen Pajenk
middle-blocker (SLO)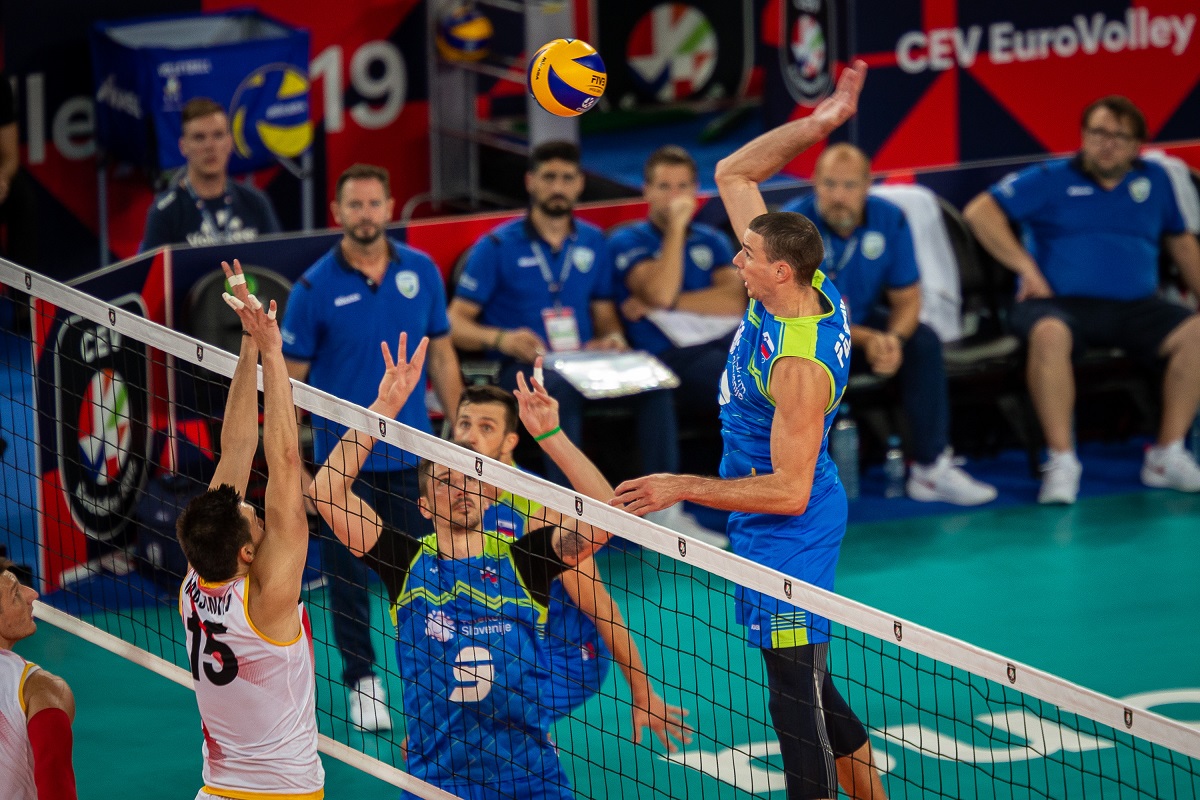 Pajenk spiking
"Our heads were not in the right place today, our minds were at the game with Russia I think. We though it's going to be an easy quest against North Macedonia, but obviously that wasn't the case. You have to respect every oponnent. We knew they wouldl be motivated after yesterdays victory and that proved to be the case. Our blocking was loose, we did not push on the serve as we should and the result is here. Tomorrow we face Russia and we will have to show proper Volleyball on our side again."
Jan Kozamernik
middle-blocker (SLO)