Overview
Slovenia faced Turkey in the pool stage of FIVB Volleyball Challenger Cup this July, claiming a 3-1 victory. After losing the first set, Slovenia bounced back, winning three sets in a row. Turkey's best continental finish is 11th place, in 1963, 2011, and in the last CEV Euro Volley in Poland in 2017. On the other side Slovenia claimed a silver medal at the 2015 edition.
Article - Pool C preview
---
Team
Squad Listing
Team
2
AVCI Batuhan
Outside spiker
4
GÜNGÖR Baturalp Burak
Outside spiker
6
ÜNVER Izzet
Outside spiker
7
SAVAŞ Vahit Emre
Middle blocker
11
GÜLMEZOĞLU Yiğit
Outside spiker
13
KARASU Oğuzhan
Middle blocker
14
GÜNEŞ Faik Samed
Middle blocker
17
ULU Doğukan
Middle blocker
Coaches
19554
TOGAN Erkan
Assistant Coach
TOGAN Erkan
Assistant Coach
28011
KARATOP Mert
Assistant Coach
KARATOP Mert
Assistant Coach
Match Report
Thrilling third set and third #EuroVolleyM win for Slovenia

Article
15 September 2019
Turkey started the match with great determination to upset the home crowd claiming a 5-point lead. Slovenia improved their performance, closed the gap and emerged victorious after a dramatic finish. They continued strong in the second set with Alen Pajenk and Mitja Gasparini contributing 5 points each.
Numerous home supporters expected an easy third set, but Turkey proved once more they came to EuroVolley to win, not just to participate. Baturalp Gungor and Adis Lagumdzija pressed hard with their attacks but Gasparini and captain Tine Urnaut reacted in a similar way. At the end it was Urnaut to seal the 3-0 win, finishing the match as a top scorer as well, with 16 points.
Read more
The match in numbers
Points
The combined total number of points scored by both teams throughout the entire match.
Duration
The total length of the match, from the first serve through until the last point has ended.
Spectators
Total number of people in attendance at the venue – taken at the end of the second set.
Match Spikes
The combined total number of successful spikes achieved by both teams throughout the entire match.
Reception Level
An average of the two team service reception percentages from the complete match.
Net Domination
The number of successful point winning blocks of TURKEY compared to SLOVENIA.
Ace Count
TURKEY number of service aces compared to SLOVENIA
Error Difference
Errors leading to points of TURKEY, next to those from SLOVENIA
"We played really good in the first set, made only a couple of mistakes that we should kill. If we did those, we would have won the first set. In the second set we have had a little breakdown but we came back in the third so that was good. We have to mentally come back now and prepare for the next matches."
Adis Lagumdzija
opposite (TUR)
"They are a good team and had one advantage playing at home. They have very good fans, that is why there were one step ahead of us in the critical moments. We were fighting well but that was not enough for them. We have two more games and we will focus on that now."
Baturalp Burak Gungor
outside-spiker (TUR)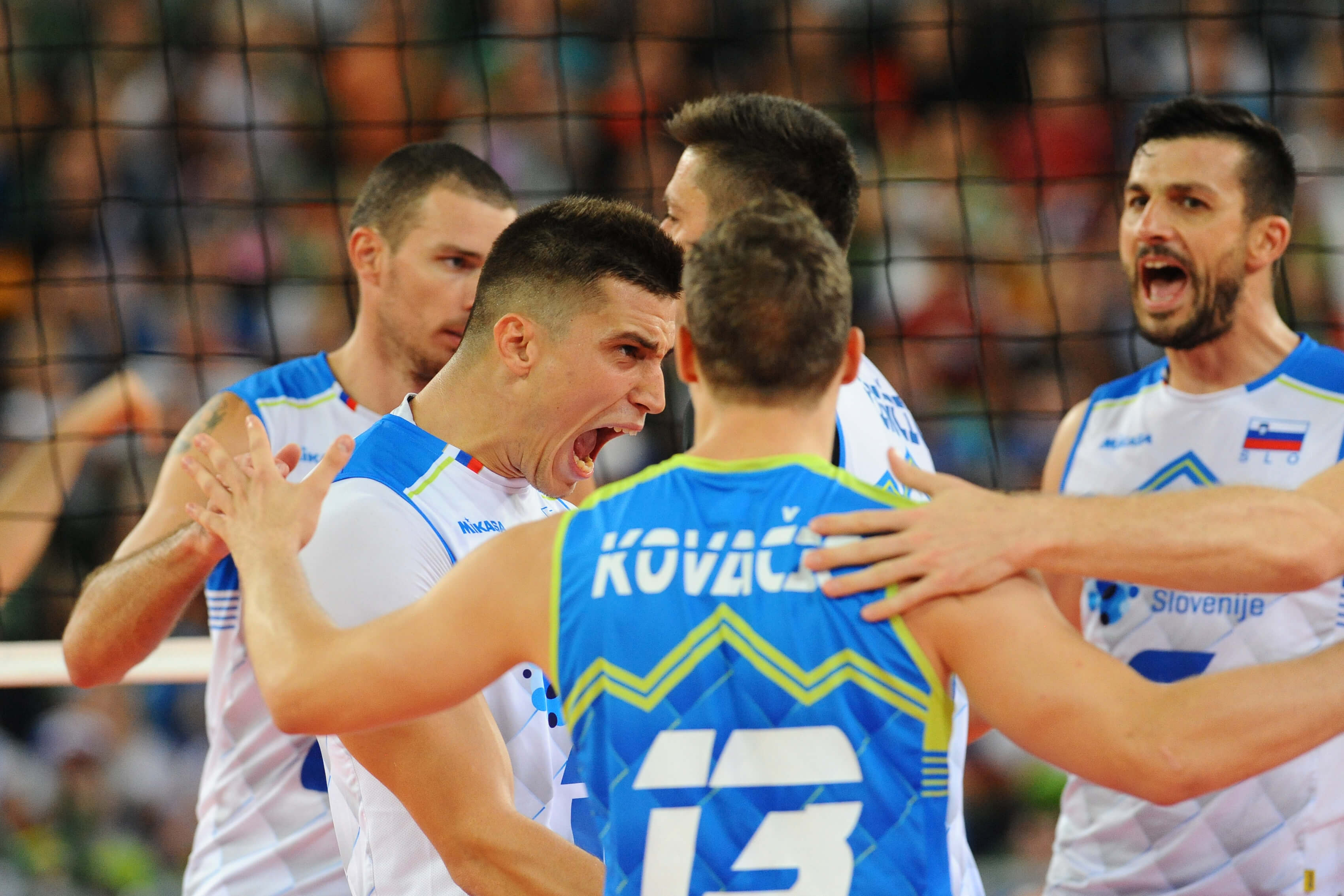 "Turkish team is very strong, we knew that. We had been tired at the beggining of the game. Then we came back and played with consistence. We had some problems with servis so we had to be stronger in side-out. Through all the game we belived in our victory. Every game we have to adapt to the style of the game that is necessary for the day. Even if our game wasn't phenomenal, we won."
Tine Urnaut
outside-spiker and team captain (SLO)
"I hope this fantastic atmosphere will continue in next matches. Turks proved to be hard and relentless opponent. We knew that. Today's mental preparation was very good. We pulled out important points at the end of the sets, had important counters and managed to emerge victorious."
Klemen Čebulj
outside-spiker (SLO)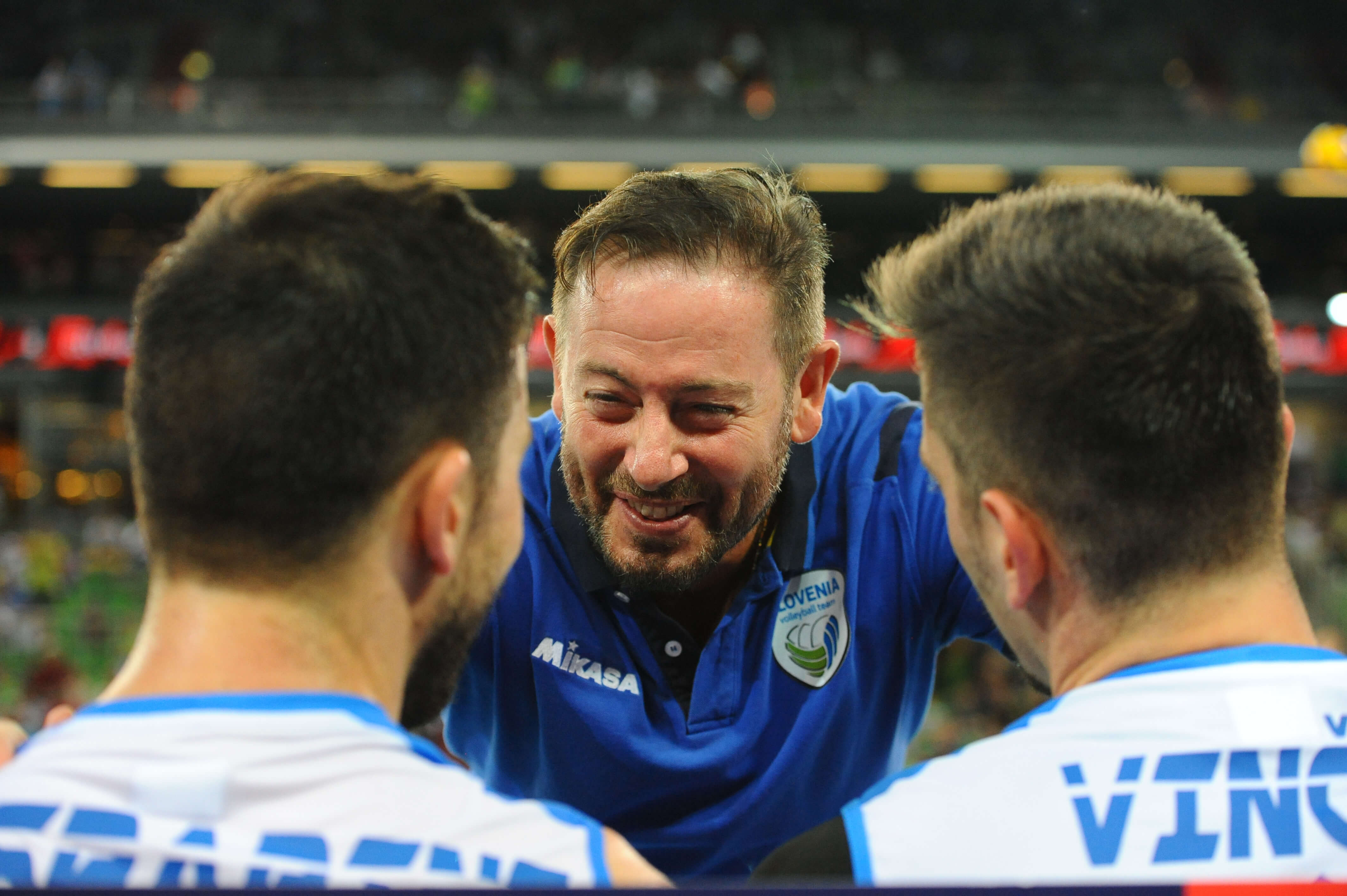 "After bad start we made a double substitution and turned the first set around. I am very happy for Gregor and Tonček, because it is very dangerous to lose the first set. But we won in the end, so evertyhing is OK. It was tough also in the third set, but that was not a surprise, because Turkey played very well."
Alberto Giuliani
head coach (SLO)