Overview
Belarus claimed silver in the 2019 European Golden League - their best achievement to date. Before that they finished 15th at the 2013 CEV European Championship. Finland finished just off the podium at the 2007 CEV European Championship, which is their all-time best result. These two teams played each other in the 2019 European Golden League, Belarus winning both of the matches by 3-0.
Article - Pool C preview
---
Team
Squad Listing
Team
C
5
BUSEL Siarhei
Middle blocker
1
RADZIUK Andrei
Outside spiker
4
ANTANOVICH Siarhei
Outside spiker
8
SHMAT Viachaslau
Middle blocker
11
ZABAROUSKI Stanislau
Libero
13
BURAU Ilya
Middle blocker
15
TSIUSHKEVICH Kanstantsin
Setter
17
MISKEVICH Radzivon
Opposite
19
CHARAPOVICH Viachaslau
Opposite
20
KUKLINSKI Pavel
Outside spiker
22
MAROZAU Maksim
Middle blocker
Coaches
1957
LIKHARAD Dzmitry
Assistant Coach
LIKHARAD Dzmitry
Assistant Coach
15682
TETERINA Ala
Assistant Coach
TETERINA Ala
Assistant Coach
Match Report
Belarus delighted with their first #EuroVolleyM win

Article
15 September 2019
After yesterday's defeat against Slovenia, Finland were determined to please their numerous supporters in Stožice Arena with a win. They were strong in attack, leaving Belarus almost no chances to win the first set. Radzivon Miskevich claimed 5 points in the second, trying to return Belarus in the match, but Tommi Siirila and Urpo Sivula responded in the same way for another Suomi triumph.
Belarus bounced back with strong serving and blocking. They managed to close the gap with opposite Artur Udrys leading their way, finishing the match in flying colours with 21 points, including 19 kills. In the last set, they remained concentrated and despite some strong Finnish attacks Belarus secured their first win in Pool C.
Read more
The match in numbers
Points
The combined total number of points scored by both teams throughout the entire match.
Duration
The total length of the match, from the first serve through until the last point has ended.
Spectators
Total number of people in attendance at the venue – taken at the end of the second set.
Match Spikes
The combined total number of successful spikes achieved by both teams throughout the entire match.
Reception Level
An average of the two team service reception percentages from the complete match.
Net Domination
The number of successful point winning blocks of BELARUS compared to FINLAND.
Ace Count
BELARUS number of service aces compared to FINLAND
Error Difference
Errors leading to points of BELARUS, next to those from FINLAND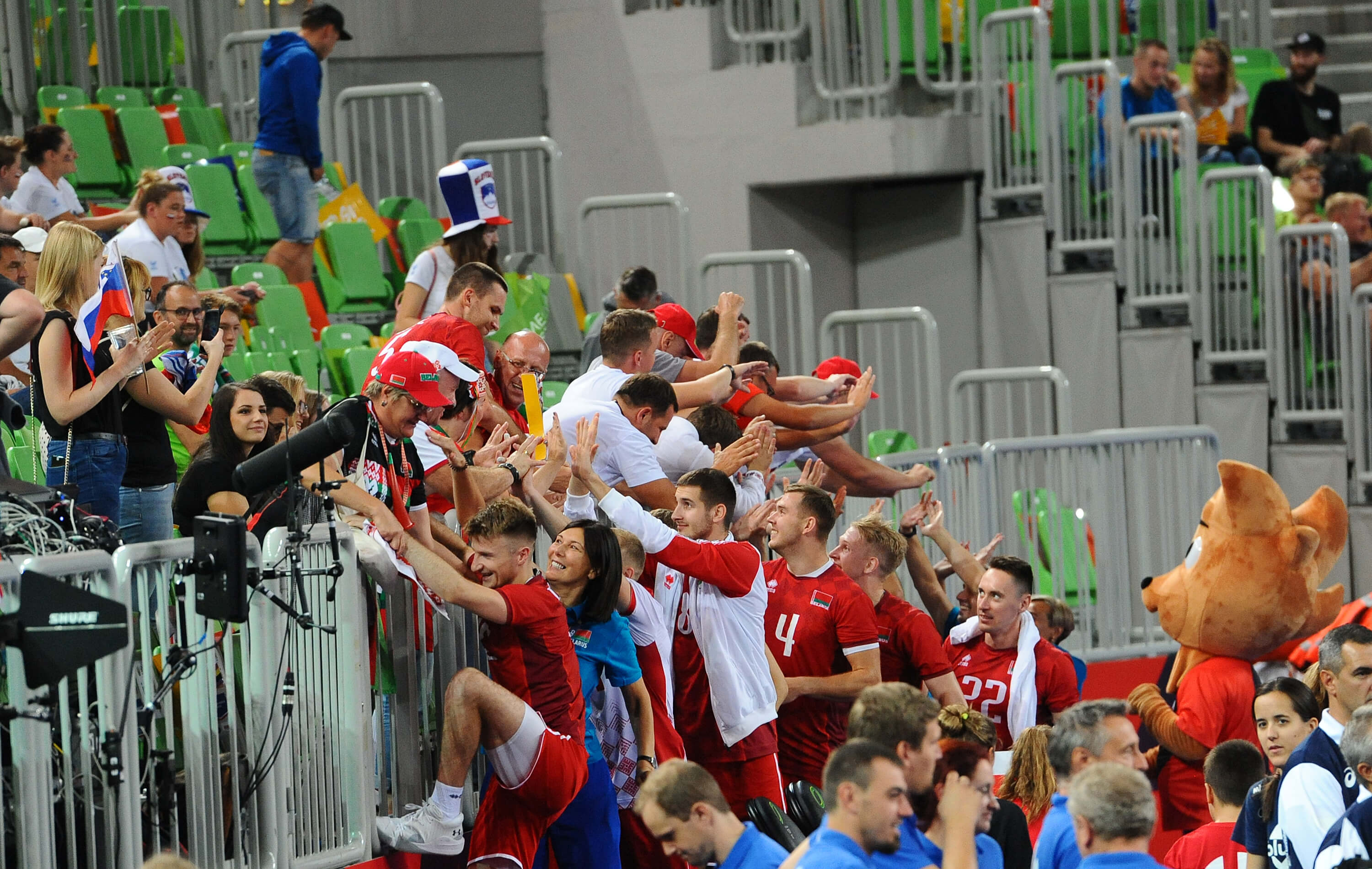 Belarus celebrate victory with their fans
"It was an amazing game and were the heroes. The third set gave us chance to come back and we took it. It's really amazing because in first two sets the Finnish team was awesome and also their fans were very loud and amazing. After third set we the saw Finnish team is really tired and we took the chance."
Andrei Radziuk
outside-spiker (BLR)
"Our start of the match was awful. Finland served well and we made too many mistakes on the serve. We did not use our middle-blockers in the attack. In the second set Finland did not play well in defence, we were fighting, improved our performance, and still we lost. Then we made a good substitution with Udrys instead of Miskevich. He scored many important points. The third set was crucial, since we bounced back after a defeat. We are happy to still have chances to fight for the next round."
Viktar Beksha
head coach (BLR)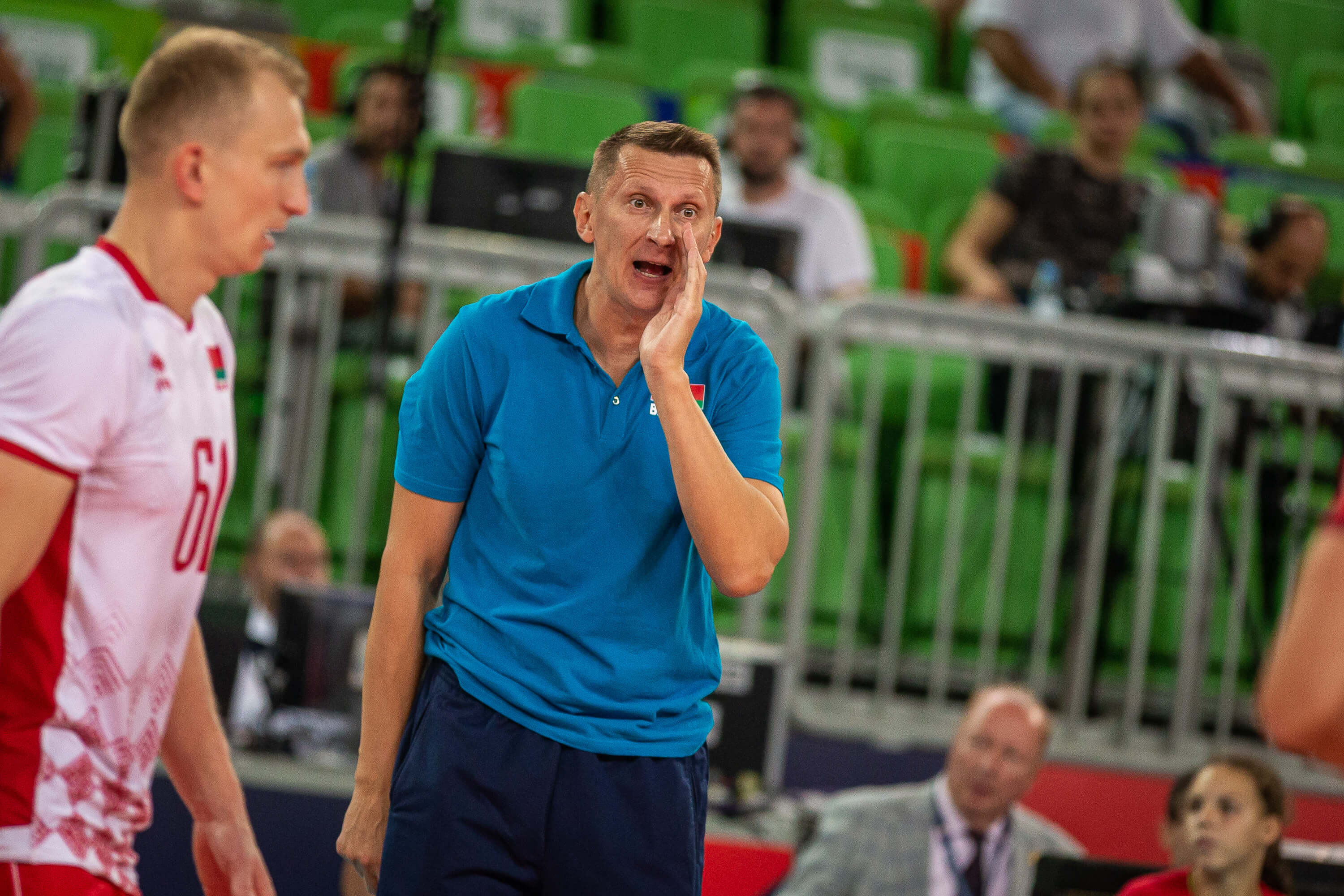 Viktar Beksha, head coach of Belarus
"After second set we lost energy and got some bad luck. Some balls we should have handled better and this had effect on our mentality. It was a tough game and Belarus team played an amazing match. They put very good preasure on us."
Elviss Krastins
outside-spiker (FIN)
"That is not bitter, this is sports. And sports is physical but is also mental. And we were very, very good in the first two sets, in set 3 a little bit sloppy from time to time, but the level was still quite high. In set 4 we played against a different team. The team suddenly has a boost of confidence and they played differently. For us the game plan was good throughout. We did not have the serve pressure in the end and we could not convert some of the chances."
Joel Banks
head coach (FIN)