Overview
Slovenia's greatest achievement is a silver medal at the 2015 CEV European Championship. Another success came this July, qualifying for the FIVB Volleyball Nations League. Finland finished just off the podium at the 2007 CEV European Championship. Both teams competed in the 2017 FIVB World League. Slovenia have won both of the matches (3-0 and 3-1). In their last clash at the European Championship Finland claimed a 3-1 win in 2013.
Article - Pool C preview
---
Team
Squad Listing
Team
C
17
URNAUT Tine
Outside spiker
2
PAJENK Alen
Middle blocker
4
KOZAMERNIK Jan
Middle blocker
10
ŠTALEKAR Sašo
Middle blocker
11
STERN Ziga
Outside spiker
15
VIDEČNIK Matic
Middle blocker
18
CEBULJ Klemen
Outside spiker
Coaches
5218
GIULIANI Alberto
Head Coach
GIULIANI Alberto
Head Coach
1549
SKORC Sebastijan
Assistant Coach
SKORC Sebastijan
Assistant Coach
8673
MARTILOTTI Alfredo Walter
Assistant Coach
MARTILOTTI Alfredo Walter
Assistant Coach
Highlights
Team Slovenia lockers
---
Highlights
IVANOV Fedor (FIN) on the court
---
Highlights
Team Slovenia selfie
---
Highlights
Full house for the spectacle in Ljubljana
---
Match Report
Slovenian party in Stožice Arena – second win for the home team

Article
14 September 2019
Numerous home fans and a group of anything between 1,200 and 2,000 Finnish supporters created an amazing atmosphere for the clash between their national teams. Slovenia delivered a solid blocking performance, while team captain Tine Urnaut was very efficient in the attack. Finland proved to be a tough nut to crack in the second set. The home side were struggling and the opponents managed to get onto the lead (22-23), but at the end Dejan Vinčić sealed the set with a single block.
Suomi had a flying start in the third set and were ahead most of the time. Slovenia did close the 5-point gap and were in position to end the match, but the motivated Finns emerged victorious. Slovenia's determination pleased the home crowd and by minimizing the number of mistakes in set four they secured their second win in Ljubljana.
Read more
The match in numbers
Points
The combined total number of points scored by both teams throughout the entire match.
Duration
The total length of the match, from the first serve through until the last point has ended.
Spectators
Total number of people in attendance at the venue – taken at the end of the second set.
Match Spikes
The combined total number of successful spikes achieved by both teams throughout the entire match.
Reception Level
An average of the two team service reception percentages from the complete match.
Net Domination
The number of successful point winning blocks of SLOVENIA compared to FINLAND.
Ace Count
SLOVENIA number of service aces compared to FINLAND
Error Difference
Errors leading to points of SLOVENIA, next to those from FINLAND
"We played prety well, we had a chance to take a win but we didn't take it. Atmosphere was amazing, it gave us a lot of energy. It's always great to play in a full hall. Our fans fallow us all over the world. This support is great for us, we get a lot of energy from them."
Henrik Porkka
libero (FIN)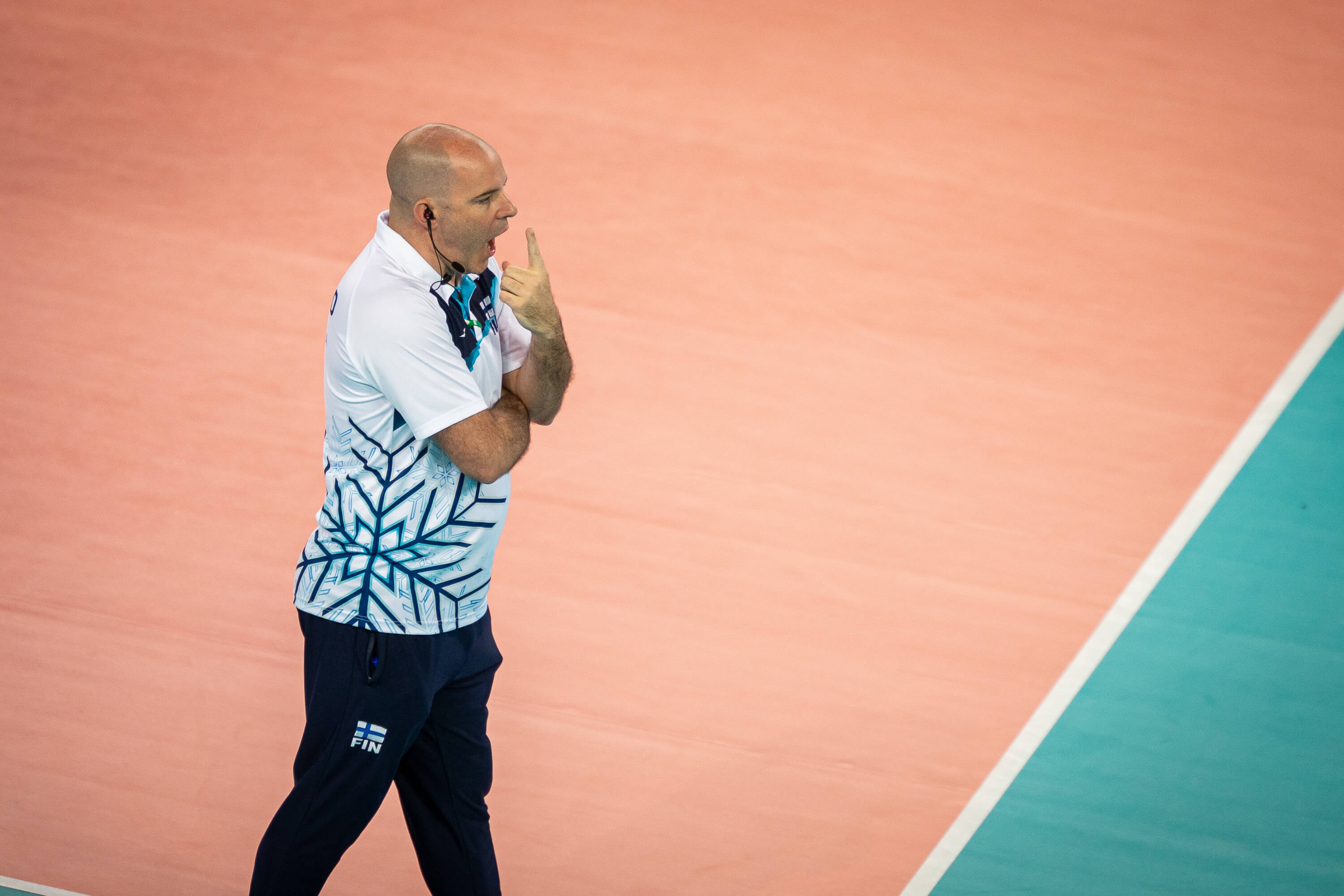 Coach Joel Banks instructing team Finland
"Every player in our squad has a role to play. We do not have a star player as such, so we need the contribution of everybody. When some guys are struggling, trying to find a different solution it is good to be able to change and the guys that come in they get something different. That was the case in the game with North Macedonia and I think that was the case today. We struggled and suffered a bit in set 4, but in the other three sets I think we played very well."
Joel Banks
coach (FIN)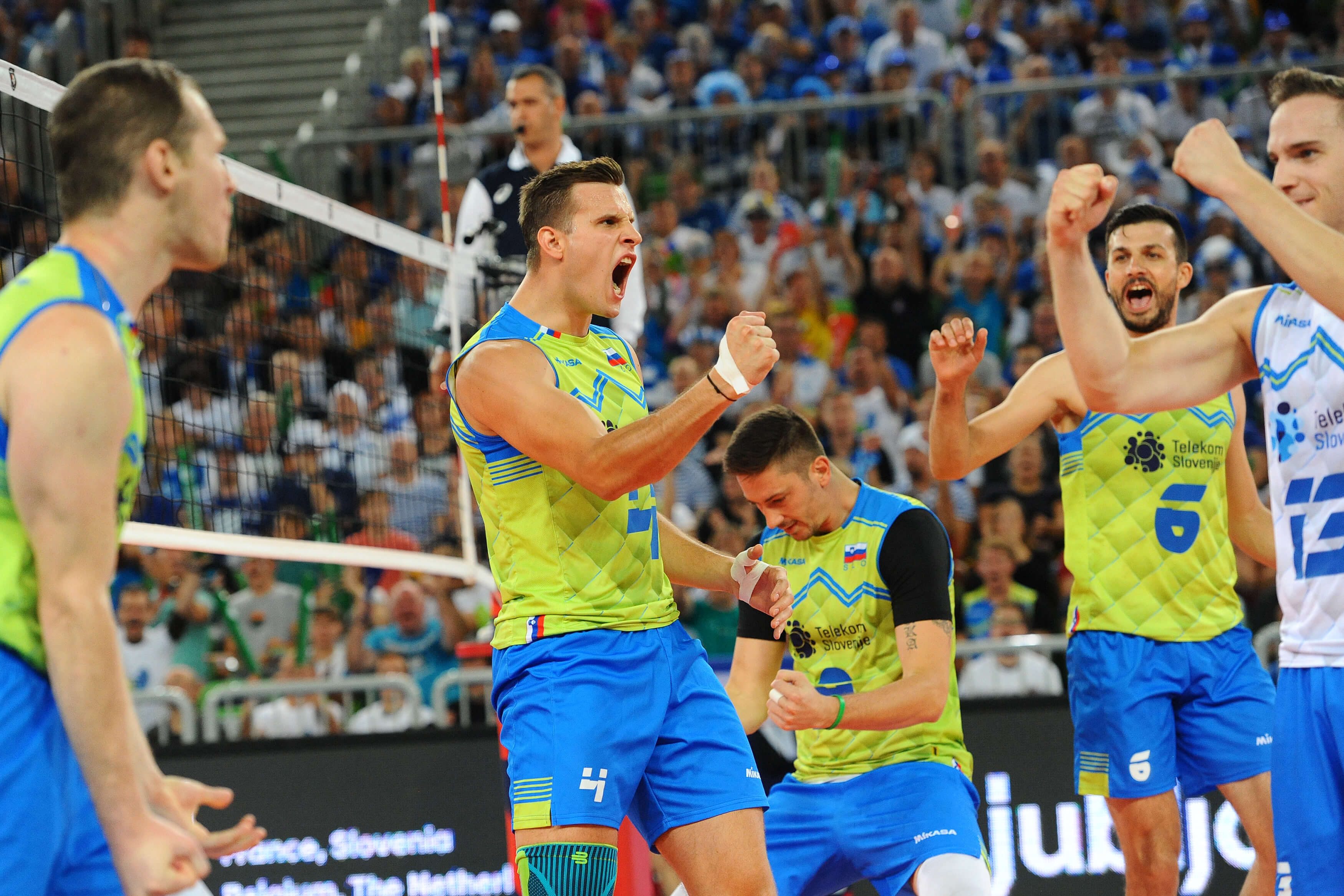 Jan Kozamernik (SLO) celebrating a point with his teammates
"Finland is a respectable opponent, they played really well. It's a pity that we lost the third set. We have trained really hard for this tournament and we want to show our own game. The fans are phenomenal, we have never played a home match in front of that many fans. I hope that we can expect even more people in the next matches and play in the full Stožice hall. They are a big help for us, the energy they bring is just wild."
Jan Kozamernik
middle-blocker (SLO)
"I think we have never played in front of so many people and it was realy amazing. They were our seventh player, you could see this on the court. In third set we made too many mistakes and that's why Finland won it. Now we have to forget about this game and prepare ourselves for Turkey. After two victories we are confident and we showed that we can play consistently."
Jani Kovacic
libero (SLO)