Overview
Belarus claimed silver in the 2019 European Golden League - their best achievement so far. They have finished 15th at the 2013 CEV European Championship. Their neighbours Russia are a true European Volleyball power, the reigning European Champions and FIVB Volleyball Nations League winners. They have not played each other recently. Russia started the tournament with a victory against Turkey, Belarus recorded a loss against hosts Slovenia.
Article - Pool C preview
---
Team
Squad Listing
Team
C
5
BUSEL Siarhei
Middle blocker
1
RADZIUK Andrei
Outside spiker
4
ANTANOVICH Siarhei
Outside spiker
8
SHMAT Viachaslau
Middle blocker
11
ZABAROUSKI Stanislau
Libero
13
BURAU Ilya
Middle blocker
15
TSIUSHKEVICH Kanstantsin
Setter
17
MISKEVICH Radzivon
Opposite
19
CHARAPOVICH Viachaslau
Opposite
20
KUKLINSKI Pavel
Outside spiker
22
MAROZAU Maksim
Middle blocker
Coaches
1957
LIKHARAD Dzmitry
Assistant Coach
LIKHARAD Dzmitry
Assistant Coach
15682
TETERINA Ala
Assistant Coach
TETERINA Ala
Assistant Coach
Highlights
Russian fans cheering
---
Highlights
ZABAROUSKI Stanislau (BLR) celebrate
---
Highlights
ZABAROUSKI Stanislau (BLR) receiving
---
Highlights
Team Belarus on fire
---
Highlights
Team Russia during celebration
---
Highlights
Team Russia waiting for challenge
---
Highlights
Team Belarus celebrating the point
---
Match Report
Russia secure their second #EuroVolleyM win despite initial setback

Article
13 September 2019
Russia started the match with a pretty different line-up comparing to yesterday's match against Turkey, keeping only Ivan Iakovliev and Egor Kliuka in the starting six. Belarus delivered a solid performance with a few point lead in the second part of the set. However, the opponents managed to close the gap at 24-23, but that was all Belarus allowed them, claiming the set with Pavel Kuklinski's spike.
It was Russia directing the second set with Alexander Butko evenly distributing the balls among his attackers. Belarus put up a better fight in the third one. Still, it was Russians who emerged victorious. They kept their rhythm for the fourth set, allowing Belarus to score no more than 10 points, for a 3-1 victory. Dmitry Musersky and Victor Poletaev scored 16 points each for the winners, while Pavel Kuklinski and Artur Udrys added 11 each for Belarus.
Read more
The match in numbers
Points
The combined total number of points scored by both teams throughout the entire match.
Duration
The total length of the match, from the first serve through until the last point has ended.
Spectators
Total number of people in attendance at the venue – taken at the end of the second set.
Match Spikes
The combined total number of successful spikes achieved by both teams throughout the entire match.
Reception Level
An average of the two team service reception percentages from the complete match.
Net Domination
The number of successful point winning blocks of BELARUS compared to RUSSIA.
Ace Count
BELARUS number of service aces compared to RUSSIA
Error Difference
Errors leading to points of BELARUS, next to those from RUSSIA
"Russian team is very strong but today we managed to steal a set, as they made many mistakes in the first one. Our reception was better today but most importantly today`s game was a very good training for us before the remaining matches in our pool. Tomorrow we have a day off, and then we face Finland when we will have to deliver our best volleyball."
Siarhei Busel
middle-blocker and team captain (BLR)
"Yesterday there was more pressure because it was the opening match and the arena was full of Slovenian fans. Today our reception was better. We played relaxed. They are the European Champions, we just played how we wanted. They had more pressure on tem because they had to win."
Radzivon Miskevich
opposite (BLR)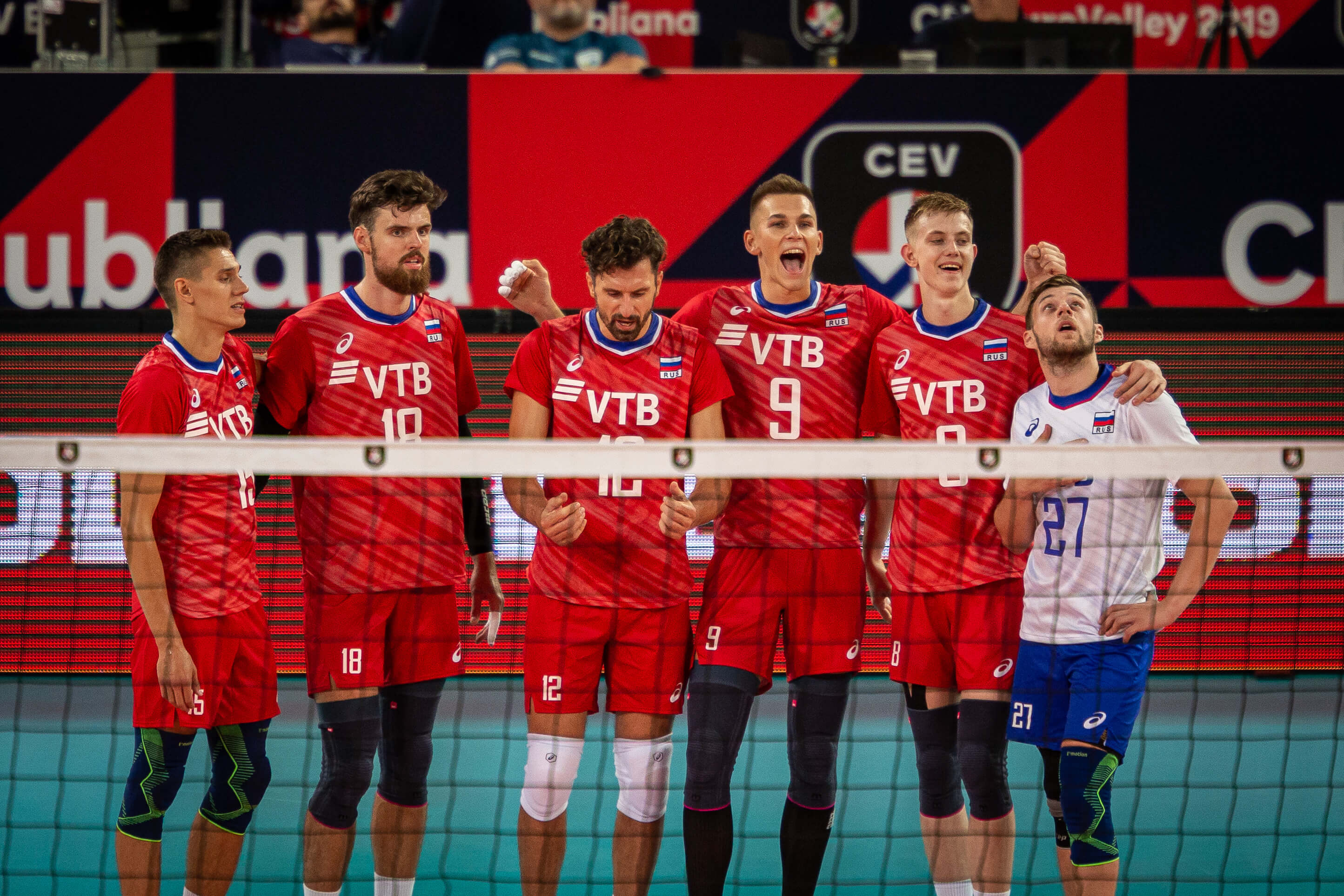 "It was a very difficult match for us because of the playing time and the fact that for many of the players this was the first match in the tournament. During the match we tried to find our confidence. We are not happy with the result and our game. In the future we need to find our game and show our best. "
Dmitriy Muserskiy
middle-blocker (RUS)