Overview
When the unbeaten leader meets the winless last-place team, the outcome may look pre-decided, but this is no quite the case when Serbia and Austria face each other in the last Pool B match in Antwerp. Underdogs Austria have shown some good qualities in their pool campaign, but with four losses they are already home-bound. Still, they will certainly do their best not to go home empty-handed. At the same time, it is a great opportunity for coach Slobodan Kovac to give some rest to his key players and a chance to those who have not been playing so much. It could be an interesting game.
"We want to win this game because we need to show the fans we are the winners of this pool and we want five victories."
Marko Ivovic
Outside spiker of Serbia
"We are very keen not to go home empty handed. We started this tournament playing well and we want to play better than in the first match."
Philipp Kroiss
Libero of Austria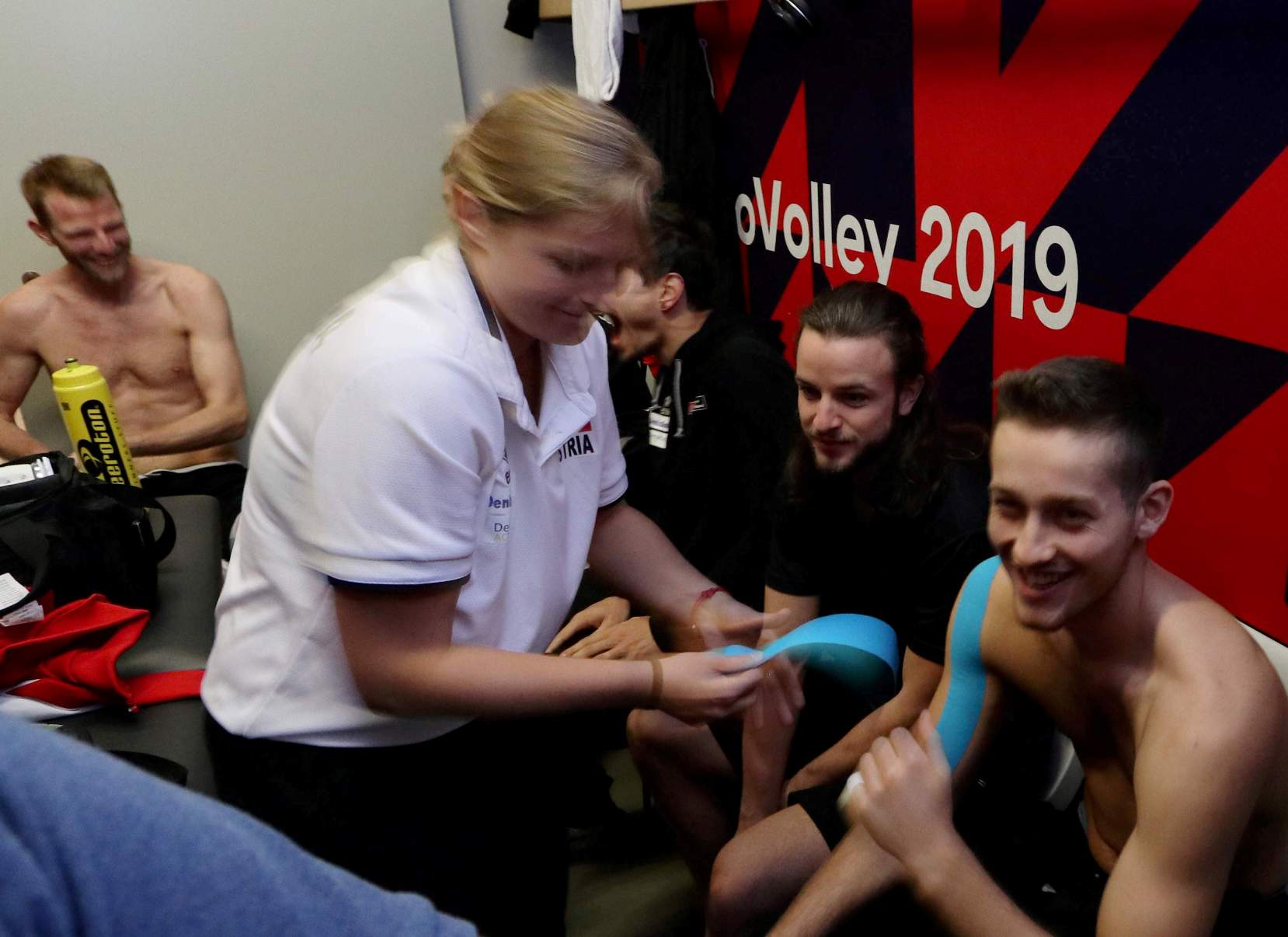 Austrian locker room; both teams seem to be in a good mood before the game
Team
Squad Listing
Team
C
4
PETRIC Nemanja
Outside spiker
1
OKOLIC Aleksandar
Middle blocker
2
KOVACEVIC Uros
Outside spiker
5
CIROVIC Lazar
Outside spiker
7
KRSMANOVIĆ Petar
Middle blocker
8
IVOVIC Marko
Outside spiker
14
ATANASIJEVIC Aleksandar
Opposite
18
PODRASCANIN Marko
Middle blocker
20
LISINAC Srecko
Middle blocker
Coaches
20423
KOVAČ Slobodan
Head Coach
KOVAČ Slobodan
Head Coach
17620
RISTIC Ljubisa
Assistant Coach
RISTIC Ljubisa
Assistant Coach
80579
ŽAKIĆ Igor
Assistant Coach 2
ŽAKIĆ Igor
Assistant Coach 2
Highlights
Lisinac (SRB) and Ace
---
Highlights
Serbiia celebrate
---
Highlights
Zass (AUT) attacks
---
Highlights
Berger (AUT) spikes past Jovovic (SRB)'s block
---
Highlights
Okolic (SRB) ready to block... anything!
---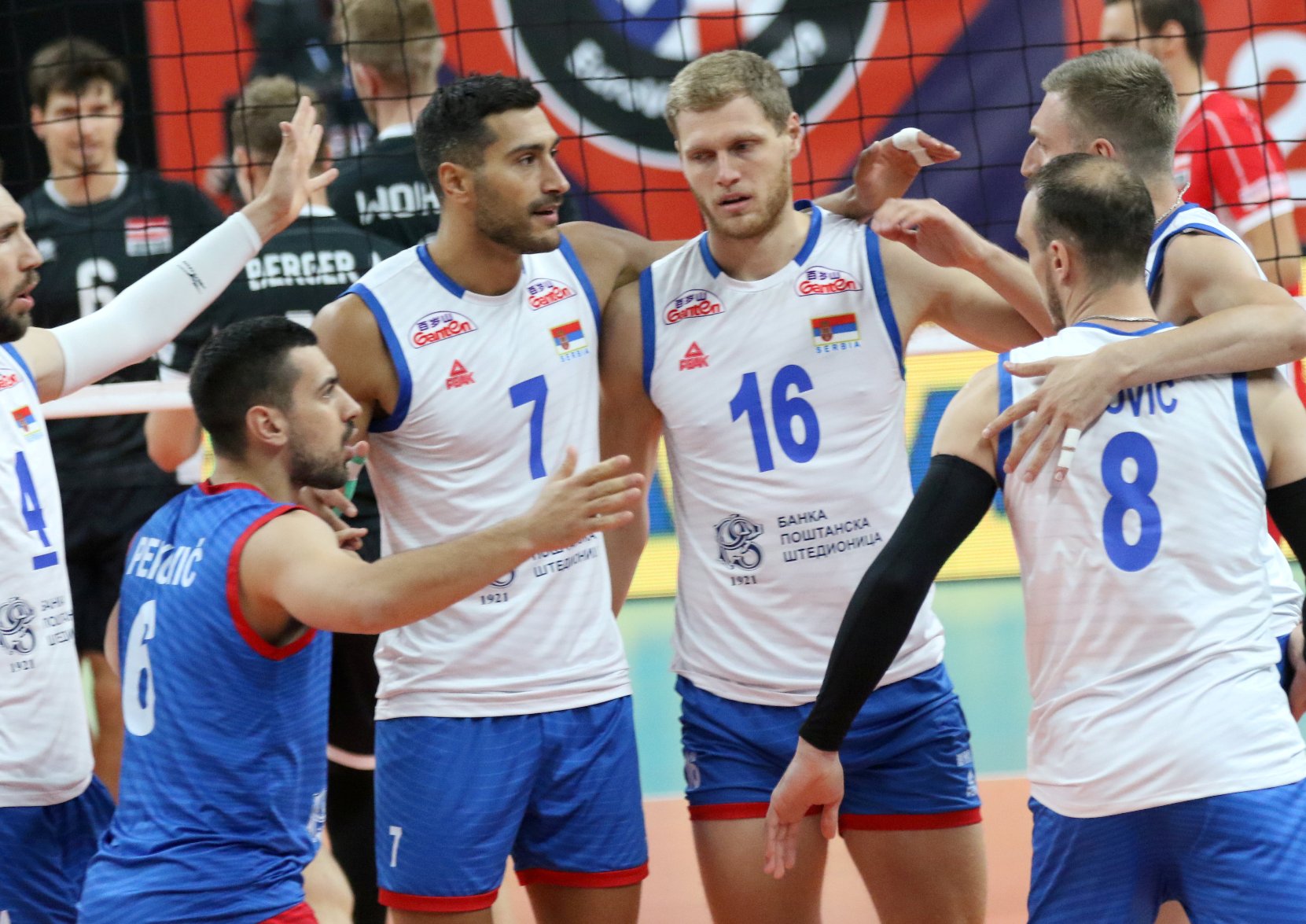 Match Report
With key players resting, Serbia show no mercy to Austria

Article
Serbia won the last match in Pool B emphatically in straight sets over out-going Austria to finish the pool unbeaten in five matches. The Austrians were forced to conclude their participation in EuroVolley 2019 empty-handed.

Even though Serbia started the match without key players, such as Aleksandar Atanasijevic, Marko Podrascanin, Srecko Lisinac and Uros Kovacevic, coach Slobodan Kovač's men showed no mercy in the first set and ran off with a 25-16 landslide. Early into the second set, a couple of aces by Thomas Zass helped Austria break away with a four-point lead but, thanks to a total of 10 points from Drazen Luburic in the set, the Serbs quickly caught up and outpaced the opponent on the way to a 25-22 win. With captain Nemanja Petric and main setter Nikola Jovovic also off the court by now and Zass scoring seven times, the third set was the most competitive of the three. Still, the Serbs were more concentrated in the money time to claim a 25-21 win and close the match.

18 points, of which three aces, made Luburic the biggest point-maker on the winning side. However, Zass was the overall best scorer of the match on 20 points, including three stuff blocks and two aces.
Read more
The match in numbers
Points
The combined total number of points scored by both teams throughout the entire match.
Duration
The total length of the match, from the first serve through until the last point has ended.
Spectators
Total number of people in attendance at the venue – taken at the end of the second set.
Match Spikes
The combined total number of successful spikes achieved by both teams throughout the entire match.
Reception Level
An average of the two team service reception percentages from the complete match.
Net Domination
The number of successful point winning blocks of SERBIA compared to AUSTRIA.
Ace Count
SERBIA number of service aces compared to AUSTRIA
Error Difference
Errors leading to points of SERBIA, next to those from AUSTRIA
"We played very well today and in the pool as a whole. We feel we deserve the first place and hope to win over Czech Republic to progress to the quarterfinals."
Nikola Pekovic
Libero of Serbia
"We played well today and had some chances. In two years we will be back to achieve our goals at the next EuroVolley."
Maximilian Thaller
Setter of Austria