Overview
This is the last match for these two teams in Pool B. A day earlier Germany (on a 2-2 win-loss record) secured their spot in the eighthfinals, as they cannot be moved from the third place in the final pool standings. Spain (1-3), however, have all to play for. Any win over Germany would send them through to the next stage of EuroVolley 2019.
Scenarios
• If Germany win, Slovakia will finish fourth in the pool and advance.
• If Spain win, they will surpass Slovakia for the fourth place and progress to the eighthfinals.
"We are really motivated for this game. We played well against Austria and Serbia so I believe in our chances to win against Germany."
Alejandro Vigil
Middle blocker of Spain
"We are not relaxed at all. We take every game seriously, because we want to win every game and play it like it's our last."
Noah Baxpöhler
Middle blocker of Germany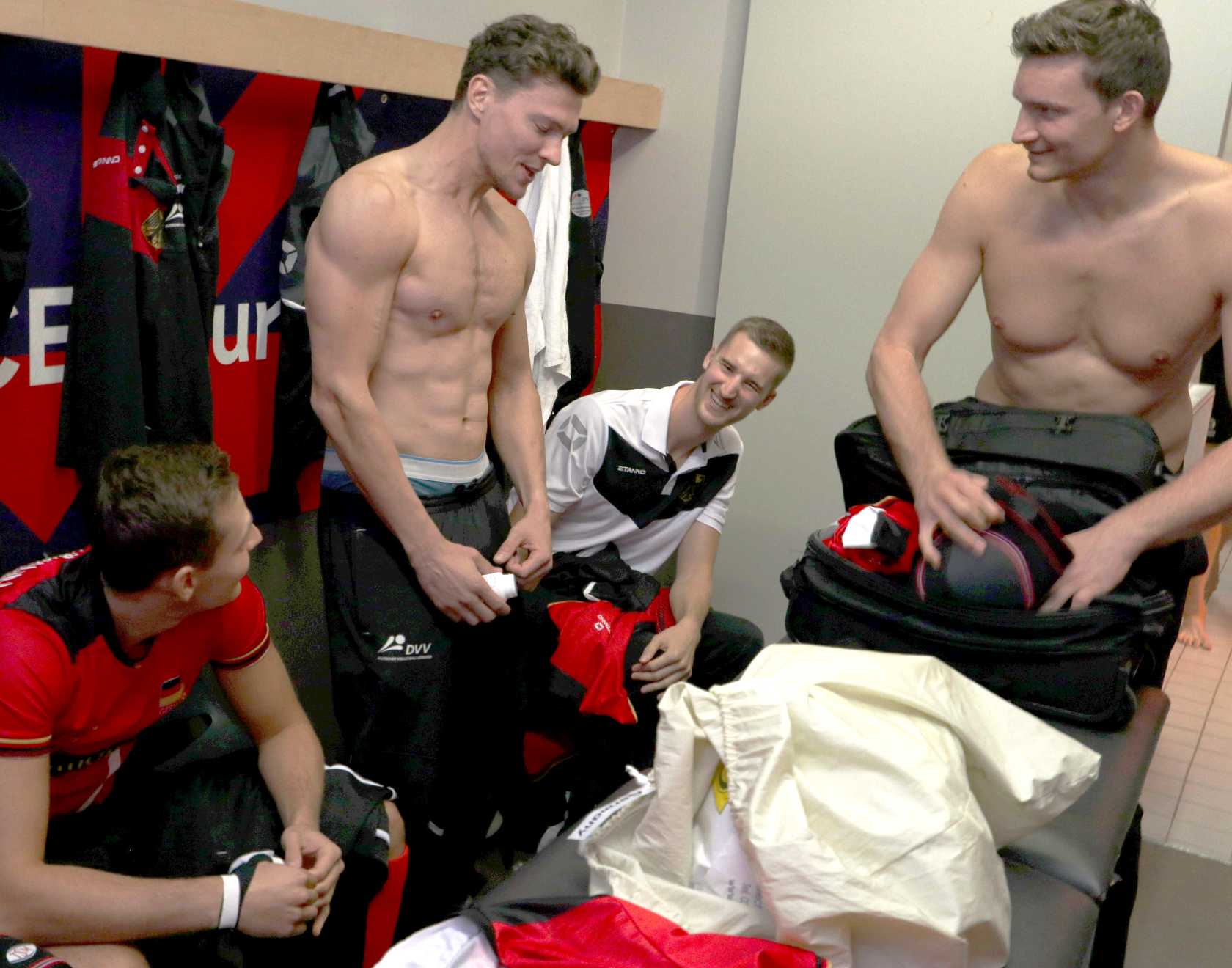 Germany in the changing room before the match
Team
Squad Listing
Team
C
10
FERNANDEZ VALCARCEL Jorge
Middle blocker
1
COLITO Augusto Renato
Opposite
2
TRINIDAD DE HARO Angel
Setter
3
RODRÍGUEZ PÉREZ Victor
Outside spiker
7
RAMÓN FERRAGUT Jordi
Outside spiker
9
VIGIL Alejandro
Middle blocker
11
DE AMO FERNANDEZ-ECHEVARRIA Miguel Angel
Setter
13
VILLENA Andres Jesus
Opposite
14
FORNES Miguel Angel
Middle blocker
15
PIRIS GUISCAFRÉ Antoni
Libero
16
GONZALEZ Juan Manuel
Outside spiker
19
FERRÁNDEZ MOLES Emilio
Outside spiker
23
FERRERA Mario
Outside spiker
Coaches
42306
MUÑOZ BENITEZ Fernando
Head Coach
MUÑOZ BENITEZ Fernando
Head Coach
11301
RIVERA Miguel
Assistant Coach
RIVERA Miguel
Assistant Coach
11408
RODRIGUEZ Jorge
Assistant Coach
RODRIGUEZ Jorge
Assistant Coach
Highlights
Time-out Germany
---
Highlights
Time-out Spain
---
Highlights
Schott (GER) receives
---
Highlights
Spain celebrate the victory and the advancement to the next round
---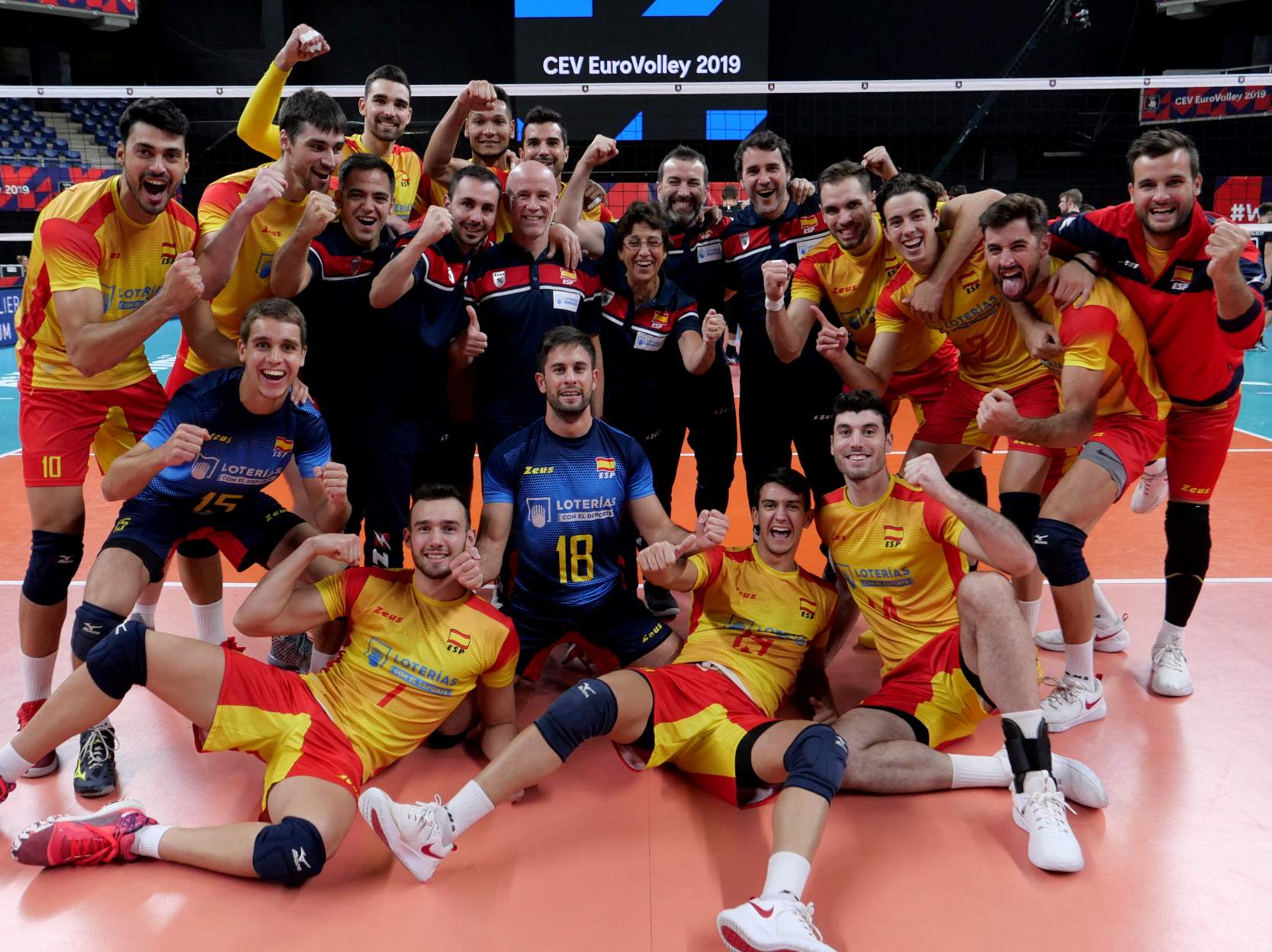 Match Report
Spain it is! Red Lynxes beat Germany to snatch last eighthfinal vacancy

Article
Spain snatched the last available ticket to the eighthfinals of EuroVolley 2019. Facing a do-or-die situation in their last match of the pool stage, the inspired Red Lynxes mastered a four-set victory over Germany to advance to the last 16, leaving Slovakia out of contention.

Midway through the first set, Spain started to break away and, thanks to some good blocking, finished it with a comfortable 25-22 advantage. They continued their domination into the second set, with Andres Jesus Villena and Juan Manuel Gonzalez scoring away. But was sub-in Augusto Renato Colito who finished the set at 25-20 on his first attack of the match. Led by some monster blocking and efficient spiking from Marcus Böhme, Germany woke up in the second set to stay in the match after 25-18. The fourth set was all about Spain. Once again, Villena spearheaded the Spanish offence, but at match point it was Colito sho scored his second point of the game to close it off at 25-19 and set off a Spanish fiesta on the court.

Villena topped the scorers on a total of 20 points. Simon Hirsch reached 15 on the German side.
Read more
The match in numbers
Points
The combined total number of points scored by both teams throughout the entire match.
Duration
The total length of the match, from the first serve through until the last point has ended.
Spectators
Total number of people in attendance at the venue – taken at the end of the second set.
Match Spikes
The combined total number of successful spikes achieved by both teams throughout the entire match.
Reception Level
An average of the two team service reception percentages from the complete match.
Net Domination
The number of successful point winning blocks of SPAIN compared to GERMANY.
Ace Count
SPAIN number of service aces compared to GERMANY
Error Difference
Errors leading to points of SPAIN, next to those from GERMANY
"We played a strong technical and tactical game. Some situations we handled very well, like sideout percentage. Scoring on defence was lots harder. I am happy we won the game."
Fernando Muñoz Benitez
Coach of Spain
"It wasn't because of the five games in six days why we lost. We found answers to the power of Spain, but not to the key points during the sets and that made the difference."
Julian Zenger
Libero of Germany