Overview
Before they clash with each other, Belgium are on a three-game winning streak and safe for advancing to the next round, while Slovakia have two victories and one defeat to their name, but have yet to prove they belong in the last 16 and could do it with a win in this match. The home side, however, will do their best to please their fans once again and not lose the momentum. The two teams traded victories when they met twice in this year's European Golden League pool stage. It is a big day for 32-year-old setter Juraj Zatko, who is about to play his 242nd cap, new all-time high for the Slovak national team.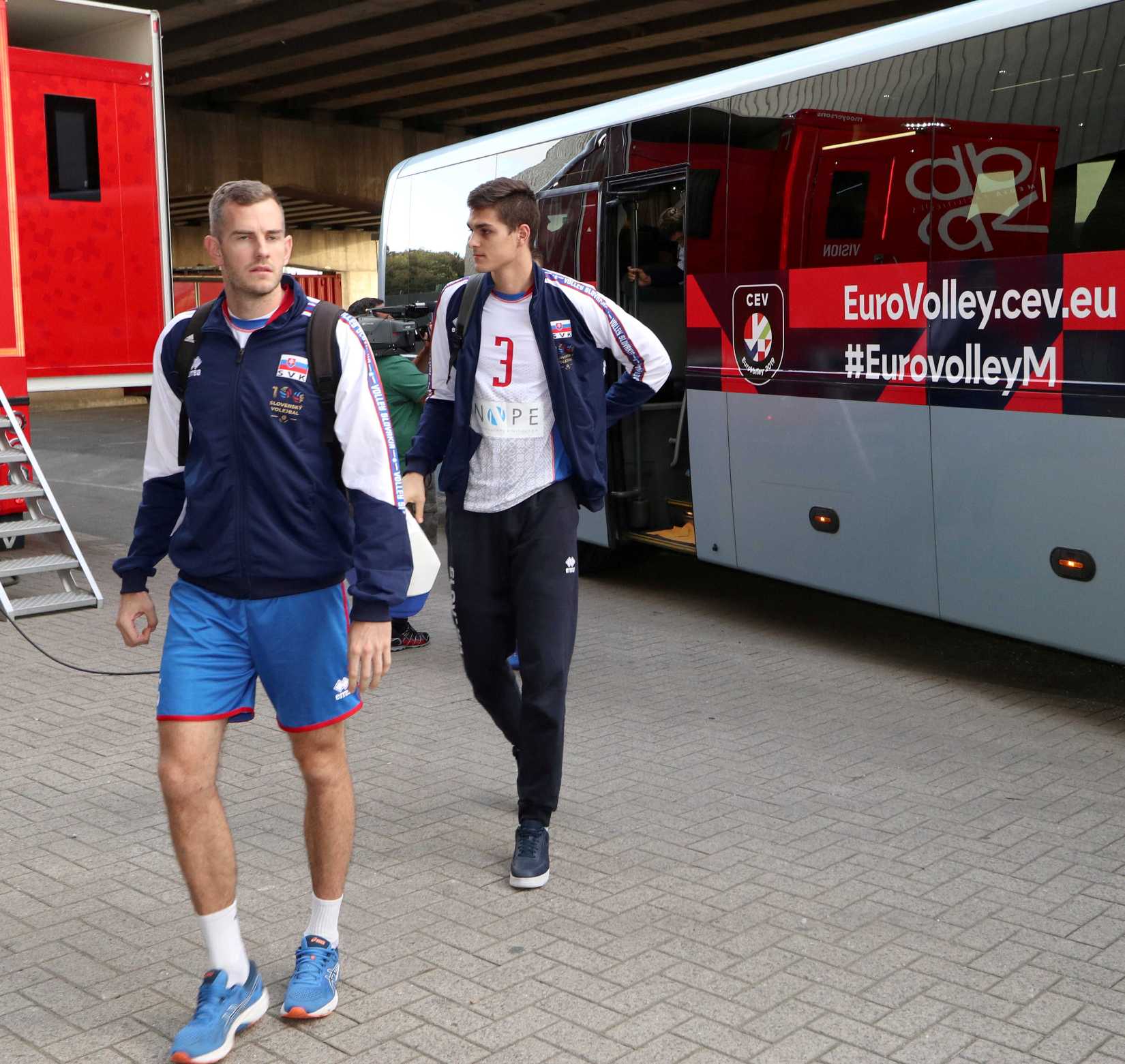 Zatko (SVK) and teammates arrive at the venue
"242 is a big number and only tells me how old I am. I prefer not to think about this before or during the match. It is far more important that we play well and achieve a positive result as a team."
Juraj Zatko
Setter of Slovakia
"We could really use the rest day we had. We trained very well yesterday and today and now we hope Slovakia can't surprise us."
Arno Van de Velde
Middle blocker of Belgium
Team
Squad Listing
Team
C
2
KRISKO Tomas
Outside spiker
1
MICHALOVIC Peter
Outside spiker
3
MAČUHA Filip
Middle blocker
8
ONDROVIC Peter
Middle blocker
10
LUX Marcel
Outside spiker
12
PATAK Matej
Outside spiker
14
KRAJCOVIC Simon
Middle blocker
16
KOVAC Jakub
Middle blocker
22
FIRKAL Julius
Outside spiker
Coaches
4652
KRAVARIK Andrej
Head Coach
KRAVARIK Andrej
Head Coach
1983
PIPA Martin
Assistant Coach
PIPA Martin
Assistant Coach
64178
KASSA Roman
Assistant Coach
KASSA Roman
Assistant Coach
Highlights
Zatko (SVK) in his record-high 242nd cap with the national team
---
Highlights
Successful spike by Deroo (BEL)
---
Highlights
Great show at the Lotto Arena
---
Highlights
Rousseaux (BEL) on fire!
---
Highlights
Victory celebration for Belgium
---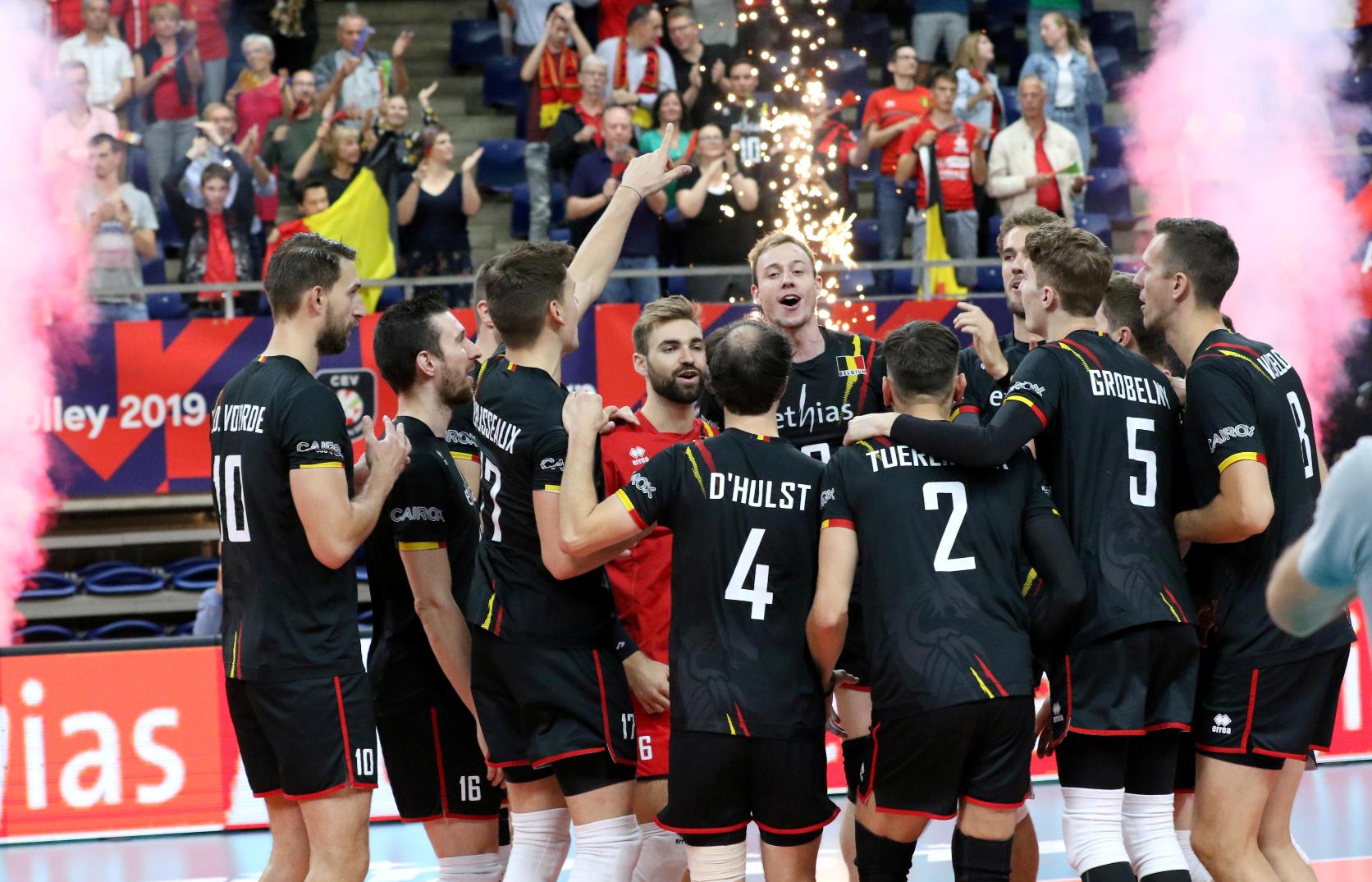 Match Report
Red Dragons deliver again – 3-0 over Slovakia!

Article
Belgium mastered a straight-set victory over Slovakia to up their win-loss record to 4-0 and secure a top-two finish in Pool B. The Slovaks now stand at 2-2, with two of the pool's eighthfinal quota still up for grabs between them, Germany and Spain.

In the first set, the lead changed hands several times before the home team scored three in a row to flip it from 23-22 to Slovakia to 25-23 in favour of Belgium. With Simon Van De Voorde delivering four blocks along the way, the Red Dragons maintained control throughout the second set and doubled their lead after 25-20. Their domination in set three was even more emphatic, as Tomas Rousseaux scored seven times to lead the way to a 25-15 close and top the match scorers with a total of 17 points to his name. Captain Tomas Krisko tallied 10 points for Slovakia.

Setter Juraj Zatko, who is appearing at his sixth European Championship, played his 242nd cap with the Slovak national team to top the previous all-time record of 241, which belonged to former captain Emanuel Kohút.

Belgium play their last pool match on Wednesday, against Serbia – a de facto final for the first place in the standings. Earlier the same day Slovakia play Germany in another attempt to set foot on the eighthfinals.
Read more
The match in numbers
Points
The combined total number of points scored by both teams throughout the entire match.
Duration
The total length of the match, from the first serve through until the last point has ended.
Spectators
Total number of people in attendance at the venue – taken at the end of the second set.
Match Spikes
The combined total number of successful spikes achieved by both teams throughout the entire match.
Reception Level
An average of the two team service reception percentages from the complete match.
Net Domination
The number of successful point winning blocks of SLOVAKIA compared to BELGIUM.
Ace Count
SLOVAKIA number of service aces compared to BELGIUM
Error Difference
Errors leading to points of SLOVAKIA, next to those from BELGIUM
"There was too big of a difference between the first and the third sets. In the first set we managed to surprise Belgium with a few things, but afterwards they adapted their game. As a setter, it was difficult for me to avoid their block. Moreover, they served very well, too well for our reception."
Juraj Zatko
Setter of Slovakia
"Today's goal was to finish this game in a clear and clean way, but that was not always the case. Tomorrow against Serbia, our last game in the pool stage, fatigue will not be an issue. We'll have a fresh attitude. Tomorrow it's important for us to see how much progression we've made, against a really strong team."
Brecht Van Kerckhove
Coach of Belgium