Overview
With both teams still winless in the competition, whoever loses the match between Austria and Spain will be in big trouble. If it is Spain, they are almost certain of elimination from the next round. If it is Austria, forget 'almost'. It will be a battle for survival...
"It is definitely do-or-die for us. We have to fight for every ball and come up with the victory. We worked so hard for this and we don't want to leave without a win."
Maximilian Thaller
Setter of Austria
"We have two finals ahead. If we want to win we need to put a lot of pressure in serving and play with confidence."
Miguel Angel Fornes
Middle blocker of Spain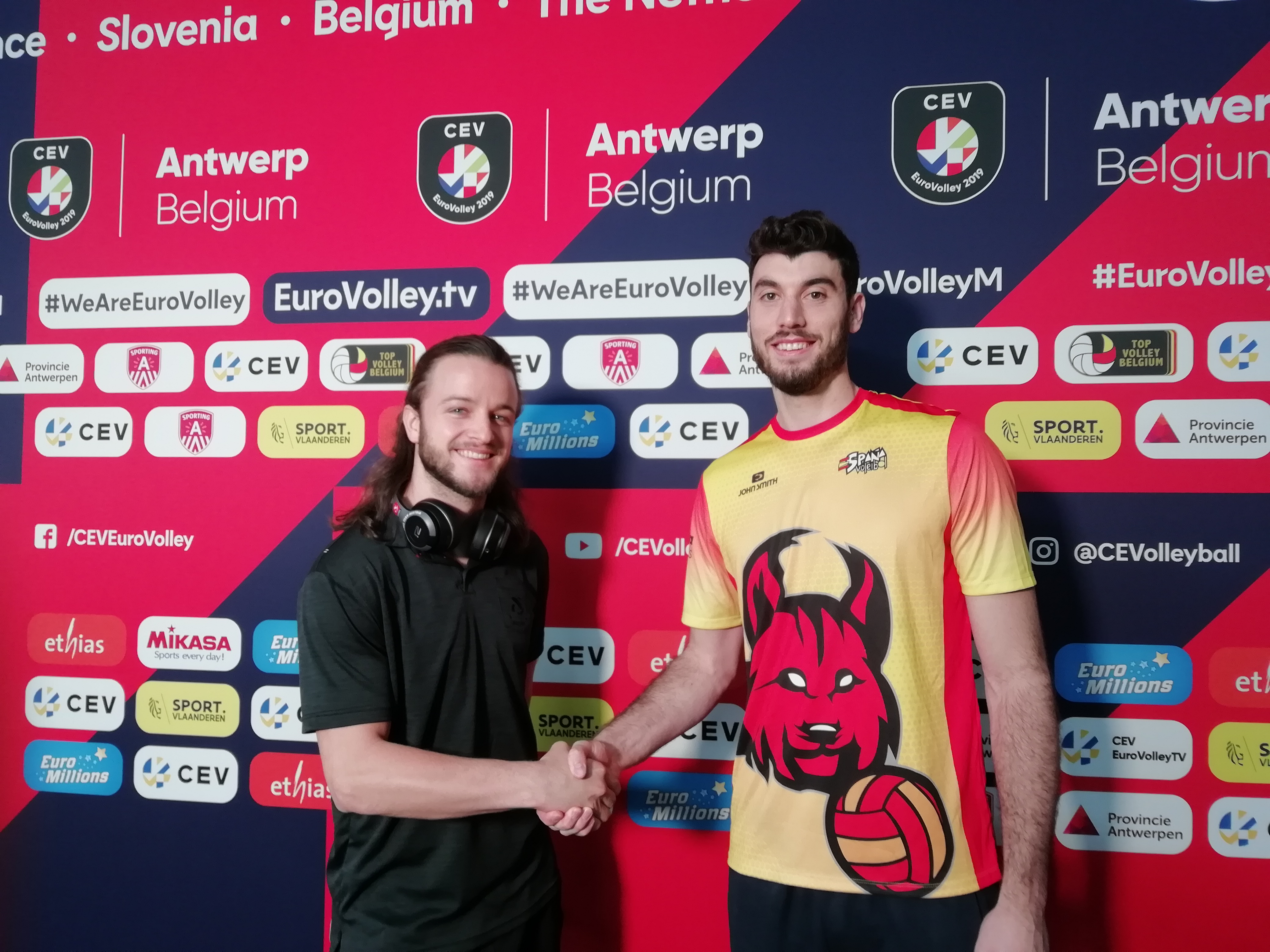 Thaller (AUT) and Fornes (ESP)
Team
Squad Listing
Team
C
3
WOHLFAHRTSTÄTTER Peter
Middle blocker
2
LANDFAHRER Maximilian
Outside spiker
4
KRONTHALER Niklas
Outside spiker
6
MENNER Anton Lukas
Outside spiker
12
BERGER Alexander
Outside spiker
13
THALLER Maximilian
Setter
14
RINGSEIS Florian Georg
Libero
15
GRABMÜLLER Nicolai
Middle blocker
17
JURKOVICS Mathäus
Middle blocker
21
IBRAHIMOVIC Edin
Outside spiker
Coaches
6709
KOCH Robert
Assistant Coach
KOCH Robert
Assistant Coach
58335
SENGSTSCHMID Philipp
Assistant Coach 2
SENGSTSCHMID Philipp
Assistant Coach 2
Highlights
Ringseis (AUT) in defence
---
Highlights
Kroiss (AUT) in action
---
Highlights
Pancake dig by Villena (ESP)
---
Highlights
Spain celebrate
---
Highlights
Spain rejoice with the victory
---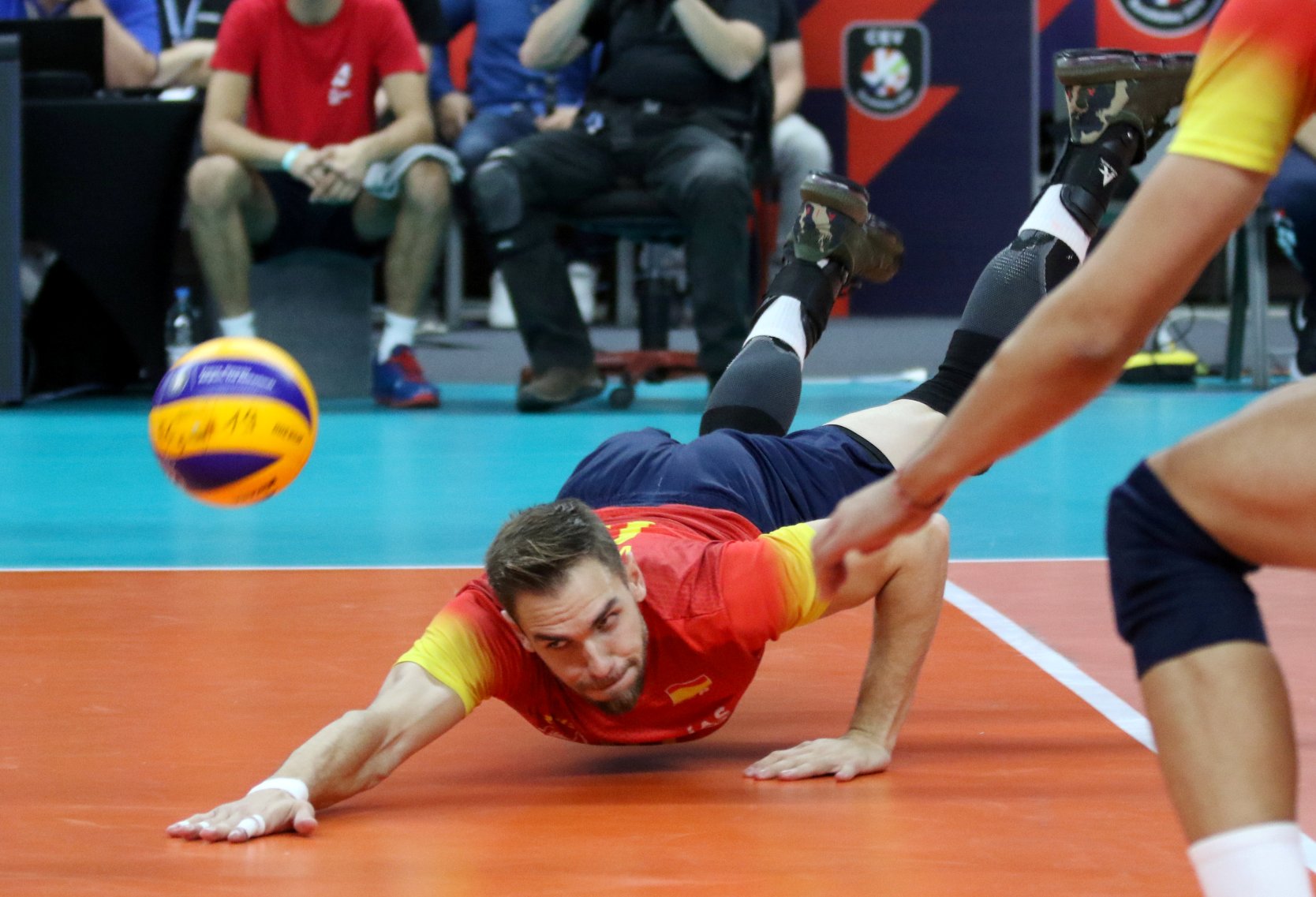 Match Report
Spain stay alive with first win in crazy match with Austria

Article
Spain won the Pool B battle for survival with Austria in five sets to register their first win of the tournament and save a shot at making the next round. Coach Michael Warm's men fought bravely, but conceited their fourth consecutive loss to fall out of contention.

If this thrilling rollercoaster match could be described in one word, it would be "crazy". To tell in more detail about all the lead changes in every single set, a novel could be written. At no moment during the match did any of the teams clearly dominate over the other, except for when it counted the most – the second half of the fifth set. This is when the players of coach Fernando Muñoz Benitez decided it was high time they set foot down and take control on the way to their first victory.

The scoring race between the two opposites was won by Austria's Thomas Zass, who reached the 30-point mark. Spain's Andres Jesus Villena scored "only" 24 times, including four of his team's impressive 17 stuff blocks.

To progress to the eighthfinals, the Spaniards not only have to defeat Germany on Thursday, but also rely on the Germans not taking the three points from their game with Slovakia on Wednesday.
Read more
The match in numbers
Points
The combined total number of points scored by both teams throughout the entire match.
Duration
The total length of the match, from the first serve through until the last point has ended.
Spectators
Total number of people in attendance at the venue – taken at the end of the second set.
Match Spikes
The combined total number of successful spikes achieved by both teams throughout the entire match.
Reception Level
An average of the two team service reception percentages from the complete match.
Net Domination
The number of successful point winning blocks of AUSTRIA compared to SPAIN.
Ace Count
AUSTRIA number of service aces compared to SPAIN
Error Difference
Errors leading to points of AUSTRIA, next to those from SPAIN
"We have got our very first European Championship point and I am very proud of the team. We played at a very stable level the whole game and I really think they did a great job today."
Michael Warm
Coach of Austria
"For us this was a final. We didn't play our usual level, but we got the win and that is important."
Jorge Fernandez
Middle blocker and captain of Spain