Overview
Having already lost their first two matches, Spain are desperate to change the course, but against a well performing Serbia the challenge will be hard to tackle. The Serbs have demonstrated high-level Volleyball and depth in their roster, so for them all it takes to extend their winning streak to three is available. Spain won only one of five previous EuroVolley encounters with Serbia - when they claimed the title in 2007.
"Serbia are a very strong team, but we should bring back some of the happy feelings from the first day and see what happens."
Miguel Angel De Amo
Setter of Spain
"It is good that we can rotate our players on the court like we did yesterday. A win in today's match is very important to stay on top of the pool and we'll see whom our coach decides to start with."
Nemanja Petric
Captain and outside spiker of Serbia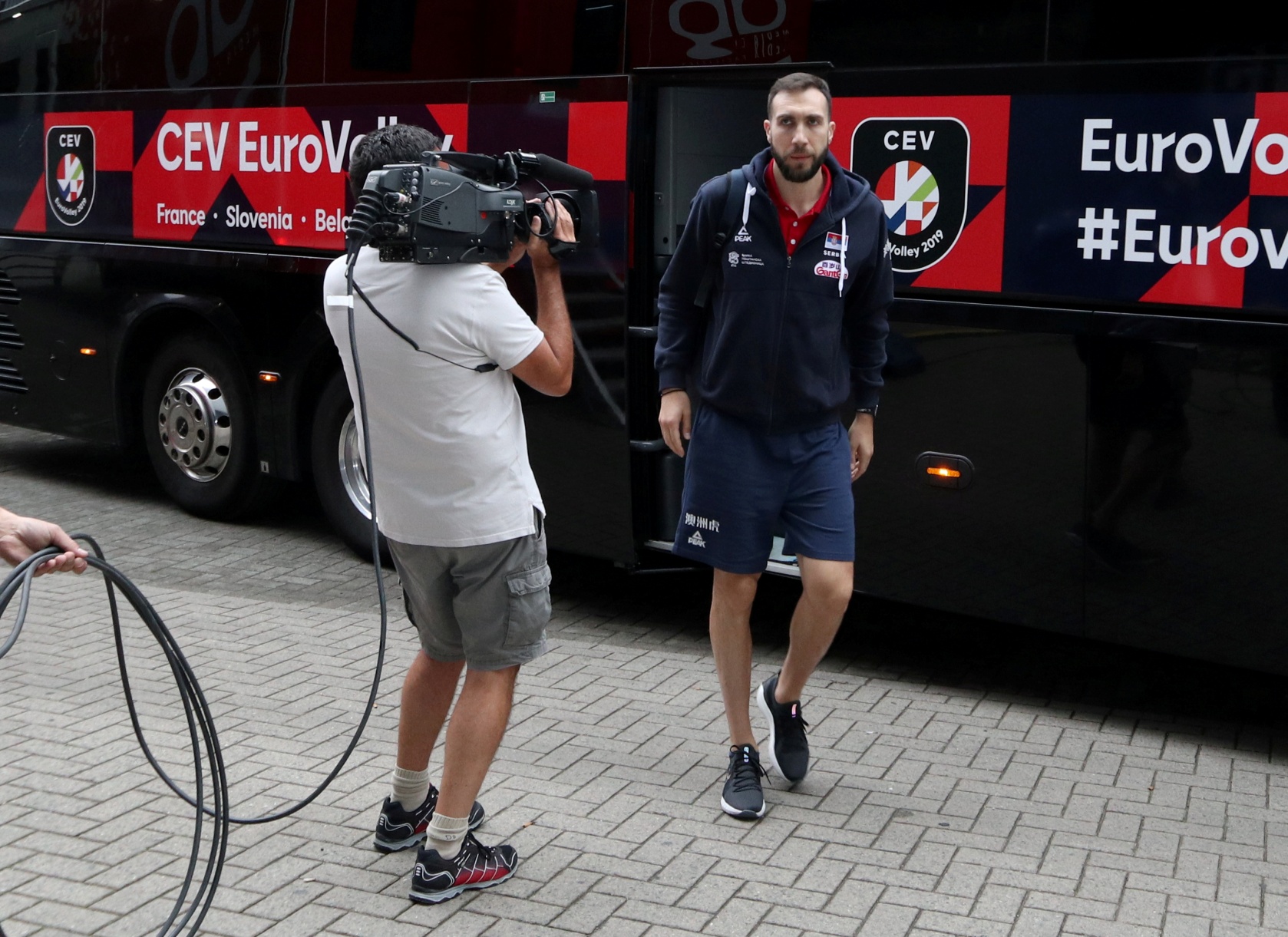 The Serbian team arrive at the venue
Team
Squad Listing
Team
C
10
FERNANDEZ VALCARCEL Jorge
Middle blocker
1
COLITO Augusto Renato
Opposite
2
TRINIDAD DE HARO Angel
Setter
3
RODRÍGUEZ PÉREZ Victor
Outside spiker
7
RAMÓN FERRAGUT Jordi
Outside spiker
9
VIGIL Alejandro
Middle blocker
11
DE AMO FERNANDEZ-ECHEVARRIA Miguel Angel
Setter
13
VILLENA Andres Jesus
Opposite
14
FORNES Miguel Angel
Middle blocker
15
PIRIS GUISCAFRÉ Antoni
Libero
16
GONZALEZ Juan Manuel
Outside spiker
19
FERRÁNDEZ MOLES Emilio
Outside spiker
23
FERRERA Mario
Outside spiker
Coaches
42306
MUÑOZ BENITEZ Fernando
Head Coach
MUÑOZ BENITEZ Fernando
Head Coach
11301
RIVERA Miguel
Assistant Coach
RIVERA Miguel
Assistant Coach
11408
RODRIGUEZ Jorge
Assistant Coach
RODRIGUEZ Jorge
Assistant Coach
Highlights
Spain play a fantastic first set
---
Highlights
Jovovic (SRB) sets the ball
---
Highlights
Best scorer of the match - Atanasijevic (SRB)
---
Highlights
Attack by Podrascanin (SRB)
---
Highlights
Serbia celebrate
---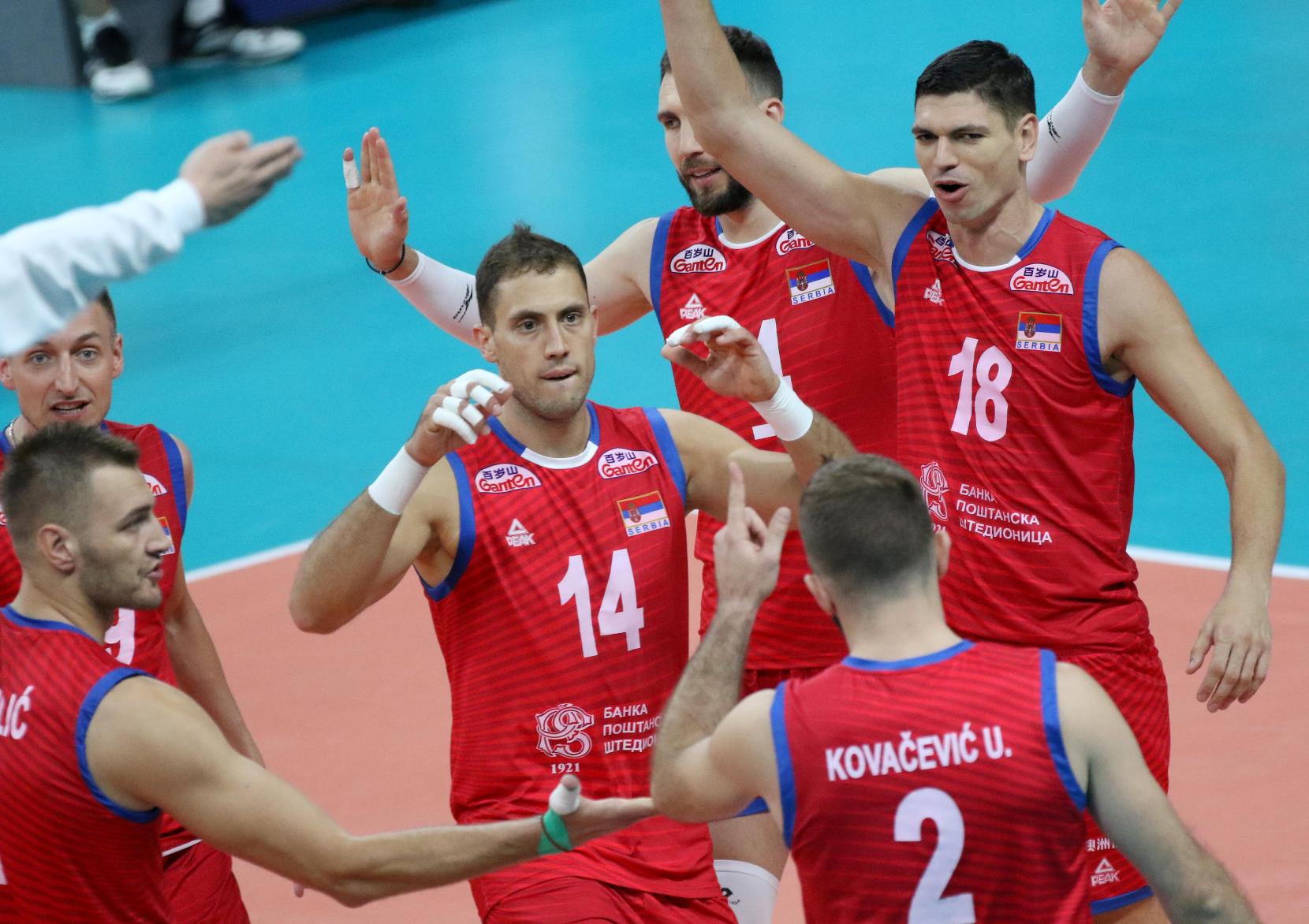 Match Report
Efficient Serbia deny inspired Spain to advance to next round

Article
Serbia came back from a set down against Spain to claim a four-set victory and a spot among the best 16 of EuroVolley 2016. This is the third win for the Balkan side and they can no longer be pushed below the cut-off. Spain showed some beautiful Volleyball, but not enough to score their first victory.

On his 34th birthday, Spanish setter Miguel Angel De Amo played an incredible first set and not only created great opportunities for his spikers, but himself was the best scorer of the set with two aces, two blocks and one spike to his name. Despite entering the court in the role of underdogs, coach Fernando Muñoz Benitez's squad were well in control to win the set by 25-21. The second set was competitive through 10-10, after which Serbia started to break away, stepping up the serving and the spiking and building nicely to a 25-19 close. The next set followed a similar pattern, with Uros Kovacevic and Aleksandar Atanasijevic leading in scoring towards another 25-19 win. Atanasijevic himself hammered away eight points in the fourth set, the most competitive one in the match. With captain Nemanja Petric following close behind with seven, the Serbian win was inevitable – 25-20.

Atanasijevic put away an impressive 23 points, including three stuff blocks and two aces, to claim the match top scorer honour. Aleksandar Okolic delivered six of Serbia's 13 blocks in the game. Augusto Renato Colito, on 17 points, was Spain's most prolific player.

Next for these two squads, Spain will play against Austria on Tuesday and Serbia will challenge hosts Belgium on Wednesday.
Read more
The match in numbers
Points
The combined total number of points scored by both teams throughout the entire match.
Duration
The total length of the match, from the first serve through until the last point has ended.
Spectators
Total number of people in attendance at the venue – taken at the end of the second set.
Match Spikes
The combined total number of successful spikes achieved by both teams throughout the entire match.
Reception Level
An average of the two team service reception percentages from the complete match.
Net Domination
The number of successful point winning blocks of SPAIN compared to SERBIA.
Ace Count
SPAIN number of service aces compared to SERBIA
Error Difference
Errors leading to points of SPAIN, next to those from SERBIA
"We knew Serbia were very strong, so I am very happy with the way my team performed today. We brought a lot of joy and fast tempo in the game and that surprised them. Afterwards, they were much stronger in reception and were better finishers than us. Let's bring the same energy in the next game."
Angel Trinidad De Haro
Setter of Spain
"We didn't panic after set one. We have the quality to beat an amazingly strong Spain and we were sure we could manage. In sets two, three and four, we made fewer mistakes and that made a big difference. Spain played with so much more energy today than in the previous games, so this win didn't come easy."
Uros Kovacevic
Outside spiker of Serbia