Overview
Slovakia have already won their matches against Spain and Austria, the two teams considered their main competitors for one of the eighthfinal spots. Their match against pool favourites Serbia will be a challenge, but who knows where the momentum could lead the inspired Slovak squad. In their only match so far, the Serbs shut out Germany, so in Sunday's match-up in Antwerp, one of the two teams will remain unbeaten and the other one will suffer their first defeat of the tournament.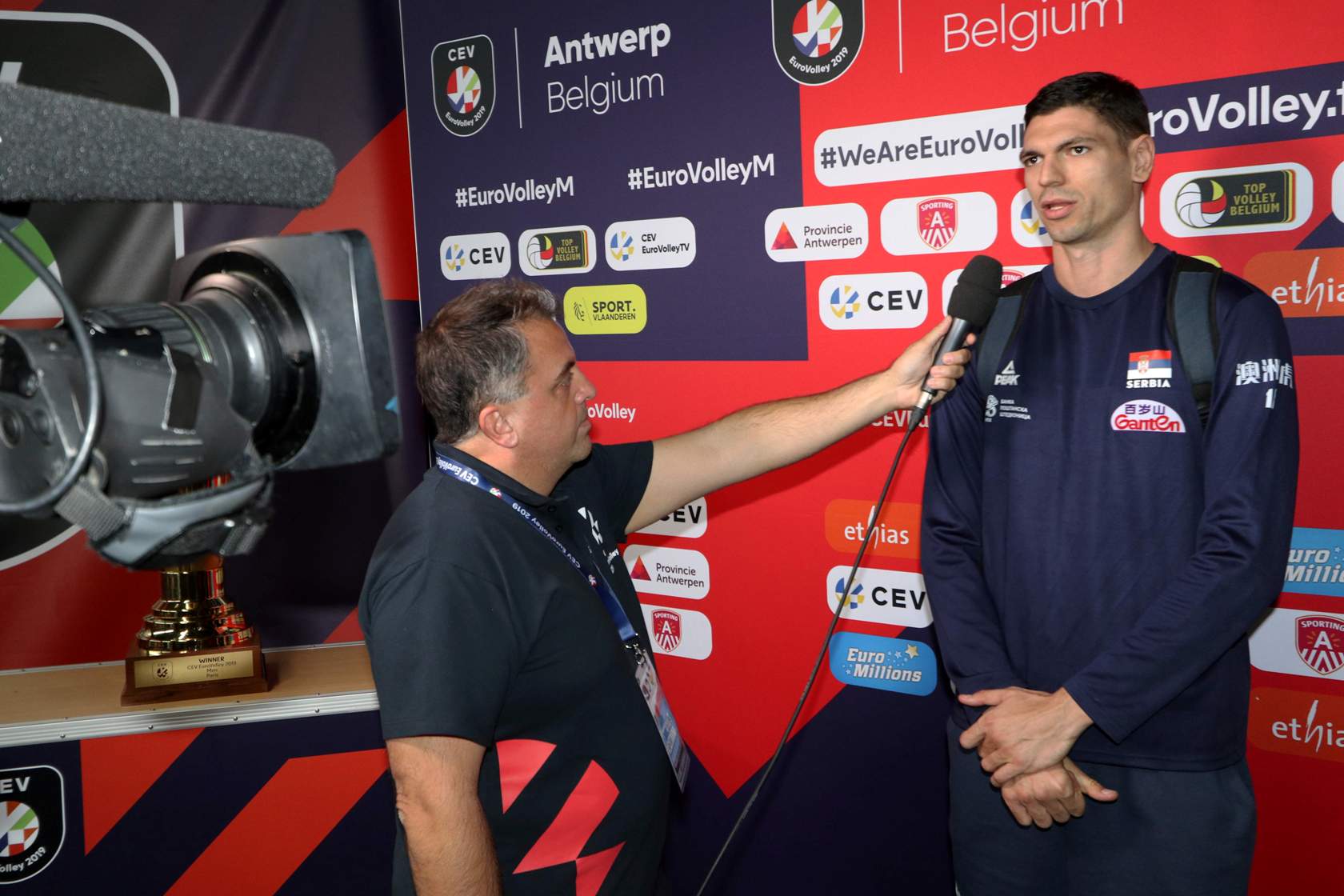 Podrascanin (SRB) in the mixed zone before the match
"We expect this to be a tough game, but we need the win to stay on top of the pool and we are ready for it."
Marko Podrascanin
Middle blocker of Serbia
"This will be a very tough game for us. So we need to make sure we don't lose our pleasure."
Jakub Kovac
Middle blocker of Slovakia
Team
Squad Listing
Team
C
4
PETRIC Nemanja
Outside spiker
1
OKOLIC Aleksandar
Middle blocker
2
KOVACEVIC Uros
Outside spiker
5
CIROVIC Lazar
Outside spiker
7
KRSMANOVIĆ Petar
Middle blocker
8
IVOVIC Marko
Outside spiker
14
ATANASIJEVIC Aleksandar
Opposite
18
PODRASCANIN Marko
Middle blocker
20
LISINAC Srecko
Middle blocker
Coaches
20423
KOVAČ Slobodan
Head Coach
KOVAČ Slobodan
Head Coach
17620
RISTIC Ljubisa
Assistant Coach
RISTIC Ljubisa
Assistant Coach
80579
ŽAKIĆ Igor
Assistant Coach 2
ŽAKIĆ Igor
Assistant Coach 2
Highlights
Serbian fans on the stands
---
Highlights
Zatko (SVK) sets the ball
---
Highlights
Serbian players celebrate a point
---
Highlights
Krsmanovic (SRB) spikes through the middle
---
Highlights
Coach Kovac (SRB) in action
---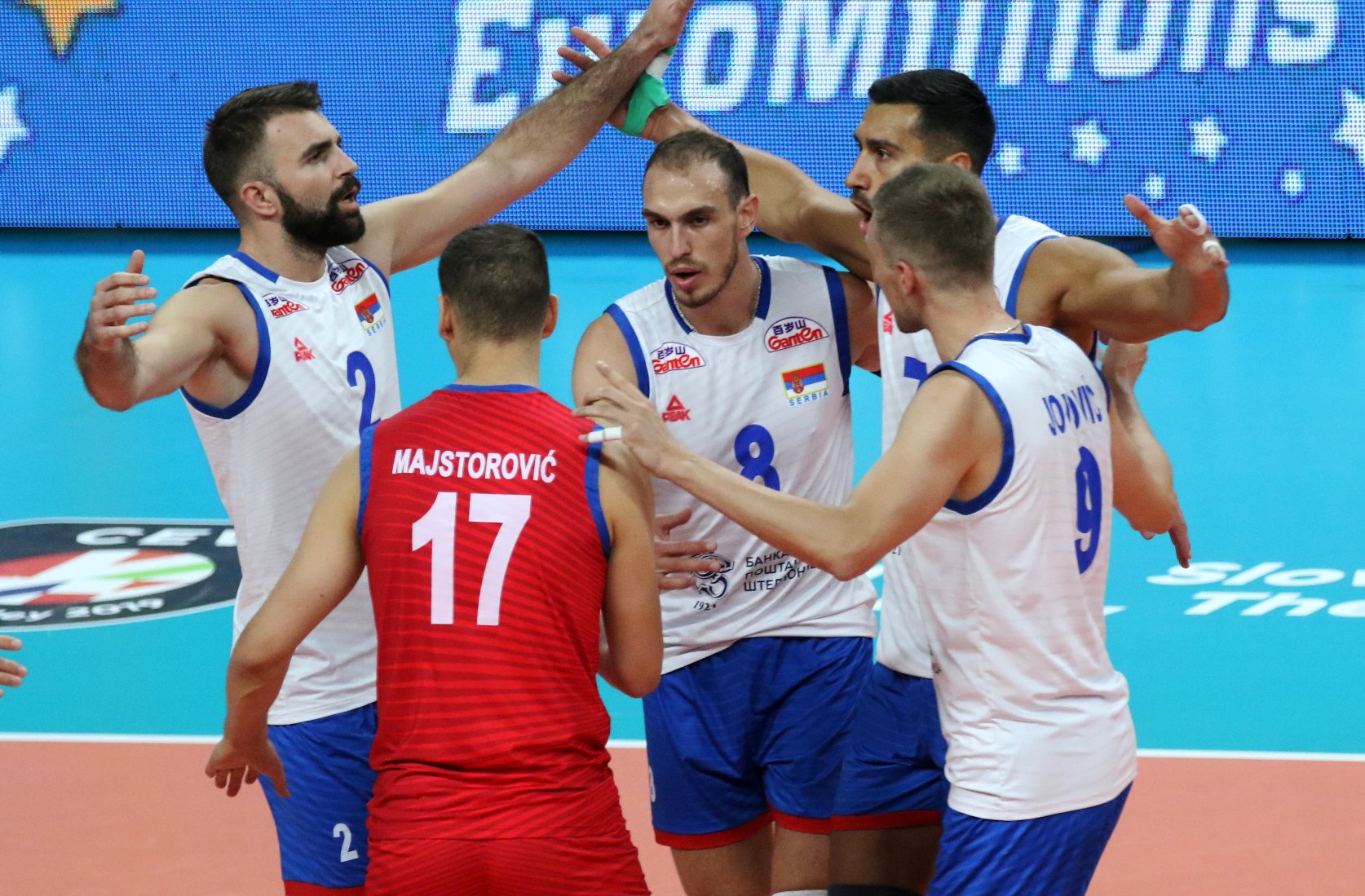 Match Report
With key players benched, Serbia hand Slovakia first defeat

Article
Serbia did not allow any surprises in their second match at EuroVolley 2019. The southern European squad delivered a strong performance on the way to a 3-0 win over Slovakia to hand the opponent their first defeat in three matches played.

Without key players such as Aleksandar Atanasijevic, Marko Podrascanin and captain Nemanja Petric on the starting line-up, Serbia took control after 14-14 to dominate the rest of the first set and step ahead on the scoreboard. Early into the second set, Serbia broke away on a run of nine consecutive points, with Petar Krsmanovic behind the serving line, and never looked back to double their lead. In set three, coach Slobodan Kovac's men came back from a five-point deficit. With Marko Ivovic and Uros Kovacevic leading the way, Serbia showed high level in the money time to close the match in straight sets.

Kovacevic was the game's top scorer on 17 points, including four stuff blocks. Middle blocker Krsmanovic impressed with four aces and four blocks for a total of 11 points. Matej Patak scored 12 times for Slovakia.

On Monday, Serbia take on winless Spain, while Slovakia have a day off before their game with unbeaten Belgium on Tuesday.
Read more
The match in numbers
Points
The combined total number of points scored by both teams throughout the entire match.
Duration
The total length of the match, from the first serve through until the last point has ended.
Spectators
Total number of people in attendance at the venue – taken at the end of the second set.
Match Spikes
The combined total number of successful spikes achieved by both teams throughout the entire match.
Reception Level
An average of the two team service reception percentages from the complete match.
Net Domination
The number of successful point winning blocks of SERBIA compared to SLOVAKIA.
Ace Count
SERBIA number of service aces compared to SLOVAKIA
Error Difference
Errors leading to points of SERBIA, next to those from SLOVAKIA
"The tournament is long and we came here with 13 great players who can play whenever they are asked to. We played a good game and it was kind of what we had expected. We knew we were better and that's what we showed on the court. We are one of the best teams in the world and we don't want to settle for anything less than the European title."
Uros Kovacevic
Outside spiker of Serbia, best scorer of the match
"I'm happy with how we played even though we lost 3-0. Small things, especially in the end of the sets, is what made the difference. This was a good game for us to prepare the following matches. The rest day tomorrow will come just in time to get our energy back on track."
Matej Patak
Outside spiker of Slovakia