Overview
Hosts Belgium claimed two wins in their first two matches in the pool and move from Brussels to Antwerp eager to continue their winning streak. On day one Spain lost to Slovakia in five sets and, aware that they have to beat at least one of the big names in the pool if they want to advance, will do their best to achieve this goal in Antwerp.
Spanish team arriving at the venue
"Belgium are a really solid team, with really good serving. We need to find an answer to that."
Angel Trinidad De Haro
Setter of Spain
"Spain have a lot of quality and can surprise us on many levels during the game, but we are ready to face this challenge."
Hendrik Tuerlinckx
Opposite of Belgium
Team
Squad Listing
Team
C
10
FERNANDEZ VALCARCEL Jorge
Middle blocker
1
COLITO Augusto Renato
Opposite
2
TRINIDAD DE HARO Angel
Setter
3
RODRÍGUEZ PÉREZ Victor
Outside spiker
7
RAMÓN FERRAGUT Jordi
Outside spiker
9
VIGIL Alejandro
Middle blocker
11
DE AMO FERNANDEZ-ECHEVARRIA Miguel Angel
Setter
13
VILLENA Andres Jesus
Opposite
14
FORNES Miguel Angel
Middle blocker
15
PIRIS GUISCAFRÉ Antoni
Libero
16
GONZALEZ Juan Manuel
Outside spiker
19
FERRÁNDEZ MOLES Emilio
Outside spiker
23
FERRERA Mario
Outside spiker
Coaches
42306
MUÑOZ BENITEZ Fernando
Head Coach
MUÑOZ BENITEZ Fernando
Head Coach
11301
RIVERA Miguel
Assistant Coach
RIVERA Miguel
Assistant Coach
11408
RODRIGUEZ Jorge
Assistant Coach
RODRIGUEZ Jorge
Assistant Coach
Highlights
Deroo (BEL) spikes
---
Highlights
Rodríguez (ESP) receives
---
Highlights
D'Hulst (BEL) sets the ball
---
Highlights
Time-out Spain
---
Highlights
Rousseaux (BEL) on the serve
---
Highlights
Belgium triumph with the victory
---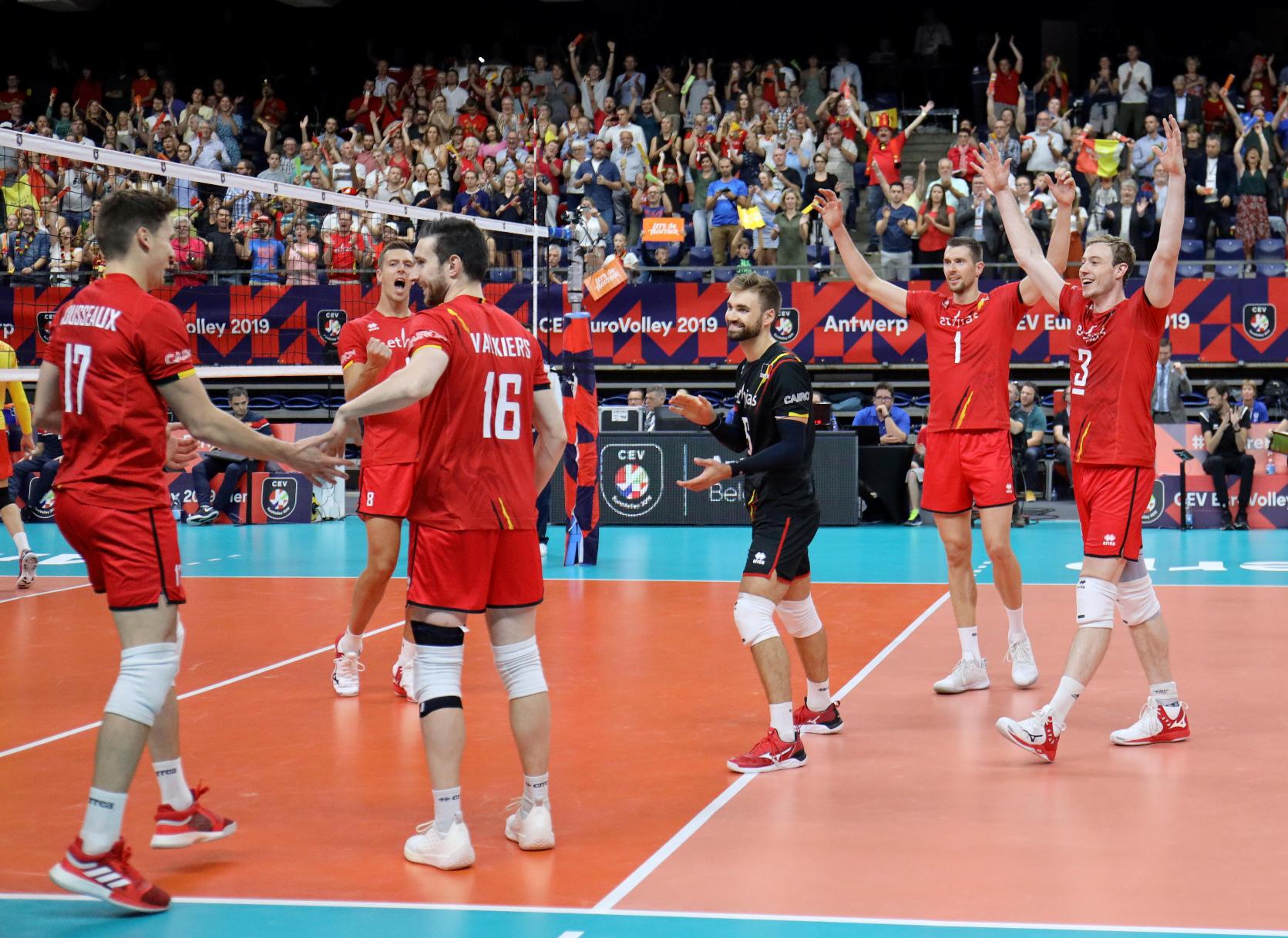 Match Report
Belgium shut out Spain to book eighthfinal spot

Article
Antwerp action in Pool B opened with a relatively uneventful game, in which hosts Belgium cruised to an emphatic straight-setter against Spain to extend their unbeaten run to three matches and reserve their berth among the last 16 of EuroVolley 2019. Spain recorded their second loss in the pool and will have to look for change of course in the next three matches.

Belgium's Sam Deroo once again proved that he is a captain the team can rely on to lead by example. In three short sets he piled up as many as 21 points, including four stuff blocks and one ace. Victor Rodríguez Pérez was Spain's only scorer to reach double digits – 10 points.

Next, Spain meet Serbia on Monday, while the Belgians enjoy a day off before facing Slovakia on Tuesday.
Read more
The match in numbers
Points
The combined total number of points scored by both teams throughout the entire match.
Duration
The total length of the match, from the first serve through until the last point has ended.
Spectators
Total number of people in attendance at the venue – taken at the end of the second set.
Match Spikes
The combined total number of successful spikes achieved by both teams throughout the entire match.
Reception Level
An average of the two team service reception percentages from the complete match.
Net Domination
The number of successful point winning blocks of SPAIN compared to BELGIUM.
Ace Count
SPAIN number of service aces compared to BELGIUM
Error Difference
Errors leading to points of SPAIN, next to those from BELGIUM
"Belgium were really strong today and it was very hard to give them any trouble and find many scoring opportunities against them."
Jordi Ramón Ferragut
Outside spiker of Spain
"We left a lot of emotions on the court yesterday, so today it is really nice to win again before our rest day tomorrow."
Tomas Rousseaux
Outside spiker of Belgium