Overview
Pool A finishes with another highlight in the group, between two of the best teams in Europe. This match will determine the final two positions in Pool A with the winner finishing 1st, and the loser second. The two teams last met in the 2019 Volleyball Nations League where France beat Italy 3-1. Toniutti will be playing with the French National jersey for the 300th time.
Article - Pool A Preview
---
"It is a game to decide who will be top of the group, however we know that we can play Italy again in the Quarter-Final if we both make it, so it will be interesting. It is nice to play a special game like this at home, but 300 [appearances] is only a number and I am just happy to be in the French national team."
Benjamin TONIUTTI
Captain - France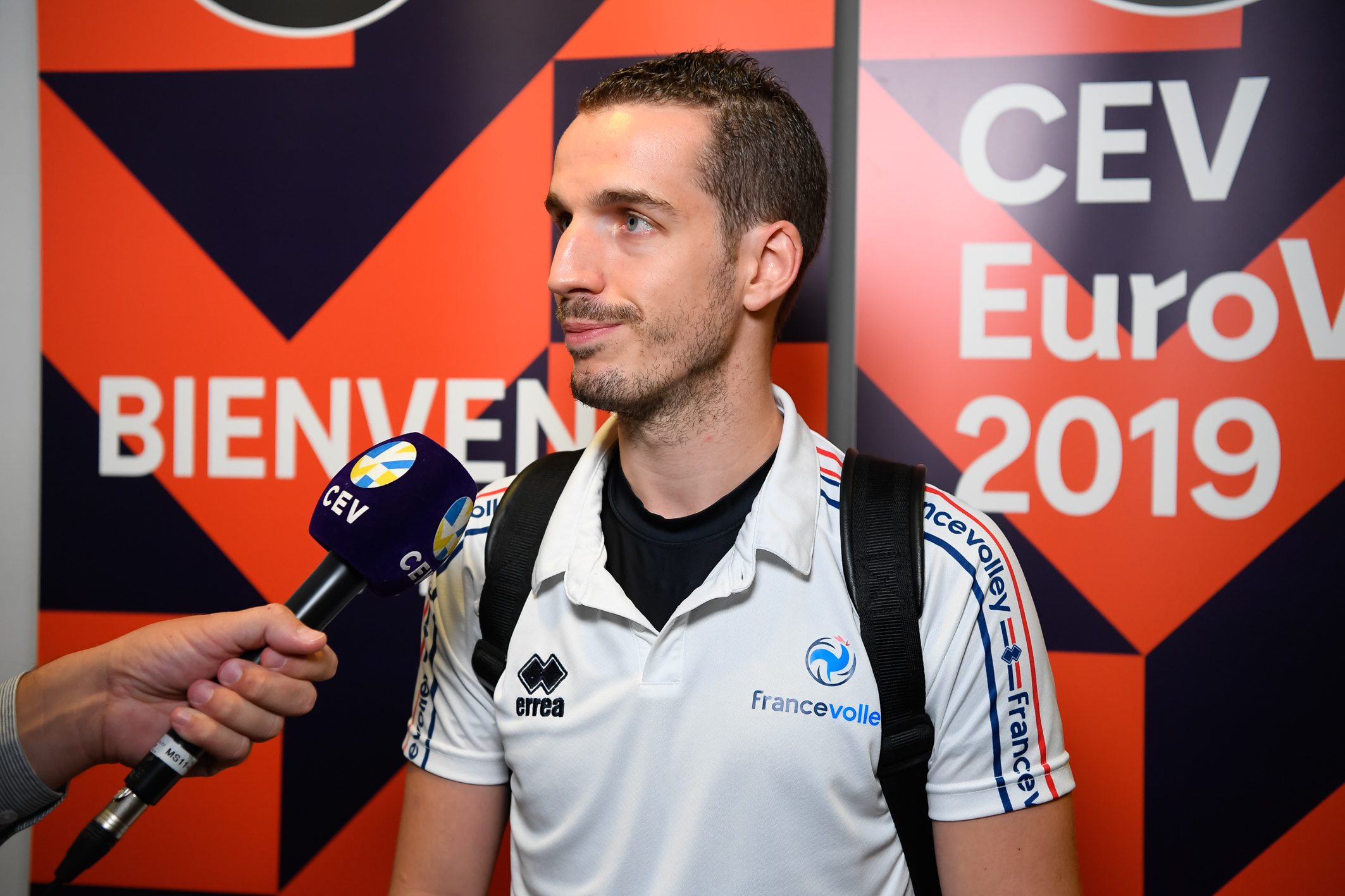 Captain TONIUTTI speaking on arrival at the hall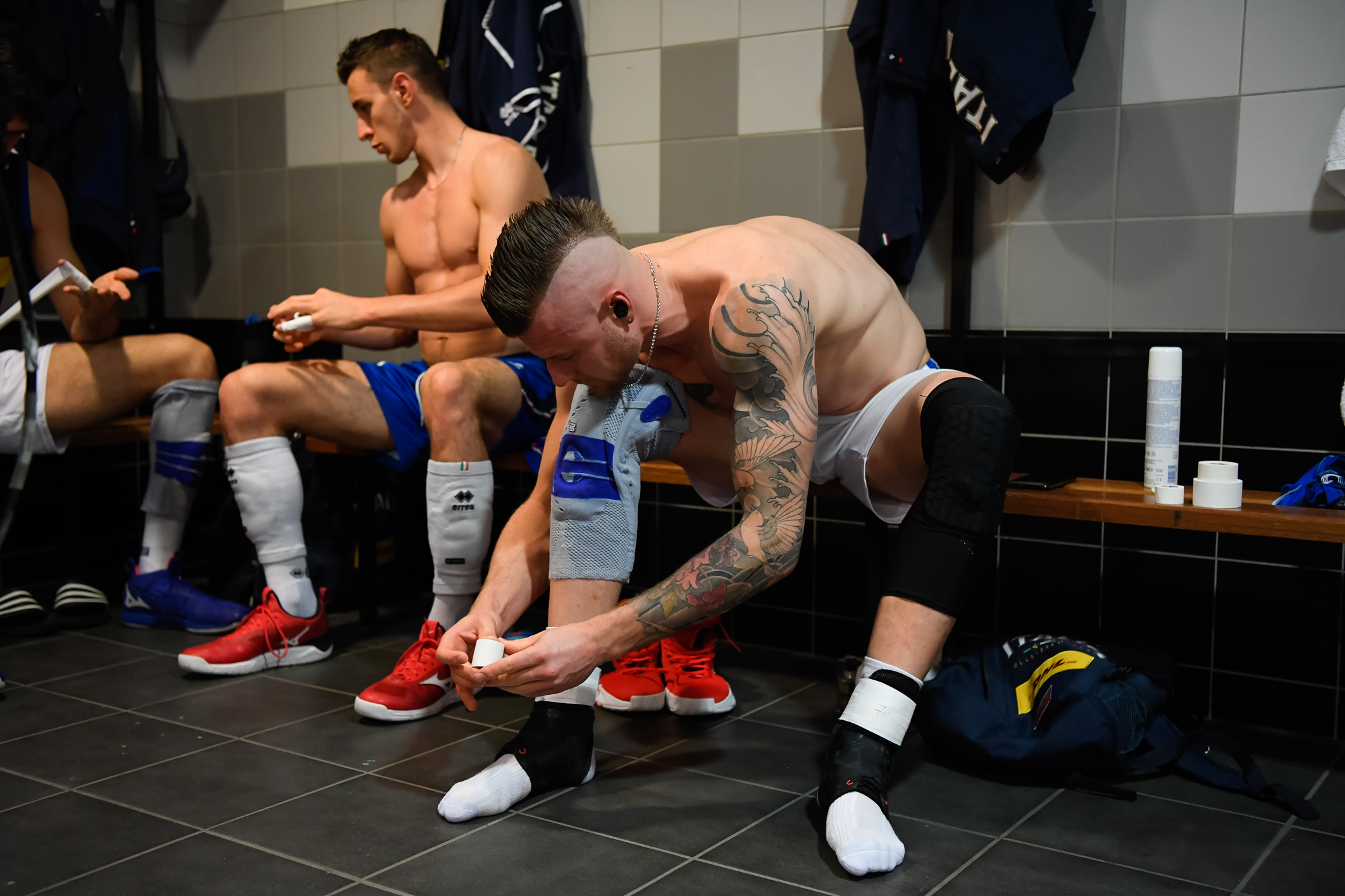 Inside Team Italy's locker room
"We just want to play the game and then it is important to just play day by day. I am happy that we leave Montpellier with a full gym playing against the home side."
Matteo PIANO
Middle Blocker - Italy
Team
Squad Listing
Team
7
TILLIE Kévin
Outside spiker
8
LYNEEL Julien
Outside spiker
10
LE ROUX Kevin
Middle blocker
11
BRIZARD Antoine Arthur Fabien
Setter
14
LE GOFF Nicolas
Middle blocker
16
BULTOR Daryl
Middle blocker
17
CLEVENOT Trévor
Outside spiker
18
ROSSARD Thibault
Outside spiker
21
CHINENYEZE Barthélémy
Middle blocker
Coaches
9892
TILLIE Laurent
Head Coach
TILLIE Laurent
Head Coach
9719
ENARD Cedric
Assistant Coach 2
ENARD Cedric
Assistant Coach 2
27050
JOSSERAND Arnaud
Assistant Coach
JOSSERAND Arnaud
Assistant Coach
Highlights
Team France celebrates
---
Highlights
Simone GIANNELLI (ITA) sets
---
Highlights
Barthelemy CHINENYEZE (FRA) spikes
---
Highlights
Earvin NGAPETH (FRA) spikes on Italian block
---
Match Report
France overpowers Italy in four sets

Article
18 September 2019
France keep their perfect record (5-0) as they beat Italy in four sets in remarkably enthusiastic atmosphere at Sud de France Arena. Losing their first set of the tournament, Tillie's men brought everlasting energy against Juantorena, once more excellent, and his teammates.
France place first and will face Finland in the first round of the knockout phase, whereas Italy will play against Turkey. The crowd was amazing tonight with a record high of 7114 spectators.
Read more
The match in numbers
Points
The combined total number of points scored by both teams throughout the entire match.
Duration
The total length of the match, from the first serve through until the last point has ended.
Spectators
Total number of people in attendance at the venue – taken at the end of the second set.
Match Spikes
The combined total number of successful spikes achieved by both teams throughout the entire match.
Reception Level
An average of the two team service reception percentages from the complete match.
Net Domination
The number of successful point winning blocks of FRANCE compared to ITALY.
Ace Count
FRANCE number of service aces compared to ITALY
Error Difference
Errors leading to points of FRANCE, next to those from ITALY
"It was the best night tonight, everybody enjoyed it, players and fans. Even if the result did not count, we're happy for this win in such a crowd."
Stephen Boyer
France's opposite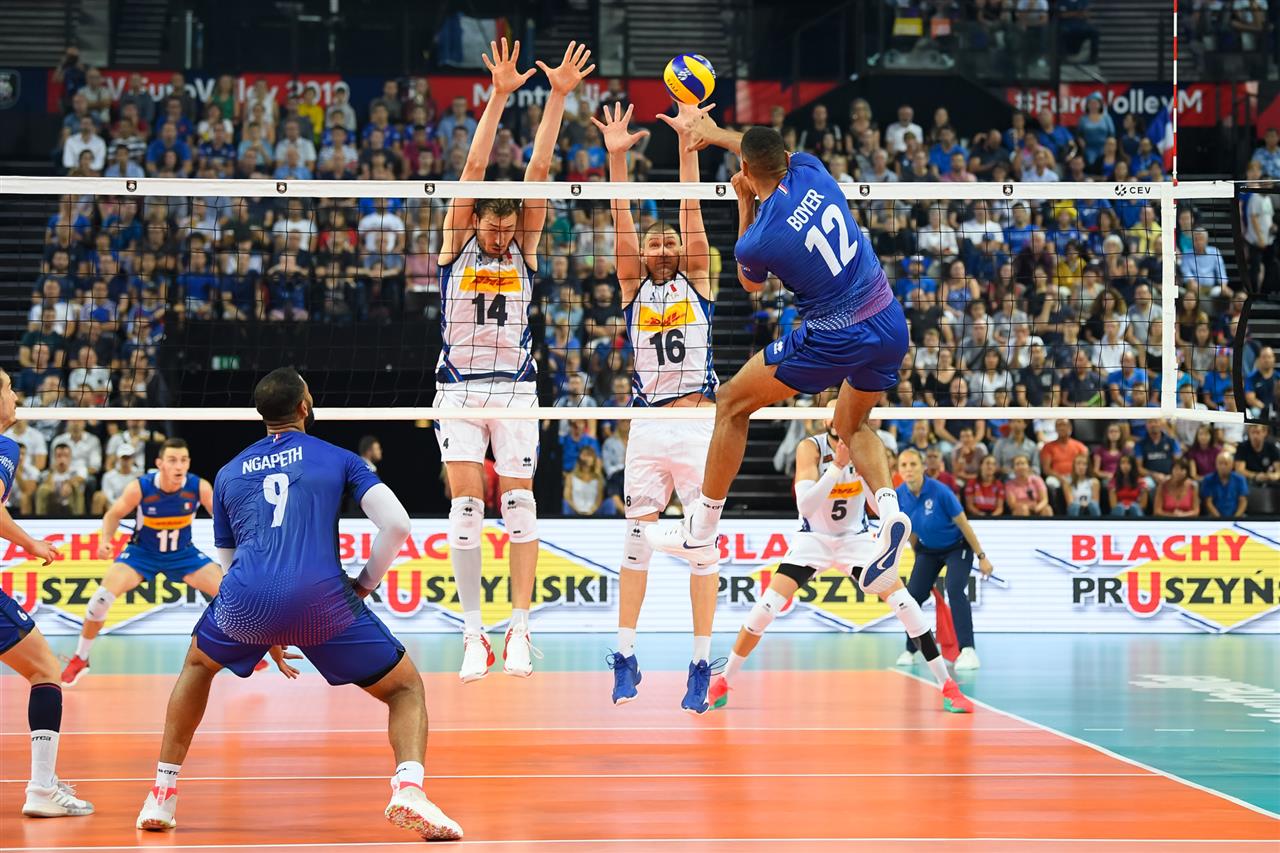 Boyer attacking
"France played very high level tonight, so we need to watch this match and grow up for the next ones."
Simone Giannelli
Italy's setter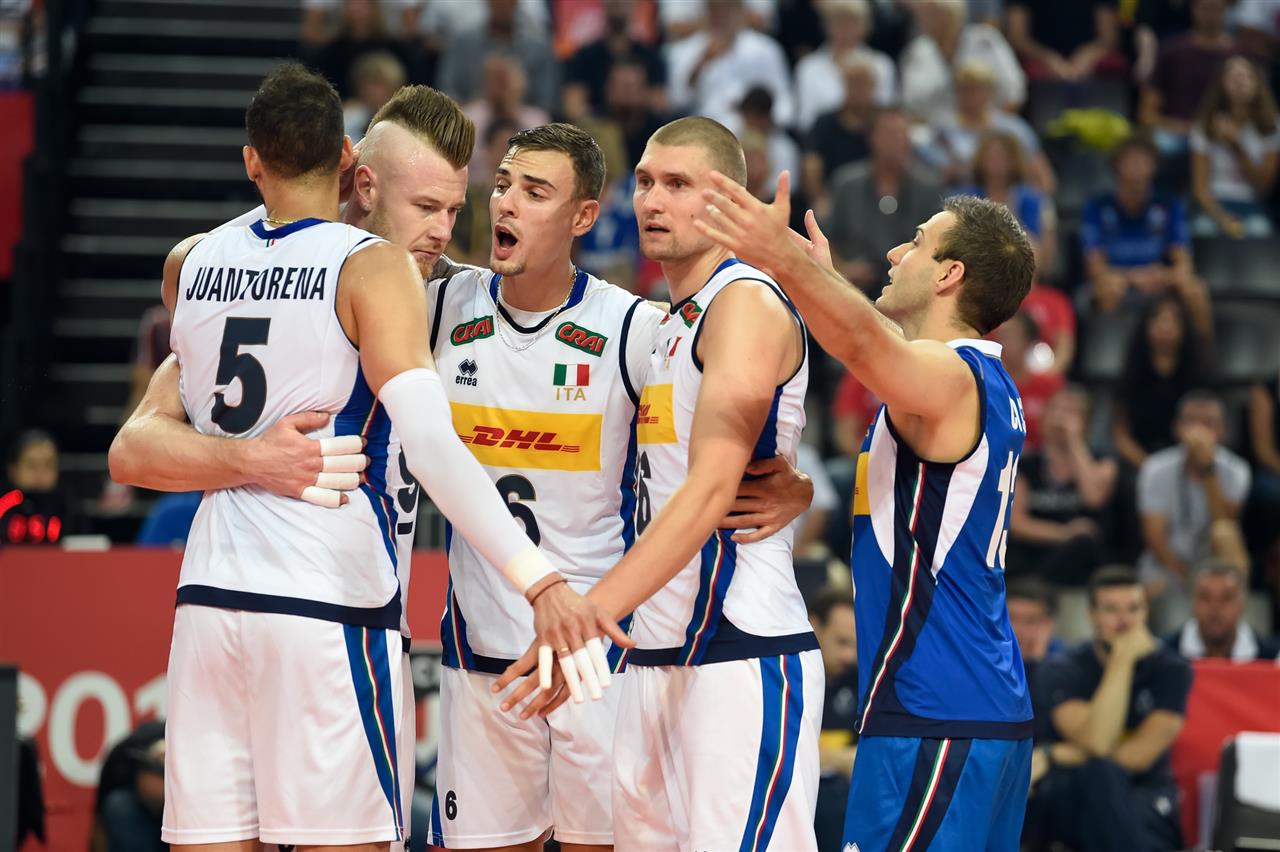 Giannelli celebrating with team
"The biggest pity is that the result of this game is useless because of the formula. But I think it was a good show for the crowd and that was the best victory."
Ivan Zaytsev
Italy's opposite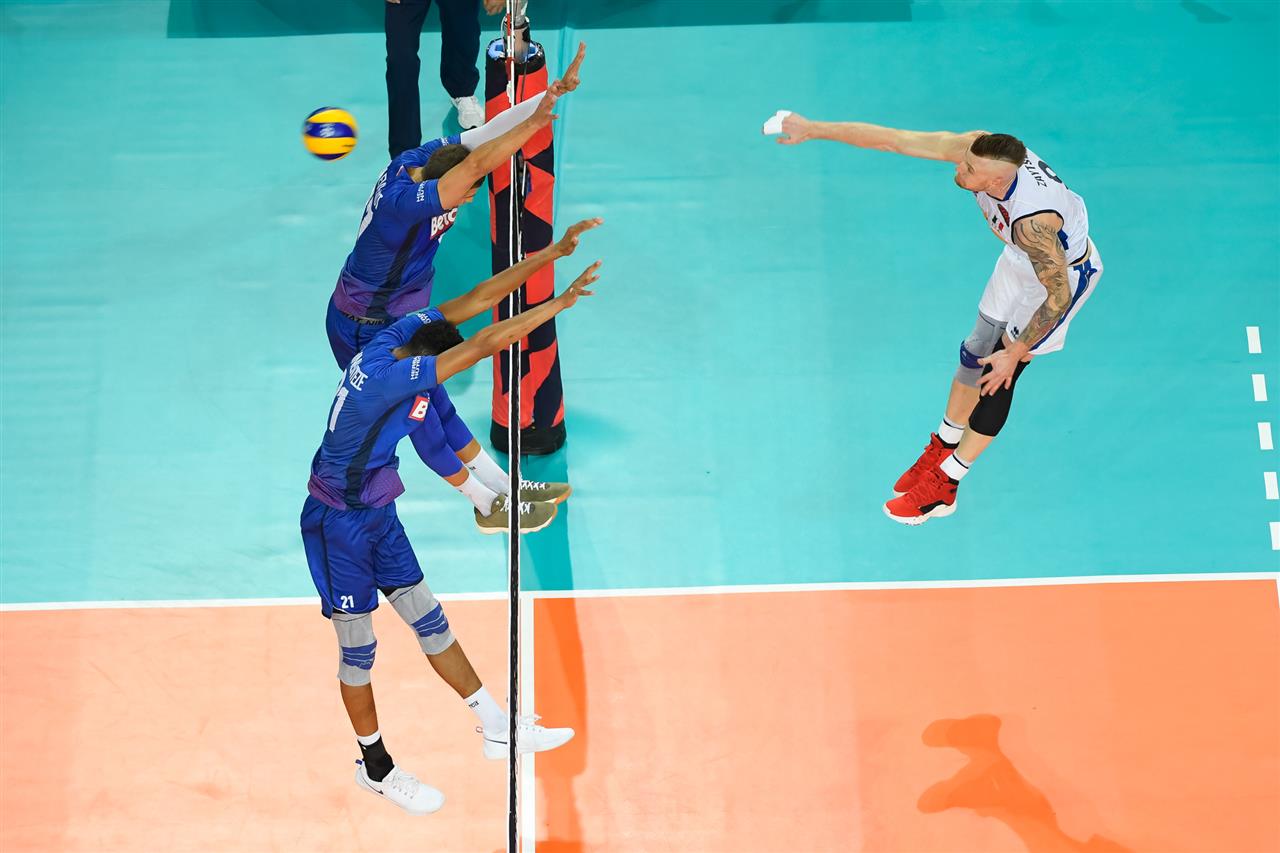 Zaytsev spiking