Overview
Portugal and Romania meet each other for the first time at EuroVolley. While Romania are making their 17th appearance at the tournament, Portugal has only played at only four.  Both teams have realistic chance to make the 1/8 Finals and will be looking to their captains to lead them through.
Article - Pool A Preview
---
Scenarios:
- If Portugal win (3-0, 3-1, or 3-2) they finish 4th and qualify for 1/8 Finals
- If Portugal lose 2-3 they finish 4th and qualify by having 4 ranking points
- If Romania win 3-0 they finish 4th and qualify on sets ratio
- If Romania win 3-1 all teams will have the same sets ratio (W5-L13) and it comes down to points ratio and either team, plus Greece, could qualify.
"We think only about winning the match - this is the most important thing. This is the first time for these guys in the European Championship, so it is important to play with heart but also to play with head."
Hugo Silva
Portugal Coach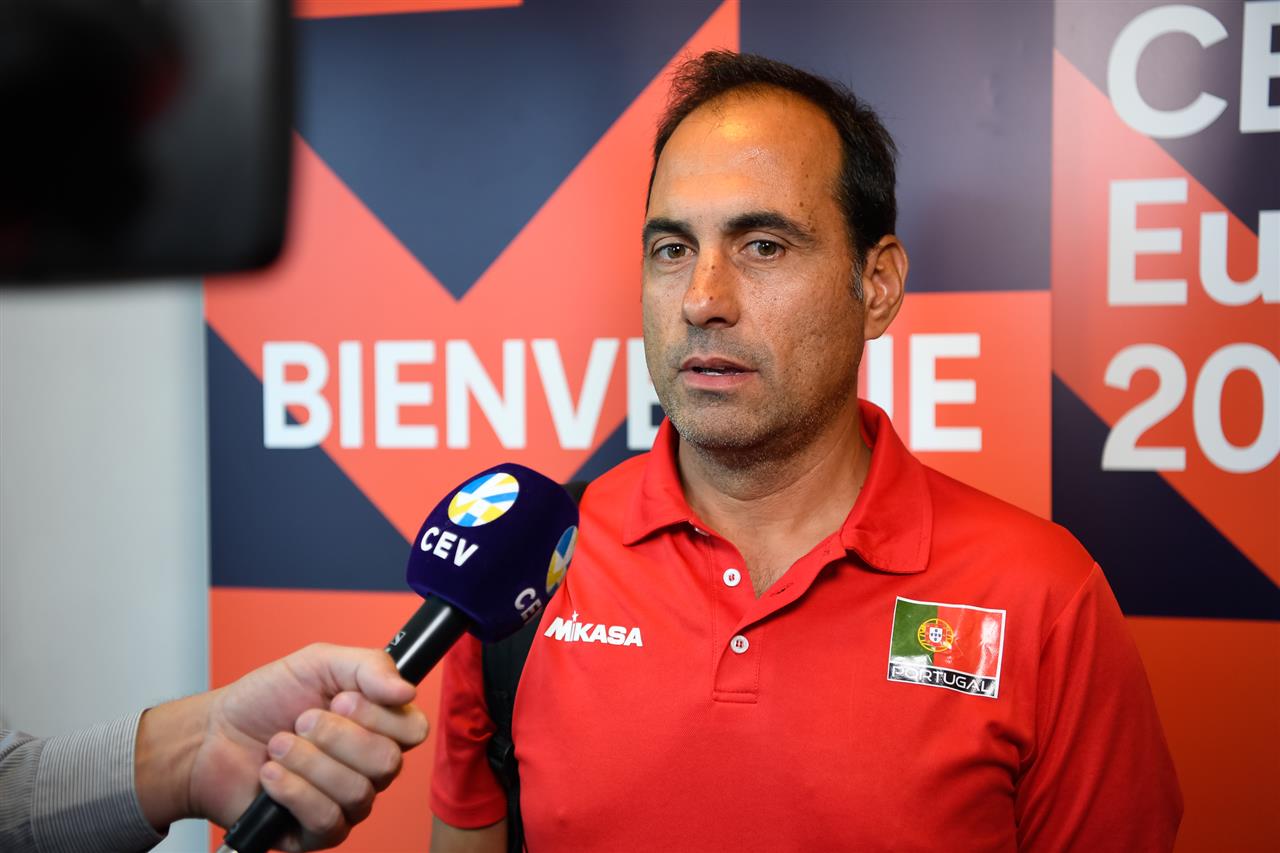 Coach Silva
"This is our last match in this group and definitely the most important game. It will be an intense game as both need a victory to qualify. I am confident in ourselves and I hope we will make a good game"
Rares Ionut BALEAN
Romania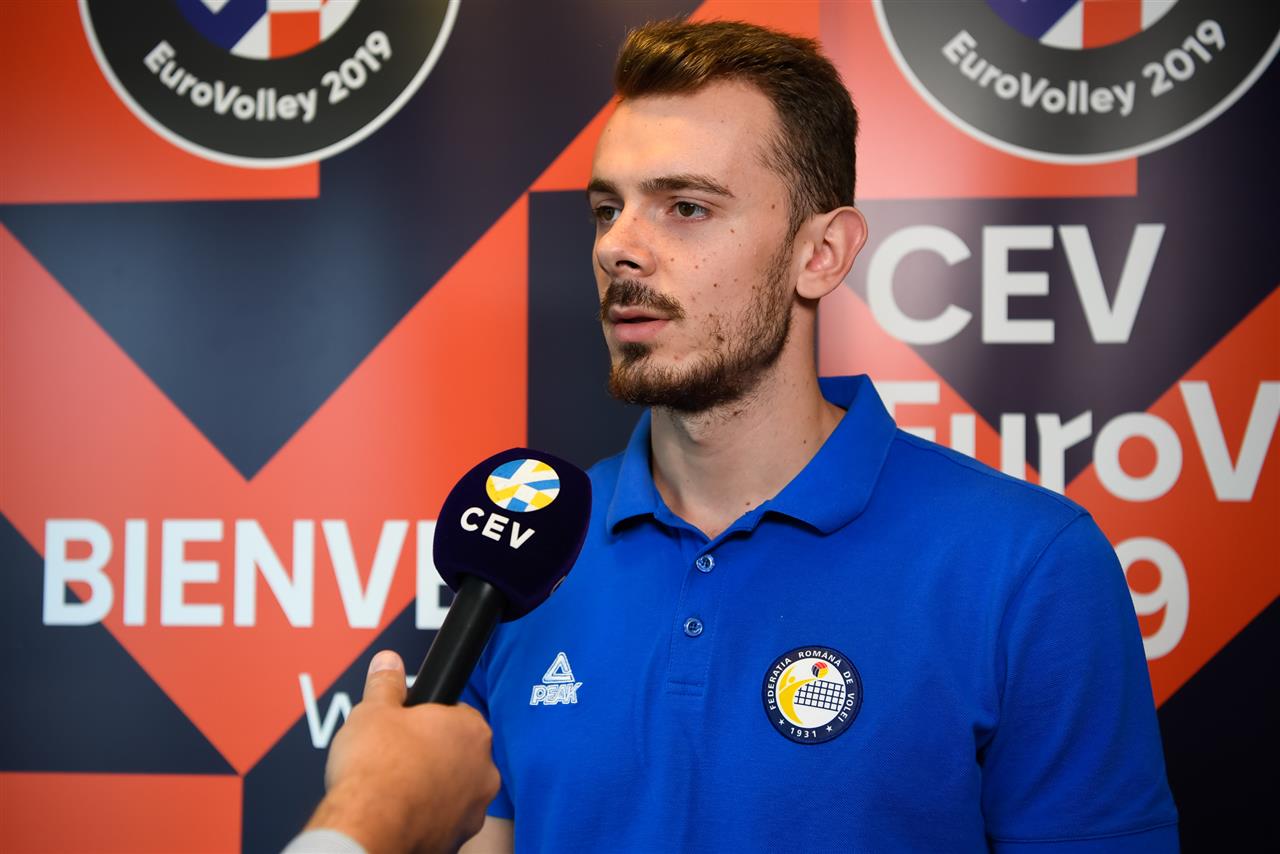 Rares Ionut Balean
Team
Squad Listing
Team
C
6
FERREIRA Alexandre
Outside spiker
3
TEIXEIRA Nuno
Middle blocker
4
CVETICANIN Filip
Middle blocker
7
FERREIRA Marco Evan
Opposite
8
DA SILVA VIOLAS Tiago
Setter
9
SIMOES Joao
Outside spiker
10
MARTINS Phelipe
Middle blocker
12
MARTINS Lourenco
Outside spiker
14
MENEZES Guilherme
Middle blocker
15
TAVARES RODRIGUES Miguel
Setter
18
ALVAR Januario Ramos Figueiredo Silva
Libero
19
CUNHA Miguel
Outside spiker
Coaches
5114
JOSE Joao Miguel
Assistant Coach
JOSE Joao Miguel
Assistant Coach
74230
SANTOS Joao
Assistant Coach 2
SANTOS Joao
Assistant Coach 2
Highlights
Team Romania during National anthem
---
Highlights
Team Portugal during National anthem
---
Highlights
Laurentiu LICA (ROU) celebrates
---
Highlights
Alexandre FERREIRA (POR) spikes Romanian block
---
Highlights
Liviu CRISTUDOR (ROU) receives the ball
---
Highlights
Cristian BARTHA (ROU) celebrates
---
Highlights
Marco Evan FERREIRA (POR) spikes
---
Match Report
Romania beat Portugal, but Greece clinch fourth qualifying spot

Article
18 September 2019
What a unique way to end the pool for Portugal, Romania, and Greece! Romania won 3-1 to Portugal, making all three teams with exactly the same number of sets for and against during the pool phase (5-13). And the difference is made in favor of Greece!
Indeed, they scored the exact same number of points as Portugal (386) across their five pool matches, but they lost only 432 compared to Portugal's 433. Their set ratios differ by only 0.003 at the end of the pool phase; Romania's is .05 behind.
Greece will then face the leader of Pool C, ie Russia or Slovenia, in Ljubljana. Portugal and Romania delivered a great last battle but are forced to go back home.
Read more
The match in numbers
Points
The combined total number of points scored by both teams throughout the entire match.
Duration
The total length of the match, from the first serve through until the last point has ended.
Spectators
Total number of people in attendance at the venue – taken at the end of the second set.
Match Spikes
The combined total number of successful spikes achieved by both teams throughout the entire match.
Reception Level
An average of the two team service reception percentages from the complete match.
Net Domination
The number of successful point winning blocks of PORTUGAL compared to ROMANIA.
Ace Count
PORTUGAL number of service aces compared to ROMANIA
Error Difference
Errors leading to points of PORTUGAL, next to those from ROMANIA
"I don't know what to tell you. Our hopes were up since our yesterday, we wanted to make an image for ourselves, but it's really hard to speak now. It was our dream, our main objective from the beginning. We're very sad."
Bruno Cunha
Portugal's opposite
"I'm happy that we won, but obviously unhappy that we couldn't qualify. It's our first win in 25 years at EuroVolley. I really think we missed the qualification against Greece, we did not give our full energy at the end of sets. I also think Portugal was tired today but they played a great game."
Cristian Bartha
Romania's setter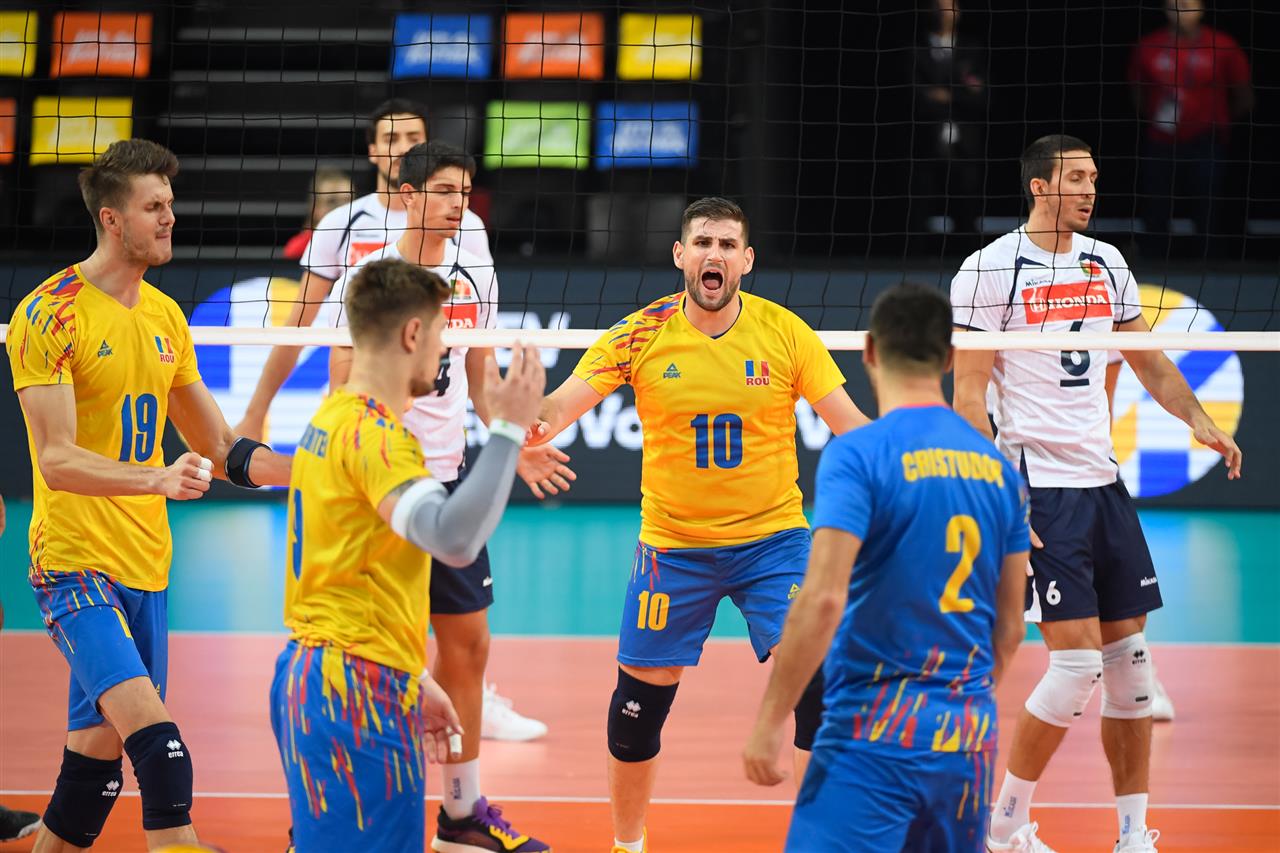 Bartha celebrating with teammates
"You can imagine how happy we are right now. We watched the game altogether, it was incredible."
Georgios Petreas
Greece's captain