Overview
In Portugal's fifth appearance at the EuroVolley, they are keen to beat the 2015 EuroVolley Champions. They recently met at the Volleyball Nations League, which ended in a 3-0 win for France.
Article - Pool A Preview
---
"Our goal is growing up, match by match. We knew it was a very difficult group. For most of us it is the first time in a European Championship so we look forward to the French atmosphere."
Marco Ferreira
Portugal's Opposite
Inside the Team France locker room
"I think we will have a good fight. Portugal can play very hard with good outside hitters. It will be a tough game. Earvin Ngapeth is doing better, he will do more during the warm-up but it is longer than we thought."
Laurent Tillie
France Coach
Team
Squad Listing
Team
C
6
FERREIRA Alexandre
Outside spiker
3
TEIXEIRA Nuno
Middle blocker
4
CVETICANIN Filip
Middle blocker
7
FERREIRA Marco Evan
Opposite
8
DA SILVA VIOLAS Tiago
Setter
9
SIMOES Joao
Outside spiker
10
MARTINS Phelipe
Middle blocker
12
MARTINS Lourenco
Outside spiker
14
MENEZES Guilherme
Middle blocker
15
TAVARES RODRIGUES Miguel
Setter
18
ALVAR Januario Ramos Figueiredo Silva
Libero
19
CUNHA Miguel
Outside spiker
Coaches
5114
JOSE Joao Miguel
Assistant Coach
JOSE Joao Miguel
Assistant Coach
74230
SANTOS Joao
Assistant Coach 2
SANTOS Joao
Assistant Coach 2
Highlights
French Coach Laurent TILLIE during interview
---
Highlights
Team Portugal during National anthem
---
Highlights
Team France during National anthem
---
Highlights
Kevin TILLIE (FRA) spikes on Portugal block
---
Highlights
Joao SIMOES (POR) reacts
---
Match Report
France win 3-0 for third time

Article
In a packed Sud de France Arena, France crushed Portugal in straight sets. Laurent Tillie chose to keep most same players, who proved very performing. Portugal struggled especially in the first set before coming close in the last one.
After nine matches for all teams, three leaders come out: France, Italy and Bulgaria. They will face each other in the upcoming days to determine who will top Pool A. A similar battle will occur in the lower side of the rankings, where Greece, Portugal and Romania will fight for one single ticket for the Round 16 phase.
Read more
The match in numbers
Points
The combined total number of points scored by both teams throughout the entire match.
Duration
The total length of the match, from the first serve through until the last point has ended.
Spectators
Total number of people in attendance at the venue – taken at the end of the second set.
Match Spikes
The combined total number of successful spikes achieved by both teams throughout the entire match.
Reception Level
An average of the two team service reception percentages from the complete match.
Net Domination
The number of successful point winning blocks of PORTUGAL compared to FRANCE.
Ace Count
PORTUGAL number of service aces compared to FRANCE
Error Difference
Errors leading to points of PORTUGAL, next to those from FRANCE
"It was very important for us to win this game 3-0. We played really good in the first set, but after this Portugal started to play better. Both Bulgaria and Italy are good teams and we look forward to those matches. We all have a lot of friends in both sides, so it will be interesting."
Jenia Grebennikov
France's libero
Grebennikov cheering with team France
"I feel sad about the result of course, but I think at this moment France are playing really well whereas we still need to work on a lot of things. Yet we hope we'll come up with something better in the last two games. I don't want to find any excuse."
Alexandre Ferreira
Portugal's captain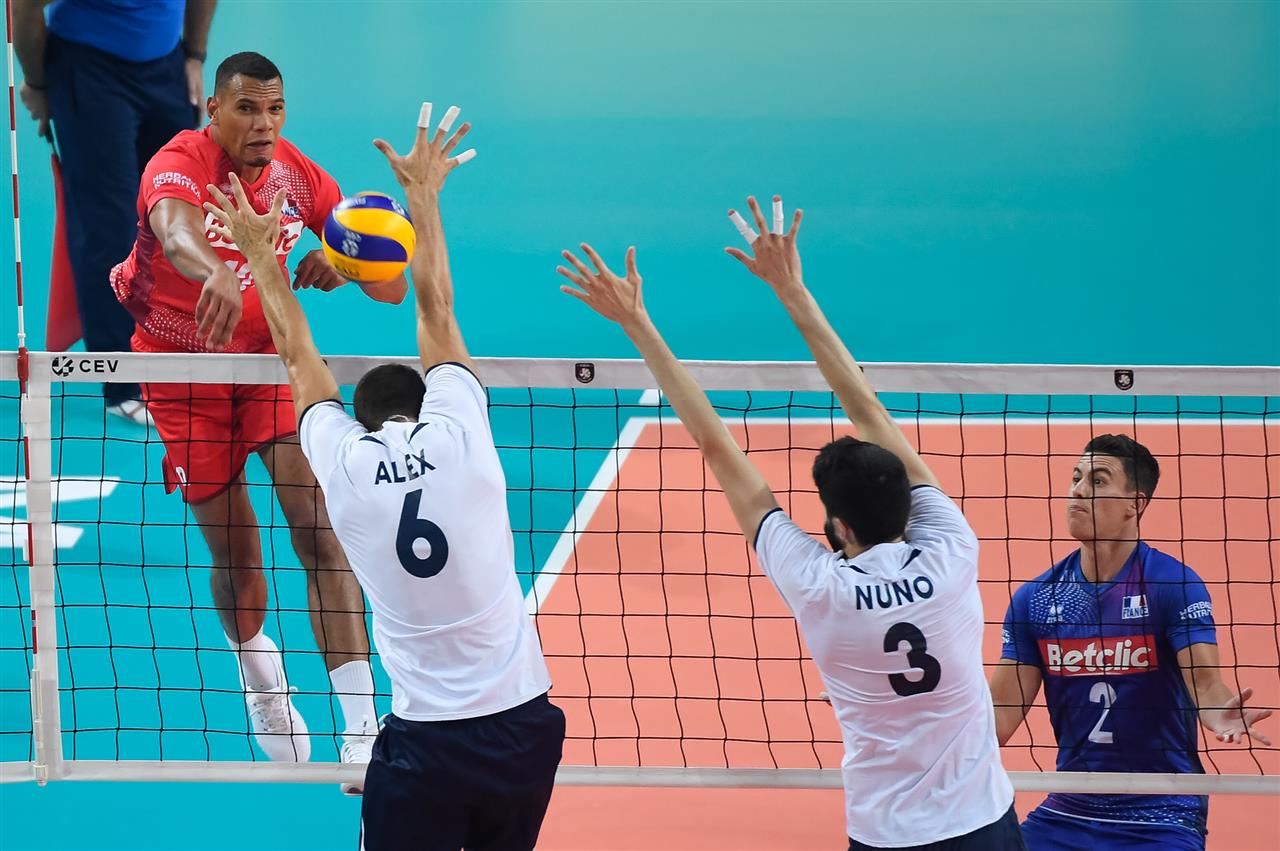 Alex blocking on Boyer
"I'm happy that I was called in to play yesterday, to really get into the competition, and today I played too so pressure is off. The Bulgarian middle blockers might be tough to handle but we fear nobody."
Barthélémy Chinenyeze
France's middle blocker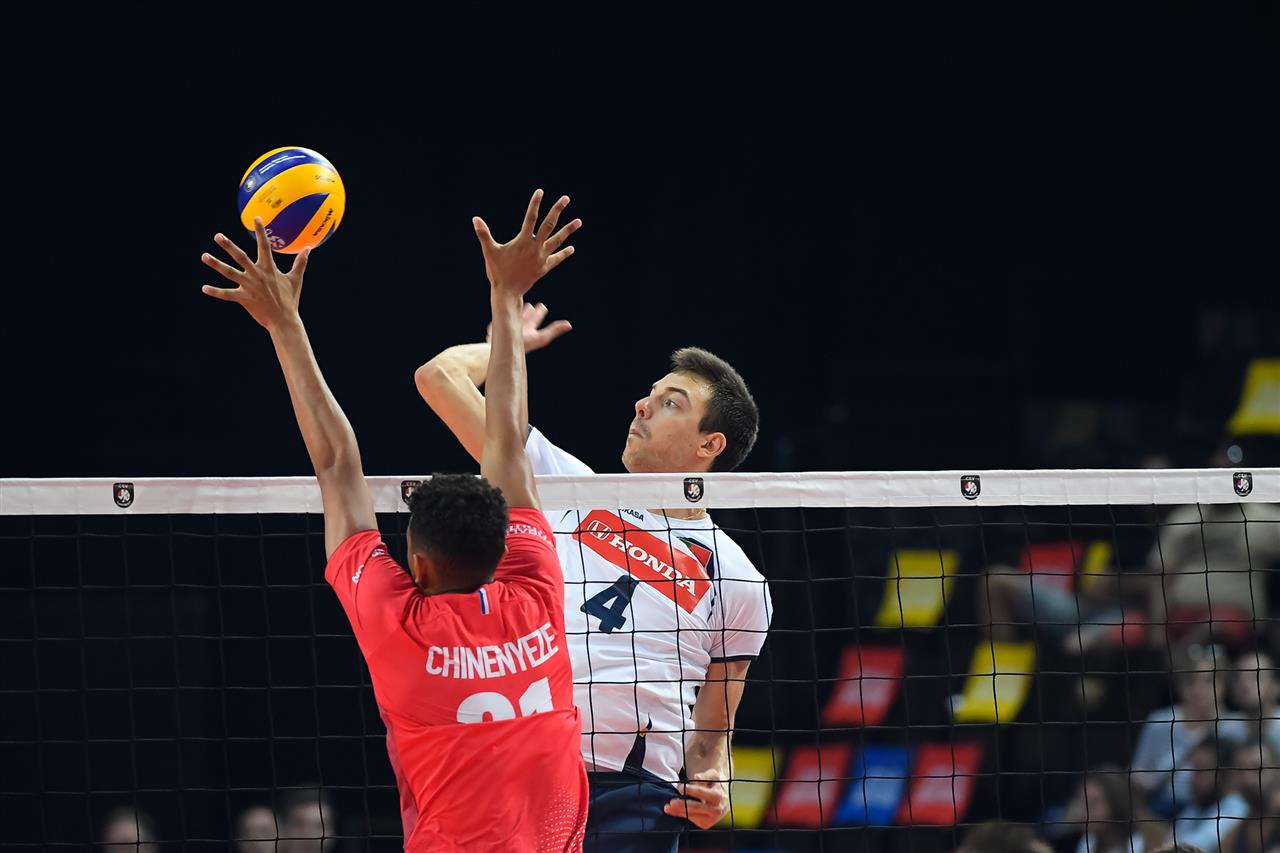 Chinenyeze blocking