Overview
The last time these two teams faced each other at EuroVolley was in 1995 where Bulgaria beat their neighbours in three straight sets. Romania won the tournament in 1963 and have also claimed two silver and two bronze medals through the years. On the other hand, no team has won more medals at the EuroVolley without securing gold, than Bulgaria.
Article - Pool A Preview
---
Team
Squad Listing
Team
C
12
YOSIFOV Viktor
Middle blocker
4
ATANASOV Martin
Outside spiker
5
GOTSEV Svetoslav
Middle blocker
8
SKRIMOV Todor
Outside spiker
14
TODOROV Teodor
Middle blocker
15
KADANKOV Venelin
Opposite
17
PENCHEV Nikolay
Outside spiker
20
GROZDANOV Aleks
Middle blocker
30
PETROV Georgi
Outside spiker
Coaches
8928
PRANDI Silvano
Head Coach
PRANDI Silvano
Head Coach
65941
ANDRIANI Antonello
Assistant Coach 2
ANDRIANI Antonello
Assistant Coach 2
70125
PEZZOLI Luigi
Assistant Coach
PEZZOLI Luigi
Assistant Coach
Highlights
Laurentiu LICA (ROU) and Viktor YOSIFOV (BUL) during the toss
---
Highlights
Team Romania during National anthem
---
Highlights
Teodor SALPAROV (BUL) receives the ball
---
Highlights
Romanian Coach Danut PASCU
---
Highlights
Tsvetan SOKOLOV (BUL) spikes on Romanian block
---
Highlights
Bulgarian Coach Silvano PRANDI
---
Highlights
Robert Adrian ACIOBANITEI (ROU) spikes on Bulgarian block
---
Highlights
Todor SKRIMOV (BUL) receives the ball
---
Highlights
Team Bulgaria celebrates with fans
---
Match Report
Bulgaria laboriously get passed Romania in straight sets

Article
13 September 2019
Despite the commanding score, Bulgaria struggled in the end of each set to win the match. Showing at times some signs of fatigue and self-sufficiency, Silvano Prandi's men still managed to keep a clean sheet. In a game with many short rallies, Romania succeeded in siding out whenever reception was perfect. On the other hand, when their passing level decreased, it was hard for them to compete with the Bulgarian block.
Claiming their second straight win, Bulgaria virtually took the lead of Pool A before Italy's and France's upcoming matches, respectively today and tomorrow against Greece. With two losses and some tiredness, Romania will try to win their first set on Sunday after one well-deserved day off.
Read more
The match in numbers
Points
The combined total number of points scored by both teams throughout the entire match.
Duration
The total length of the match, from the first serve through until the last point has ended.
Spectators
Total number of people in attendance at the venue – taken at the end of the second set.
Match Spikes
The combined total number of successful spikes achieved by both teams throughout the entire match.
Reception Level
An average of the two team service reception percentages from the complete match.
Net Domination
The number of successful point winning blocks of BULGARIA compared to ROMANIA.
Ace Count
BULGARIA number of service aces compared to ROMANIA
Error Difference
Errors leading to points of BULGARIA, next to those from ROMANIA
"It was a good win for us. Luckily we won that first tight set otherwise it could have ended differently. Romania was a team I did not know but they greatly surprised me, they played really well. We'll have to make fewer mistakes against teams like Italy or France in order to win those."
Todor Skrimov
Bulgaria's outside hitter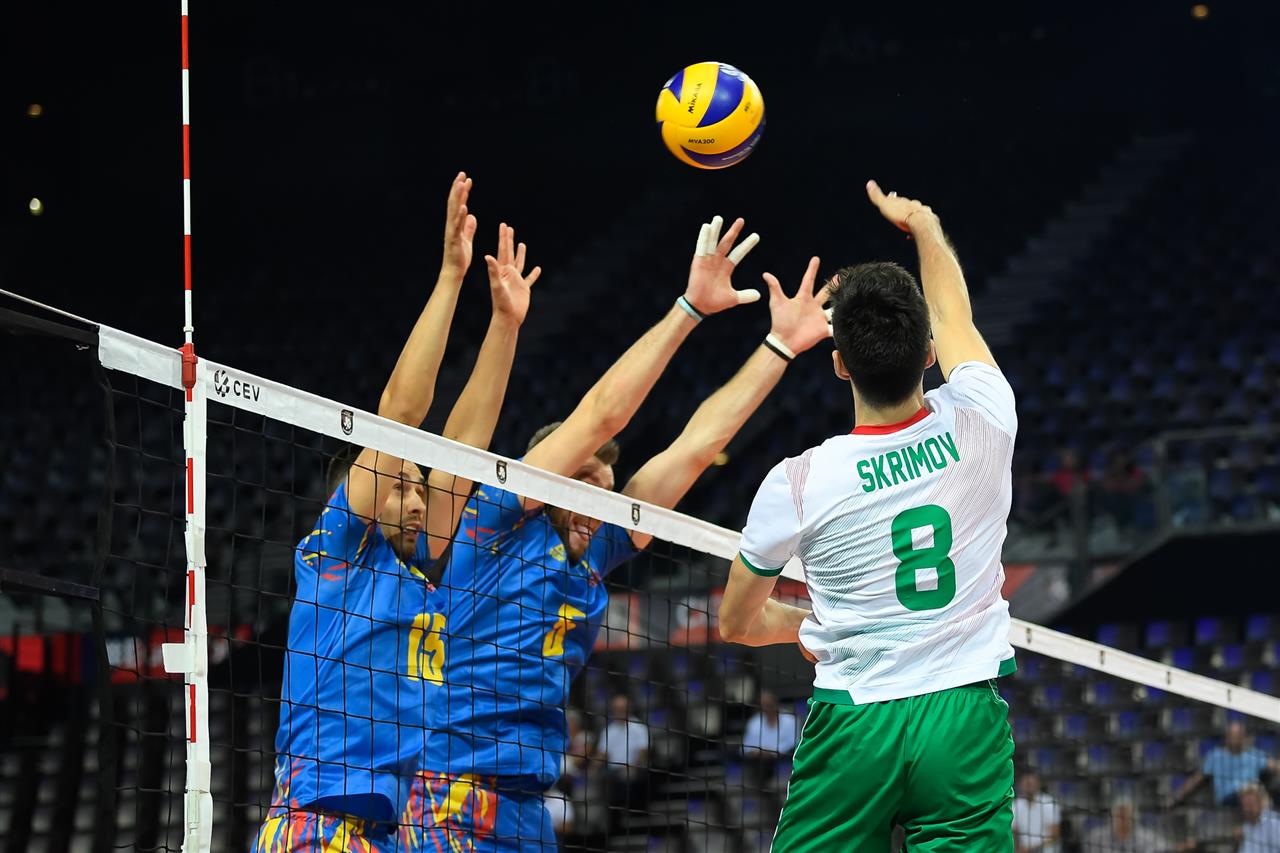 Skrimov attacking
"When you lose two games 3-0, it's difficult. It's true that we were closer to win a set today, but we don't have enough experience in the ends of sets in order to really earn something."
Laurentiu Lica
Romania's captain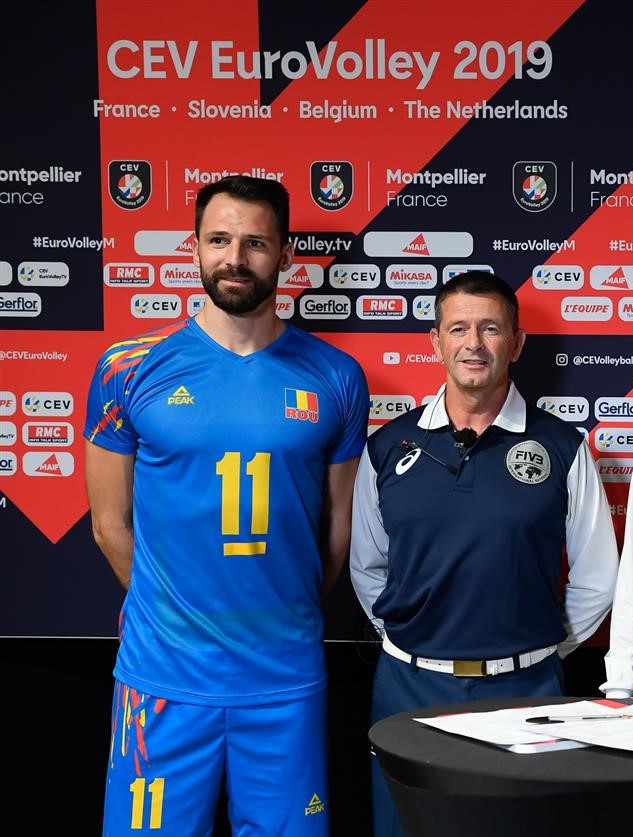 Lica at coin toss
"After this game, I am upset. We started badly, then we recovered, but after that we made some stupid mistakes. Bulgaria missed less than us, and that is why they won 3-0."
Ciprian Matei
Romania's opposite
Matei in locker room
"I'm happy that everybody gave 100% today to get 6 points after two matches. If we keep playing like this, better and better, our main goal is to go to Paris for the finals."
Martin Atanasov
Bulgaria's outside hitter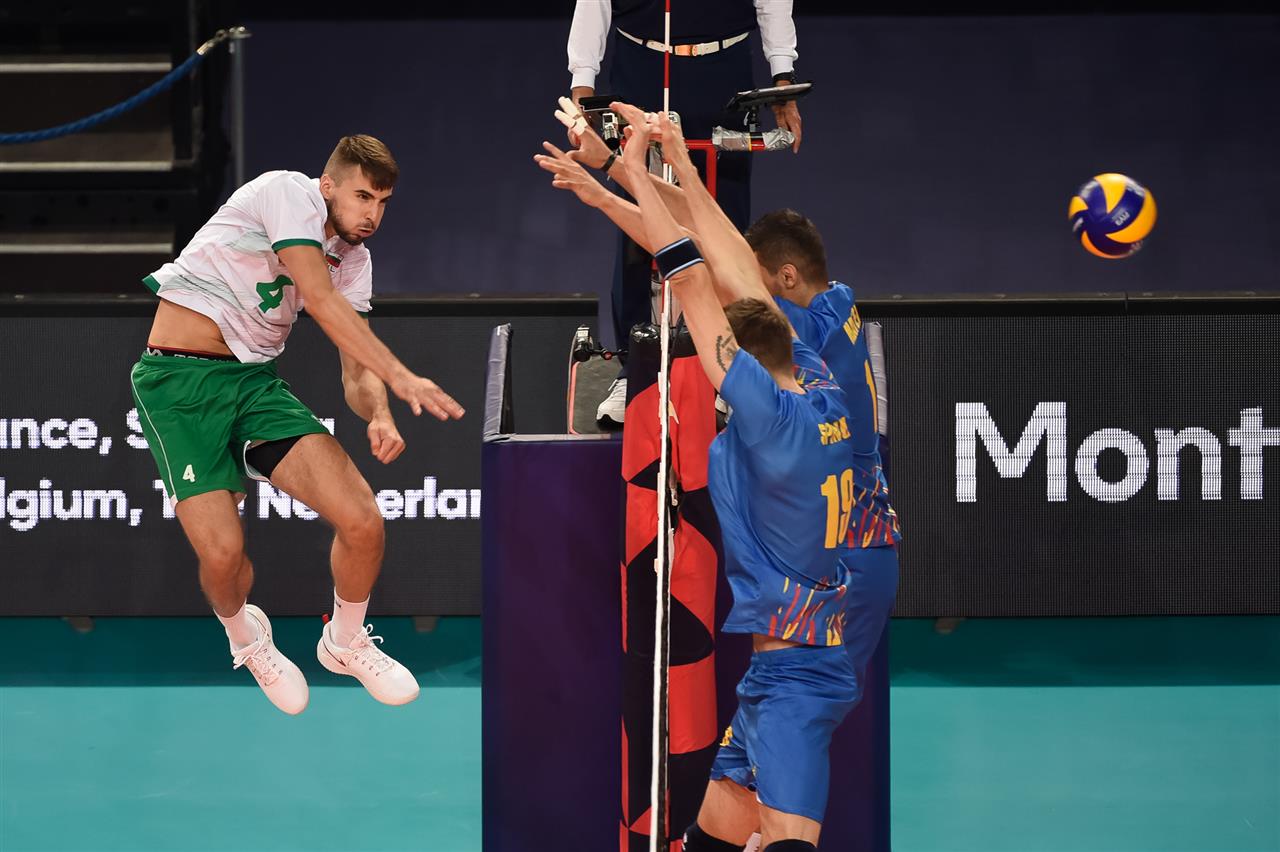 Atanasov getting passed Romanian block