"I am ok, but injured a little bit so we don't want to take any risks. It is not very serious, but I cannot play my normal game at the moment. We need to make a good game, concentrate on our team performance and take confidence for the rest of the tournament."
Earvin Ngapeth
France's today's second libero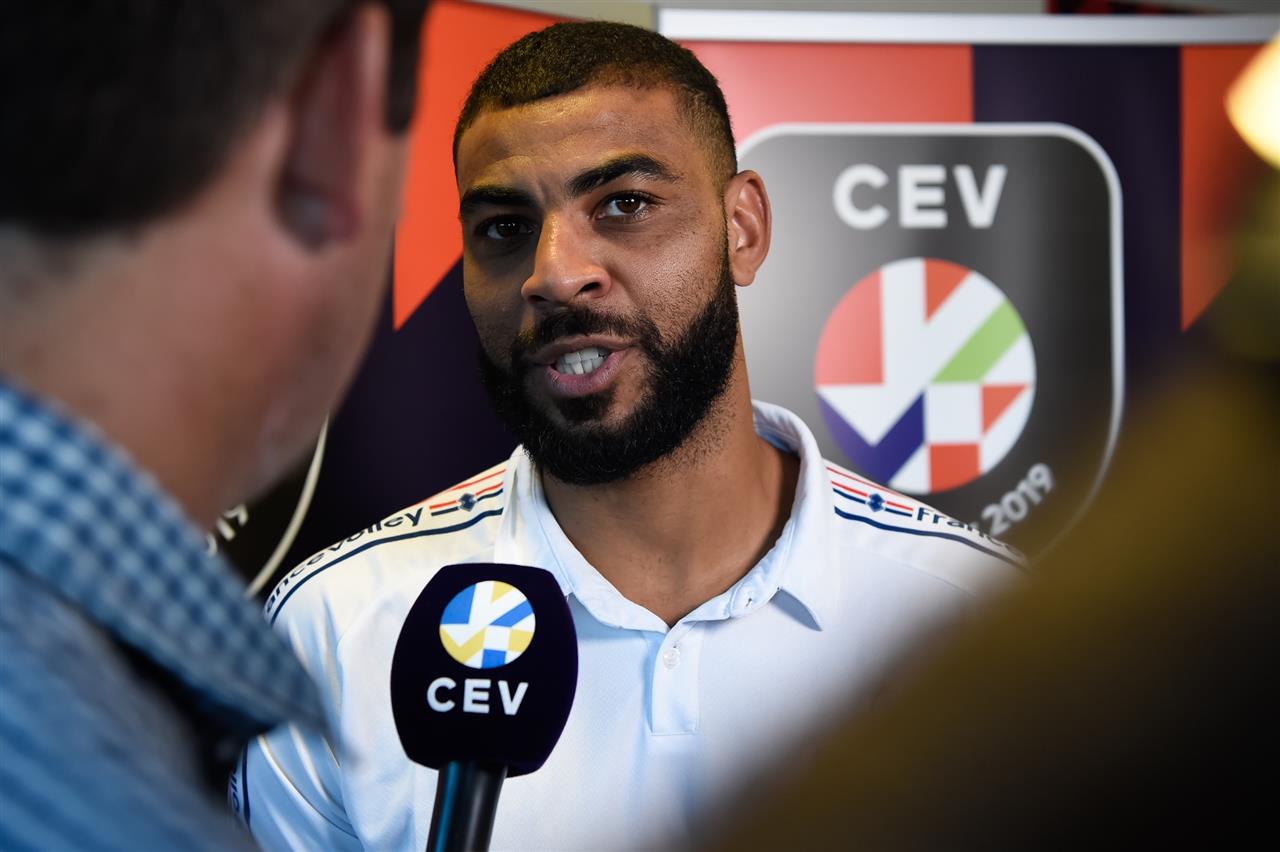 Earvin Ngapeth
Overview
The first match for the European Champions of 2015, is against Romania who make their 17th appearance and first since a 12th place in 1995 at the EuroVolley. France have won 99 matches at the EuroVolley and can become the fifth team to reach 100 wins. While the record for France against Romania (W1-L8) is in Romania's favour, France have consistently played against the European elite over the last years, with their last loss against Romania in 1995.
Article - Pool A Preview
---
Team
Squad Listing
Team
7
TILLIE Kévin
Outside spiker
8
LYNEEL Julien
Outside spiker
10
LE ROUX Kevin
Middle blocker
11
BRIZARD Antoine Arthur Fabien
Setter
14
LE GOFF Nicolas
Middle blocker
16
BULTOR Daryl
Middle blocker
17
CLEVENOT Trévor
Outside spiker
18
ROSSARD Thibault
Outside spiker
21
CHINENYEZE Barthélémy
Middle blocker
Coaches
9892
TILLIE Laurent
Head Coach
TILLIE Laurent
Head Coach
9719
ENARD Cedric
Assistant Coach 2
ENARD Cedric
Assistant Coach 2
27050
JOSSERAND Arnaud
Assistant Coach
JOSSERAND Arnaud
Assistant Coach
Highlights
Team Romania during National anthem
---
Highlights
Julien LYNEEL (FRA) spikes on Romanian block
---
Highlights
French crowd cheering
---
Highlights
Julien LYNEEL (FRA) saves the ball
---
Highlights
Team France celebrates
---
Highlights
Sud de France Arena
---
Highlights
Rares Ionut BALEAN (ROU) spikes on French block
---
Highlights
Team France celebrates the victory
---
Match Report
France easily crush Romania

Article
12 September 2019
France convincingly overpowered Romania for the first match of their Euro in front of a massive cheering crowd. Really applied and focused, Laurent Tillie's men made it look easy, even without Ngapeth, still injured. Pascu's players showed some great courage and vigor, especially at the beginning of the game, but could not resist France's wide set of skills. As Lyneel retrieved a ball on top of the scoreboard officials, what was seen tonight was a real team effort by the French.
Romania will need to react tomorrow at 2:15pm against Bulgaria while the French will have one day off before facing Greece on Saturday. A second win would secure a spot in the round 16 for Les Bleus who might use star Earvin Ngapeth again by then. If they reach the quarterfinals, they will definitely need him for this longed-for semi-final qualifier.
Read more
The match in numbers
Points
The combined total number of points scored by both teams throughout the entire match.
Duration
The total length of the match, from the first serve through until the last point has ended.
Spectators
Total number of people in attendance at the venue – taken at the end of the second set.
Match Spikes
The combined total number of successful spikes achieved by both teams throughout the entire match.
Reception Level
An average of the two team service reception percentages from the complete match.
Net Domination
The number of successful point winning blocks of FRANCE compared to ROMANIA.
Ace Count
FRANCE number of service aces compared to ROMANIA
Error Difference
Errors leading to points of FRANCE, next to those from ROMANIA
"As for every first game of a competition, it's important to play with a smile, really enjoy it. As a team, we played well. I'm happy for the crowd tonight and for our good start."
Stephen Boyer
France's opposite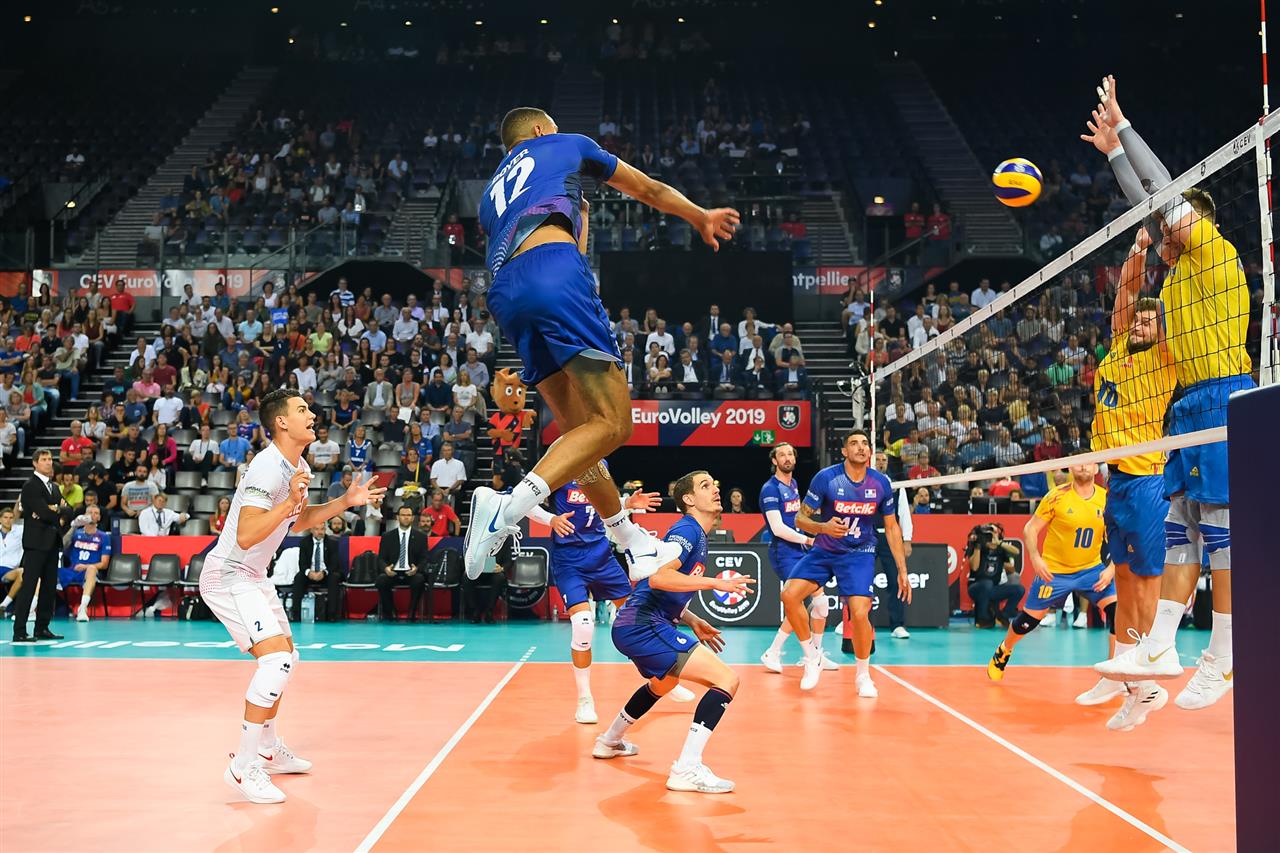 Boyer behind the 3-meter line
"They play well at home, that's why it was difficult for us to play our best volleyball. We'll try to improve in the upcoming matches, possible winning our first set, and then more. We're looking forward to playing against Portugal and Greece."
Laurentiu Lica
Romania's captain
Romania's captain Lica
France Coach, Laurent TILLIE: "We always think that the first match in a competition is tougher than the others, so we were very focused and I liked it.  We had some great points with incredible defense which kept us in the match."
"It was a difficult game for us because we played against the home team, our first game in a Euro in 24 years. We made a lot of mistakes and I think that is why France won."
Ciprian Matei
Romania's outside hitter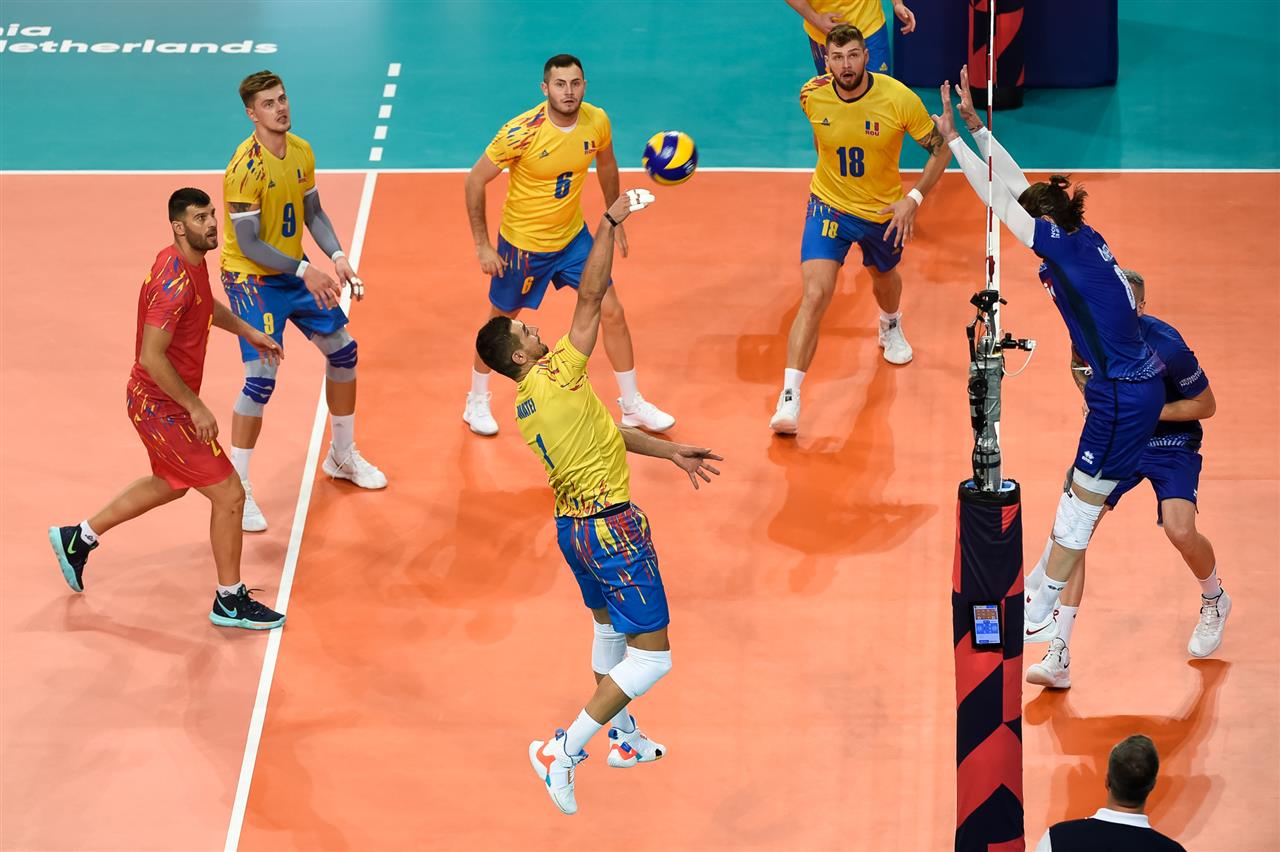 Matei in action